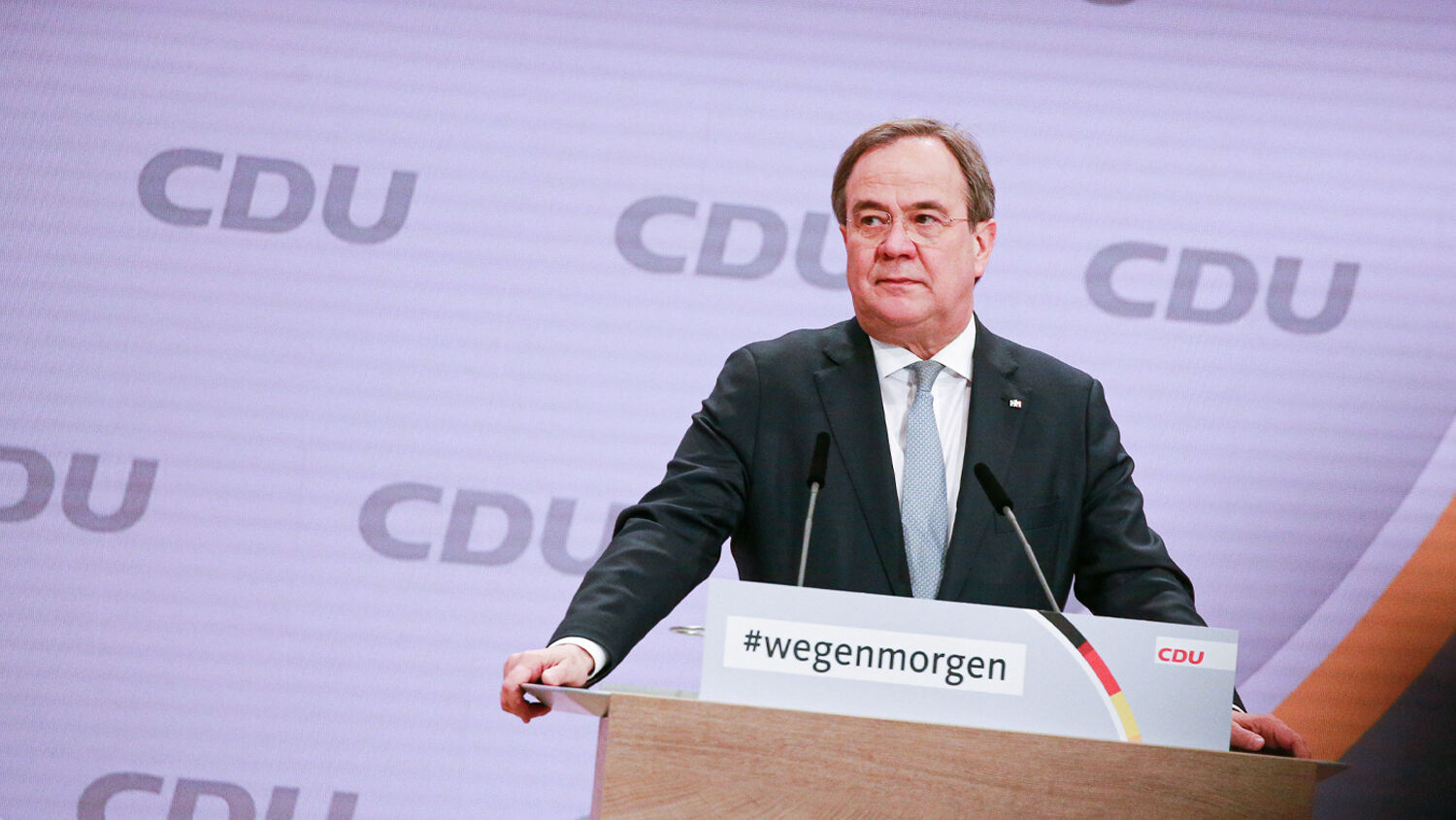 German Elite Cooperates With Russia
Armin Laschet's closeness to Russia sparks controversy in Germany.
The North Rhine-Westphalian State Premier Armin Laschet was appointed the new chairman of the Christian Democratic Union on January 16. For the most part, Laschet is expected to continue Chancellor Angela Merkel's policies.
While Merkel has worked hard to uphold relations with Russia, Laschet could take them even further. Rather than condemning recent Russian atrocities, such as the poisoning of Alexei Navalny and the ongoing conflict between Ukraine and Russia, Laschet has advocated for stronger economic ties.
"In the past few months it has been extensively examined how Armin Laschet thinks about all sorts of things," Mathieu von Rohr noted in a January 18 newsletter for Spiegel Online, "but unfortunately the man who could become Germany's next chancellor was interviewed and tested primarily on domestic politics. Laschet's foreign-policy positions, however, were rarely discussed or questioned" (Trumpet translation throughout).
In 2019, Laschet told the Rheinischen Post that during the time of even the most "tense situation" of the Cold War, when dealing with "a totalitarian Communist system, threads of conversation were built up. [W]e have to be able to do the same today. We need Russia for many issues in the world."
On January 20, Green leader Annalena Baerbock accused Laschet of being too close to Russia and having a disorientated foreign policy. She said that she has "always been irritated that Armin Laschet has had rather friendly tones toward Moscow. … A future party leader of what is currently the strongest party in the country must have a clear profile in terms of foreign policy."
"For a time when we as Europeans want to be strong," Baerbock added, "the next federal government needs a clear pro-European foreign-policy profile and that must also have a clear stance toward autocratic regimes. The silence in the forest of the cdu on foreign policy issues last years was dramatic."
International media outlets have also taken note of Laschet's affiliation with Russia. Politico wrote on January 16, "Laschet is considered by some critics to be a Russlandversteher, a derogatory term for people who take a soft stance on Vladimir Putin's Russia."
Laschet was the first prominent cdu man who doubted the British position that former agent Sergei Skripal had been poisoned by Russian agents. Mathieu von Rohr noted, "Laschet has repeatedly indicated that he belongs to the faction of those who believe that the real problem is that people simply do not talk enough with Russia (although they have been talking to Russia incessantly for years)."
Baerbock also called on Laschet to withdraw support for the controversial Nord Stream 2 pipeline project. "This pipeline is a tough attack on the security interests of our Eastern European neighbors as well." Nord Stream 2, she warned, is designed to cut off Ukraine from gas transit. This would have "really fatal" implications for Ukraine.
To some, it may be astonishing how many prominent Germans have a favorable view of Russia. Not only do recent events warn us of Russia's inauspicious behavior but centuries of history warn us as well.
After World War ii, Soviet Russia committed some of the greatest war crimes against the German people, occupying and oppressing East Germany up to 1989.
But of course, Germany had its part in that history too. Germany and Russia have repeatedly allied. Following World War ii, Tete Harens Tetens vividly documented in Germany Plots With the Kremlin how the remaining alliance between these two countries poses a great danger to the United States. In an open letter to U.S. President Dwight D. Eisenhower, Tetens wrote:
In this book—Germany Plots With the Kremlin—I have assembled documents exposing the ominous situation which has developed out of our German policy. This policy is leading our people into a trap which has been carefully prepared by Germans planners. The very freedom and independence of America is at stake, as revealed by these documents. …

If the Germans have their way it will happen again. If events take that course, then the United States will indeed be faced with the greatest disaster in her history. All of our planning since 1945 will have turned out to be the preparation which hastens our economic and political suicide.
Trumpet editor in chief Gerald Flurry warned in "Germany and Russia's Secret War Against America" that these two countries are making a modern Molotov-Ribbentrop Pact: "History shows that Germany and Russia are not actually partners. When they enter into peace deals and economic partnerships, it is a signal that either or both are preparing for some kind of imperialistic exploit. This makes the Nord Stream 2 deal extremely concerning."
In his article Mr. Flurry discusses prophecies in the book of Jeremiah and Matthew that warn of an unprecedented global conflict that will be ignited by Germany. History will repeat itself and German-Russian cooperation will lead to the destruction of many nations (Daniel 11:40-45).
Laschet's view on Russia and his stance to put economic interest before morals is only a small part of a much larger picture. His policies have been known for years. But he has not only been tolerated as state premier but has even been elected to lead one of Germany's largest parties, the cdu. He wasn't the most popular candidate, but Germany's elite wanted him in office, and they want strong relations with Russia.
For an in-depth study of what the Bible reveals about German-Russian cooperation, read Mr. Flurry's article "Germany and Russia's Secret War Against America" and our free booklet Russia and China in Prophecy. It is high time to heed history's warning and the many biblical prophecies God uses to plead with mankind.