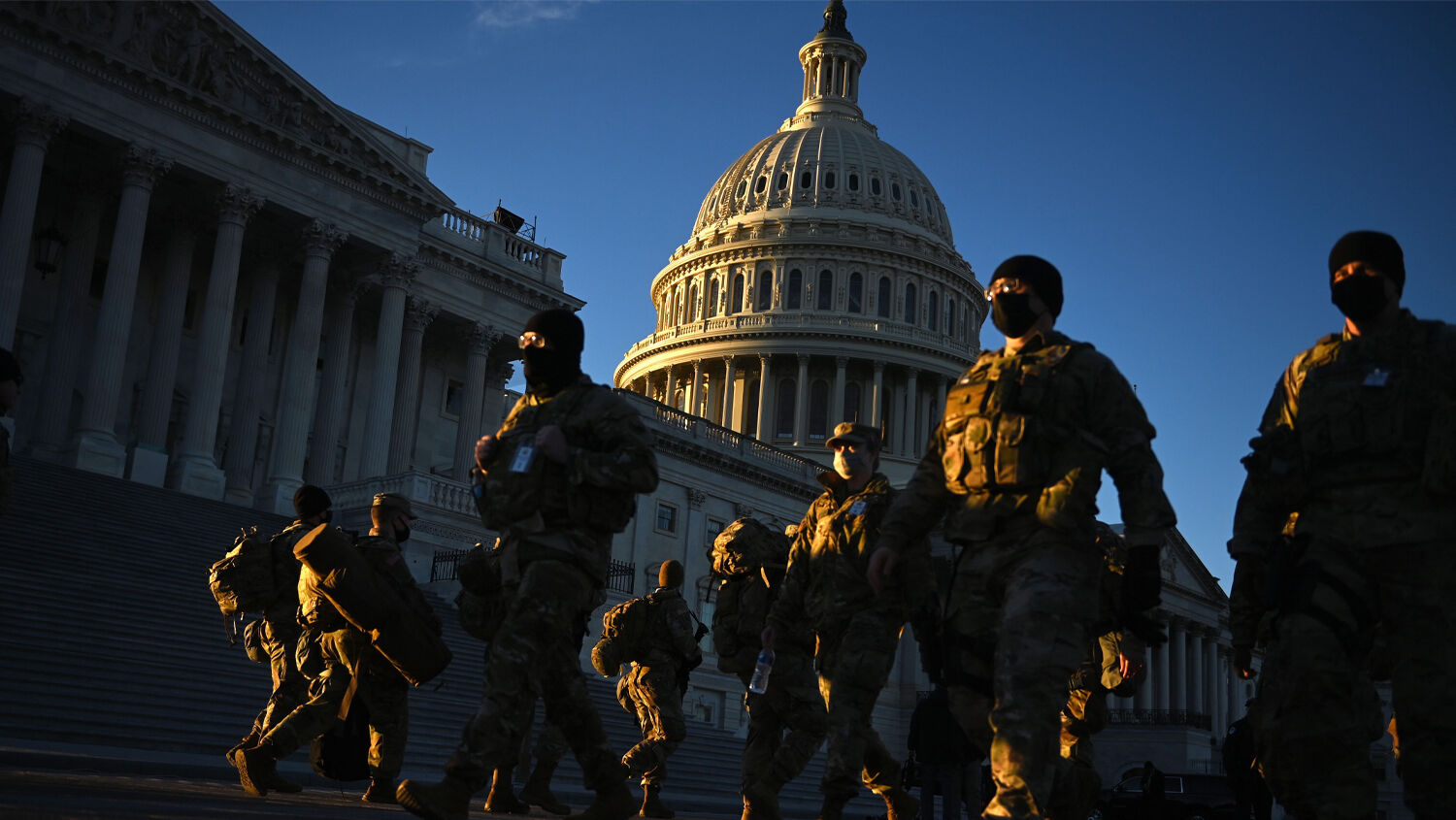 America Prepares for the Most Unusual Inauguration in History
Democrats are a day away from installing Joe Biden into the White House, yet they seem nervous.
The United States is preparing for the most unusual presidential inauguration in its 245-year history. The Pentagon has authorized up to 25,000 National Guardsmen to help secure the Capitol for the inauguration. That is 10 times more guardsmen than there are U.S. troops fighting terrorism in Afghanistan. These guardsmen have been preauthorized to use lethal force in support of the U.S. Capitol Police, and the Federal Bureau of Investigation is vetting them to militate against potential insider threats.
Participants in an inauguration rehearsal were evacuated from the West Front of the Capitol on Monday after a dumpster fire ignited in a homeless encampment. The area around Capitol Hill now looks like a ghost town. Roads are barricaded, stores are boarded up, troops are stopping people at checkpoints, military vehicles patrol the streets, and high fencing with barbed wire surrounds the Capitol building itself. The whole panorama looks like a scene from a third world country under martial law.
J. Michael Waller, an instructor at the John F. Kennedy Special Warfare Center and School, told the Epoch Times that the military presence was a "psychological show of force to deter and intimidate."
President Donald Trump declared a state of emergency in the U.S. capital from January 11 to January 24. He authorized the National Guard and the Department of Homeland Security to supplement the District of Columbia's effort "to save lives and to protect property and public health and safety."
fbi Director Chris Wray announced on January 14 that he was monitoring an "extensive amount of concerning online chatter" about armed protests at the inauguration. His statements come amid growing concerns that the violence at the Capitol on January 6 may repeat. But the Capitol's heavy military presence seems to be geared toward something more severe than the return of the Q'Anon Shaman.
On January 15, MyPillow ceo Mike Lindell met with President Trump at the White House. He later spoke about this meeting with Right Side Broadcasting, after a Washington Post photographer obtained a close-up of the notes he carried into the White House. Lindell says he delivered evidence from an unnamed attorney that the 2020 presidential election was digitally rigged, and President Trump really won 79 million votes to Joe Biden's 68 million votes. Lindell also said that he hopes the military presence in Washington, D.C., is a sign that President Trump will invoke the Insurrection Act and declare martial law until this rigging is exposed.
President Trump has not said anything to indicate that he plans to invoke the Insurrection Act. Still, the Defense Department did make a significant staffing change after Lindell met with the president.
Michael Ellis is an attorney who gained notoriety in 2017 when he helped Rep. Devin Nunes obtain classified information showing that the Obama administration spied on Trump Tower when Donald Trump was running for president. Pentagon General Counsel Paul Ney Jr. appointed Michael Ellis as the top lawyer at the National Security Agency on November 9, but this appointment was stonewalled because nsa Director Paul Nakasone does not like him.
Yet this stonewalling ended shortly after Lindell's January 15 meeting with President Trump. On January 16, acting Defense Secretary Chris Miller ordered General Nakasone to install Ellis at the nsa by 6 p.m. that day. General Nakasone missed his ordered deadline, but on January 17, the nsa finally announced it was "moving forward" with Ellis's employment.
This unnerved House Speaker Nancy Pelosi. Shortly after the nsa's announcement, Pelosi sent Secretary Miller a letter asking that he "immediately cease plans to improperly install Michael Ellis as the new nsa General Counsel. … Public reporting indicates that Mr. Ellis, a relatively recent law school graduate with a limited resume, was selected due to interference by the White House and was chosen over much more qualified candidates. Moreover, Mr. Ellis has been reportedly involved in highly questionable activities that are disqualifying—including the infamous 2017 'midnight run' to launder intelligence information through Rep. Devin Nunes and with efforts to shield information about President Trump's July 2019 call with the president of Ukraine."
Why is Pelosi so unnerved by Ellis's appointment? The House speaker has no say in government assignments, and Joe Biden will undoubtedly let General Nakasone fire Michael Ellis after his inauguration anyway. The only logical reason for her insistence about keeping Ellis out of the nsa is that she is afraid Ellis will expose something the "deep state" has done that Democrats do not want exposed. Is it possible the Democrats, about to pull off the greatest election steal in history, fear what Ellis will reveal? You would think people with 25,000 National Guardsmen protecting their candidate would be more confident.
Trumpet editor in chief Gerald Flurry's cover story for the January 2021 Trumpet issue is titled "Why Donald Trump Will Remain America's President." It explains that President Trump is an end-time type of King Jeroboam ii and forecasts that, one way or another, he will continue to lead America. For this prophecy to be fulfilled, some truly titanic frauds will have to be exposed.
2 Kings 14:26-27 say, "For the Lord saw the affliction of Israel, that it was very bitter: for there was not any shut up, nor any left, nor any helper for Israel. And the Lord said not that he would blot out the name of Israel from under heaven: but he saved them by the hand of Jeroboam the son of Joash."
Commenting on these verses, Mr. Flurry wrote: "As there was anciently, there are forces 'afflicting' Israel, seeking to bring it down. These forces attacking America today are terribly destructive—and the worst of them are within the nation. They want to destroy traditional America, especially its Judeo-Christian heritage and its history with God. … Looking at this modern-day Jeroboam, you have to say God gave Israel a 'savior'—at least to the extent that He wouldn't let these enemies bring down the nation. Donald Trump has been blocking this movement to 'blot out the name of Israel [which includes America] from under heaven.' Is his job finished? No, it isn't. So I don't believe at all that he will depart from the scene! I still believe these prophecies are 100 percent accurate. This means this nation is about to be shocked. I believe you are going to see frauds exposed like you've never even imagined! In a sense, you could say the left is fighting against God and God's prophecy!"
We do not know how President Trump is going to remain in office. And it is conceivable that it may take longer than the next 24 hours for the process of exposing election fraud to unfold. But the fact that the Trump administration ordered that Michael Ellis be installed in the heart of the nsa on January 16 may be significant. January 16 is the anniversary of the death of Herbert W. Armstrong and a date we watch closely.
America is gearing up for the most unusual inauguration in history, so prepare to be shocked as some startling frauds are exposed.