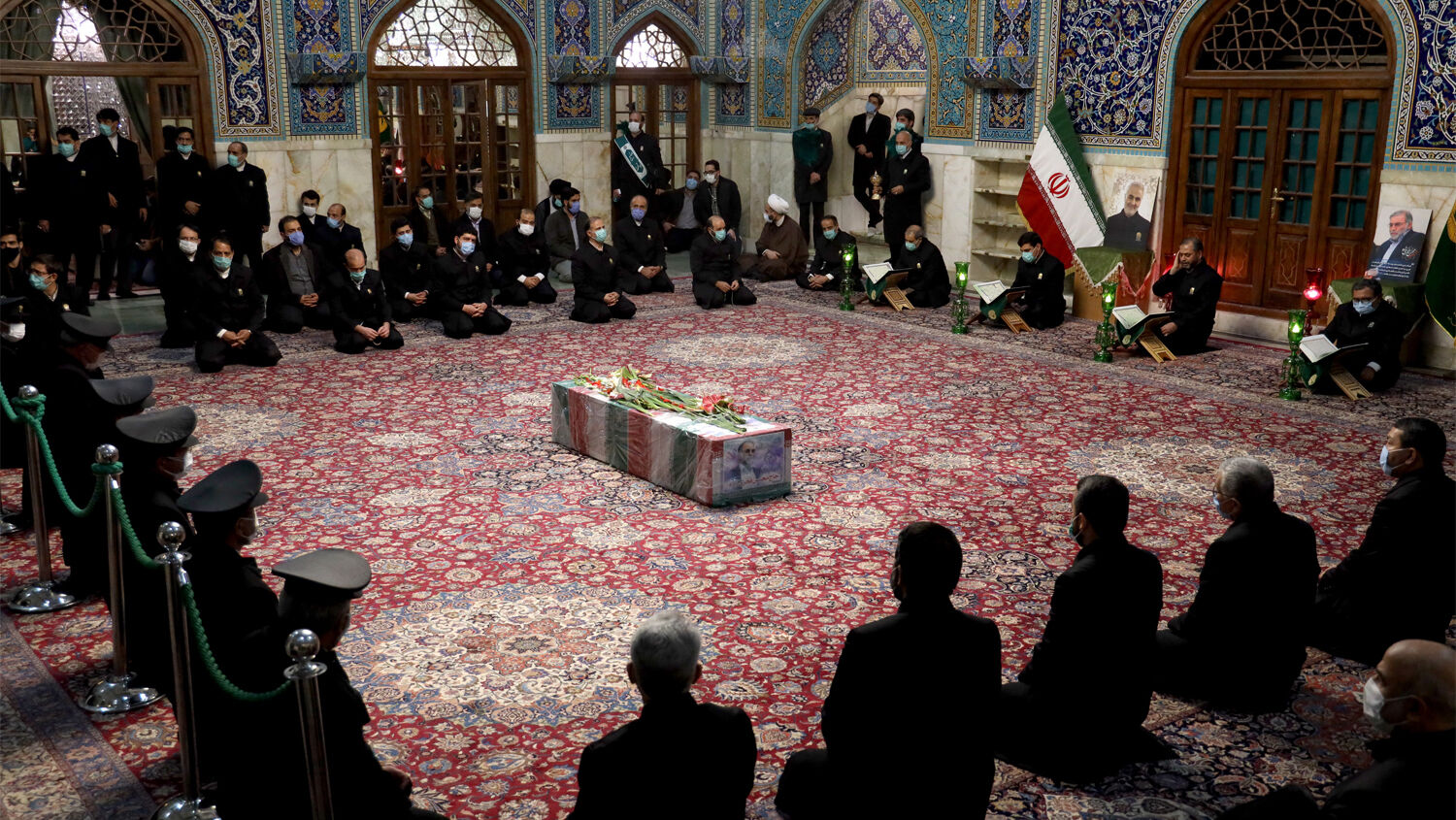 Chief Architect of Iran's Nuclear Weapons Program Assassinated
War clouds build in the Middle East as Israel ponders a return to a frosty relationship with America.
There are many questions about the November 27 assassination of Iranian Gen. Mohsen Fakhrizadeh, the head of Iran's covert nuclear program. Theories abound as to how his car was stopped on the outskirts of Tehran and sprayed with bullets. Some say it was a hit job by 12 men in cars and on motorcycles; others say it was a highly sophisticated operation involving a driverless car and remote-control weapons.
Regardless of the means, the blame for the attack has fallen on Israel. And for good reason.
Two years ago, Israeli Prime Minister Benjamin Netanyahu gathered reporters for a one-of-a-kind press conference in which he unveiled a swath of evidence about Iran's nuclear weapons program. The cache of thousands of documents and electronic files was lifted from a warehouse in Tehran by Mossad, Israel's spy agency.
Standing in front of stunned reporters, Netanyahu proved that Iran had lied to the world about its quest for a nuclear weapon. The documents showed Iran planned to keep going, regardless of the promises of the nuclear deal.
At the center of this effort was nuclear scientist Mohsen Fakhrizadeh. "Remember that name, Fakhrizadeh," Netanyahu told the audience as he detailed the history of Iran's nuclear program.
Fakhrizadeh was already known to observers of Iran's nuclear program. For over two decades he headed up Iran's covert nuclear weapons program, known originally as the Amad Plan. In 2011, the project changed its name but not its desire, and not the role of Fakhrizadeh. Netanyahu explained it this way to the press in 2018:
There's another document from the archive. This is following the new directive of Iran's defense minister, Mr. Shamkhani; today he's the director of the National Security Council. Following the new directive of Iran's defense minister, the work would be split into two parts, covert and overt. A key part of the plan was to form new organizations to continue the work. This is how Dr. Mohsen Fakhrizadeh, head of Project Amad, put it. Remember that name, Fakhrizadeh. So here's his directive, right here. And he says: "The general aim is to announce the closure of Project Amad," but then he adds, "Special activities"—you know what that is—"Special activities will be carried out under the title of scientific know-how developments." And in fact, this is exactly what Iran proceeded to do. It continued this work in a series of organizations over the years, and today, in 2018, this work is carried out by spnd, that's an organization inside Iran's Defense Ministry. And you will not be surprised to hear that spnd is led by the same person that led Project Amad, Dr. Fakhrizadeh, and also, not coincidentally, many of spnd's key personnel worked under Fakhrizadeh on Project Amad.
Last year, the United States State Department confirmed this by revealing that the spnd currently employs as many as 1,500 individuals, many of whom are scientists that were under Fakhrizadeh in Project Amad and continued under his leadership until Friday.
By killing Fakhrizadeh, Israel knocked out the central figure in Iran's nuclear weapons program for the past 20 years. This can't help but set back, albeit temporarily, Iran's quest for a nuclear weapon. "There is no doubt that he was the core source of authority, knowledge and organization of this program," Israeli Maj. Gen. Amos Yadlin told reporters on Sunday during a briefing arranged by Media Central in Jerusalem.
The slaying of the czar of Iran's nuclear program comes less than a year since the assassination of Islamic Revolutionary Guard Corps Quds Force leader Qassem Suleimani. In January, a United States air strike killed Suleimani as he was driving near the Baghdad airport.
As Yadlin explained, these men were pillars at the top of Iran's two major strategic objectives. The first objective is to become a regional hegemon, by expanding Iran's power into foreign countries such as Iraq, Syria, Yemen and Lebanon via homegrown proxies. The other is to edge Iran toward becoming a nuclear power, without suffering the wrath of the international community before it was time.
"These two efforts were led by Qassem Suleimani and Mohsen Fakhrizadeh," Yadlin noted.
And now these two men are dead.
While Fakhrizadeh's name is likely not as recognizable as Suleimani's, nor his assassination as public, Iran has suffered a significant loss with his death. This was not just the killing of a nuclear scientist, but of a general of Iran's Islamic Army whose life goal was to equip the murderous regime with man's most destructive weapon.
In response, some Iranian hard-liners have called for missiles to rain down on the most populous northern Israeli city of Haifa. Iran's supreme leader was slightly more restrained, tweeting in English, "One of our country's eminent scientists in the nuclear & defense fields—Dr. Mohsen Fakhrizadeh—has been martyred by brutal mercenaries. With his great, enduring scientific efforts, he sacrificed his life on the path of God & the lofty status of martyrdom is his divine reward."
It is unlikely Iran will forcefully attack Israel in response to the killing. As Iran views it, in under two months, the Biden administration will be in the White House. Biden campaigned on returning America to the nuclear deal and lifting nuclear-related sanctions against Iran. Members of Biden's foreign-policy team are the same ones who negotiated the fatally flawed nuclear deal the first time.
All Iran has to do is wait until Biden comes into office. The cash will return to Iran, and it will be able to continue its "peaceful" nuclear program under Fakhrizadeh's well-trained deputies. However, it could actually be even worse than that.
Lee Smith wrote for Tablet on December 1, "[It's] unlikely [a Biden administration will] kick the nuclear can down the road again in the pursuit of a new and improved Iran deal 2.0. Instead, they will move to quickly lift sanctions, which will remove any incentive for Iran to make a deal—and help it get the bomb as fast as possible."
Put in those terms, it is Israel, not Iran, that is under pressure to act forcefully. If Biden becomes president, the Jewish state has less than two months to hit Iran hard enough to set it back far enough to not threaten Israel's survival during the next four years. Already there are signs that Israel, with the backing of President Donald Trump, is moving in this direction.
The timing of the Fakhrizadeh killing is not the only indicator of this reality.
There are other signs war clouds are building in the Middle East. In the past two weeks, Israeli air strikes have killed Iranian forces in Syria. Last week, Netanyahu met with Saudi Arabian Crown Prince Mohammed bin Salman for the first time, where Iran was the chief topic of conversation. The U.S. also moved its B-52 strategic bombers into the region last week. And this week, the U.S. aircraft carrier Nimitz and its strike group returned to the Persian Gulf.
Put together, it certainly seems like Israel and the United States are moving toward a war footing. They are either preparing for a potential Iranian response to Fakhrizadeh's killing, or perhaps a preemptive attack of their own against Iran.
Whatever the outcome, biblical prophecy informs us of two elements in regards to the continuation of Iranian power in the region.
For 30 years, Trumpet editor in chief Gerald Flurry has shown that Iran leads a prophesied end-time alliance of radical Islamists known in biblical terms as the king of the south. As mentioned in Daniel 11:40, this king of the south seeks to overthrow other nations and will eventually push the world toward war. In order to fulfill this prophecy, Iran will retain and even increase its power in the region, and perhaps acquire nuclear weapons in the process. Thus, regardless of American or Israeli action, prophecy indicates that the radical Islamic regime of Iran will remain a dominant force in the Middle East.
However, before Iran fulfills that prophesied push mentioned in Daniel, it is destined to lose some of the nations currently allied with it. By combining Daniel's prophecy with another end-time prophecy in Psalm 83, Mr. Flurry has also forecast that Iran will lose its grip on Syria and Lebanon. Though there are cracks in its hold on power, the Iranian proxy Hezbollah still dominates Lebanon. And Bashar Assad's regime in Syria has been sustained by Iran's troop presence in the country. Both are still in the Iranian camp. But not for long.
Time will tell whether Israel uses the next two months to aid in fulfilling this prophecy or whether it will be for a time shortly in the future. But the prophecies themselves are sure. For a full account of Iran's critical role in end-time events, please read Gerald Flurry's booklet The King of the South.