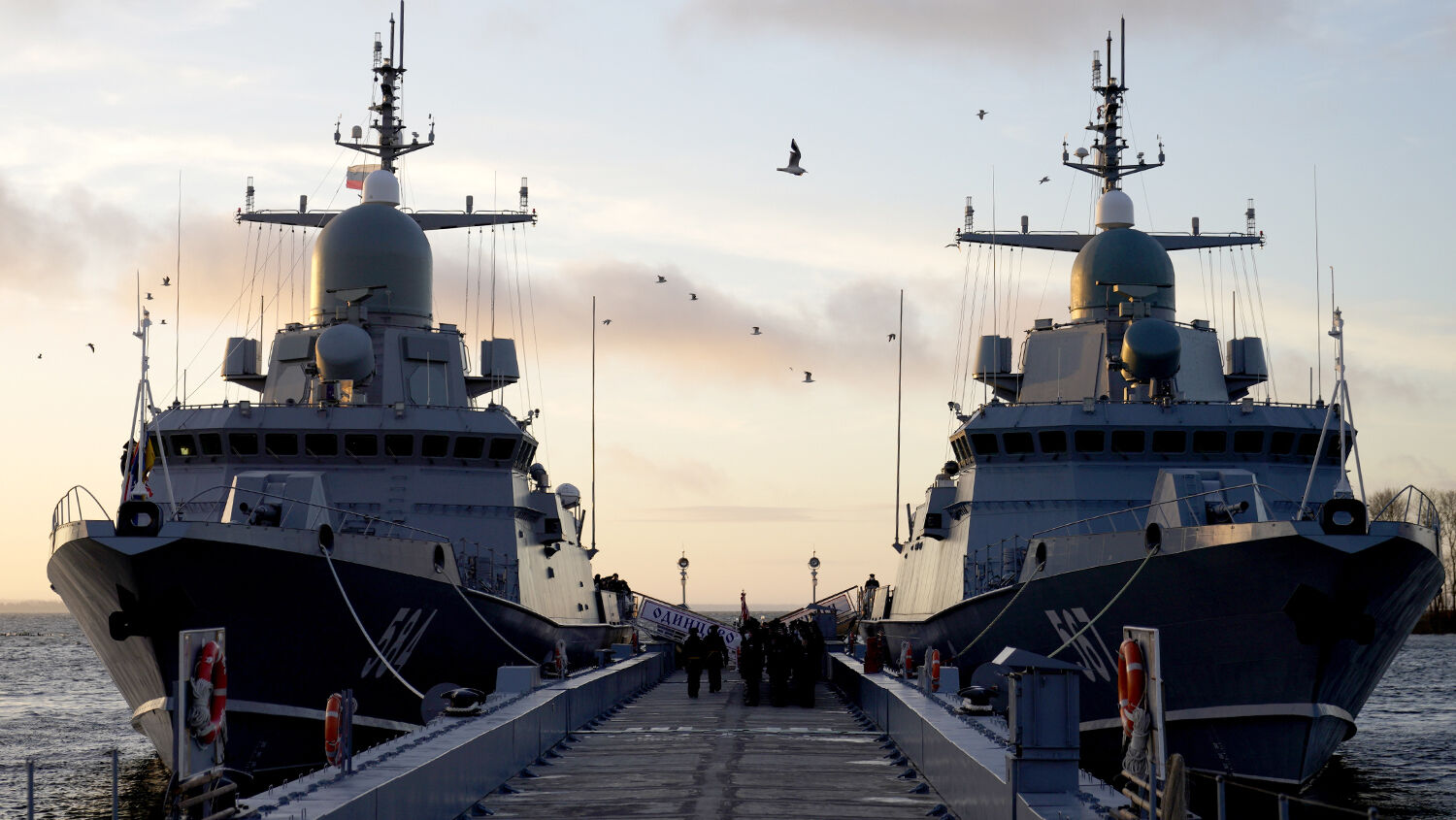 Putin Accelerates Buildup of Russian Military Power
The Russian military is now more capable and lethal than at any time since the end of the Cold War—and Europe is taking note.
Russia's military power was on glaring display in recent days with a milestone reached in warship modernization, three landmark missile launches, and a breakthrough in tactical weapons development.
On November 20, Moscow announced that 2020 set a record for the number of advanced vessels added to the Russian Navy. Gen. Mikhail Mizintsev, the head of the National Defense Control Center, said the nation has reached a new level of coordination between its various shipyards and military agencies. Their close cooperation has resulted in 35 submarines and warships being "laid down, floated out and accepted for service in the Navy this year." The massive rollout equates to a 33 percent increase in the amount of advanced naval hardware—accomplished in just one year.
Russia also conducted three missile launches in recent days, showing a dramatic increase in its nuclear strike capacities. On November 23, the Northern Fleet of the Russian Navy announced that its 885M Kazan nuclear submarine had struck a coastal target 620 miles away with a Kalibr cruise missile. The successful test marked one of the final hurdles the 64-man submarine needed to clear before officially joining the Russian Navy later this year.
Two days later, Russia's newest corvette struck a sea target for the first time with a nuclear-capable Uranus missile. Geopolitical Futures called this a "conspicuous missile test" since it happened hours after the Russian Navy intercepted the uss John S. McCain in the same location. Russia denied that the test was related to the interception, but in either case, the landmark launch shows that the Russian Navy is growing more lethal.
The next day, the Russian Navy tested a hypersonic cruise ballistic missile that reached speeds of over 6,000 miles per hour. The nuclear-capable weapon, known as the Mach 8 Tsirkon, is of a class that has been touted as "unstoppable" by Russian President Vladimir Putin. This is not just because of its mind-blowing speeds, but also maneuverability that allows the trajectory to be suddenly changed midflight. The combination of hypersonic speeds and intricate maneuverability means such missiles could evade even the most advanced known defense systems. Russian media reported it could strike major U.S. cities within five minutes. Experts believe it is also capable of destroying American satellites in space.
Meanwhile, the Russian military announced it has laid the scientific foundation to develop a major new tactical weapon to replace the Iskander-M missile system. Lt. Gen. Mikhail Matveyevsky, the head of Russia's Missile Forces and Artillery, revealed little detail about the advanced new system. But he told the Rossiyskaya Gazeta that, upon completion, it would become the basic weapons system for Russian artillery and missile forces and would considerably outshine its predecessors.
These developments are only the most recent steps in Putin's tenacious drive to boost Russia's military power to record levels. An October report by the International Institute for Strategic Studies noted that Putin's focus on military strength has already made the Russian military more capable than at any time since the end of the Cold War. "Though significantly smaller than their Soviet predecessors, these forces are better equipped, with professional personnel increasingly prevalent," the report noted.
The report also emphasized that Putin is not developing all of this military might just for show, but that he is putting it to use with increasing boldness and confidence. It stated: "Russia's annexation of Crimea, its involvement in the war in eastern Ukraine, and its decisive intervention in the Syrian civil war exemplify growing military confidence and capability."
Leaders around the world are acutely aware of Russia's increasing military might, and many are concerned about the fact that Putin is increasingly putting that firepower to use. And among European leaders, it is often going beyond awareness and concern—to fear.
In 2014, shortly after Russia had annexed Crimea, Trumpet editor in chief Gerald Flurry sounded the alarm about where the increasing European fear of Russia is leading.
In an article titled "The Crimean Crisis Is Reshaping Europe!", he discussed Bible prophecies recorded in the books of Daniel and Revelation. These prophecies reveal that a bloc of 10 European leaders will unite in the near future. They will form a military powerhouse that will unleash a colossal amount of destruction in a nuclear World War iii. Mr. Flurry emphasized that one of the factors that would pressure those European nations to lay aside their differences and unite militarily would be Russian militarism and aggression. He wrote:
The fear you see in Europe because of events in Crimea is going to cause 10 leaders in Europe to unite in a sudden and dramatic way—and in precise accordance with the Bible's description of that European empire! …

Europe's dreadful fear of Vladimir Putin—its next-door neighbor—is going to help shape and form the Holy Roman Empire rather suddenly.
In the six years since that article was written, Russia has become more aggressive, militaristic and provocative, including with its notable weapons advances in recent days.
Mr. Flurry makes clear that these trends will culminate in unprecedented worldwide conflict. But he emphasizes that there is cause for hope connected to these developments.
In his booklet The Prophesied 'Prince of Russia,' Mr. Flurry writes:
Mr. Putin's warfare is going to lead directly into the Second Coming of Christ. … What we are seeing in Russia ultimately leads to the transition from man ruling man to God ruling man! And it is almost here! It is just a few short years away. … We have to realize that this is all good news because Jesus Christ is going to return to this Earth at the very end of the coming world war. … Jesus Christ is about to return—biblical prophecy makes that clear.
To understand what the future holds for Russia and Europe, and to understand the hope that is intimately tied to these developments, order your free copy of Mr. Flurry's booklet The Prophesied 'Prince of Russia.'