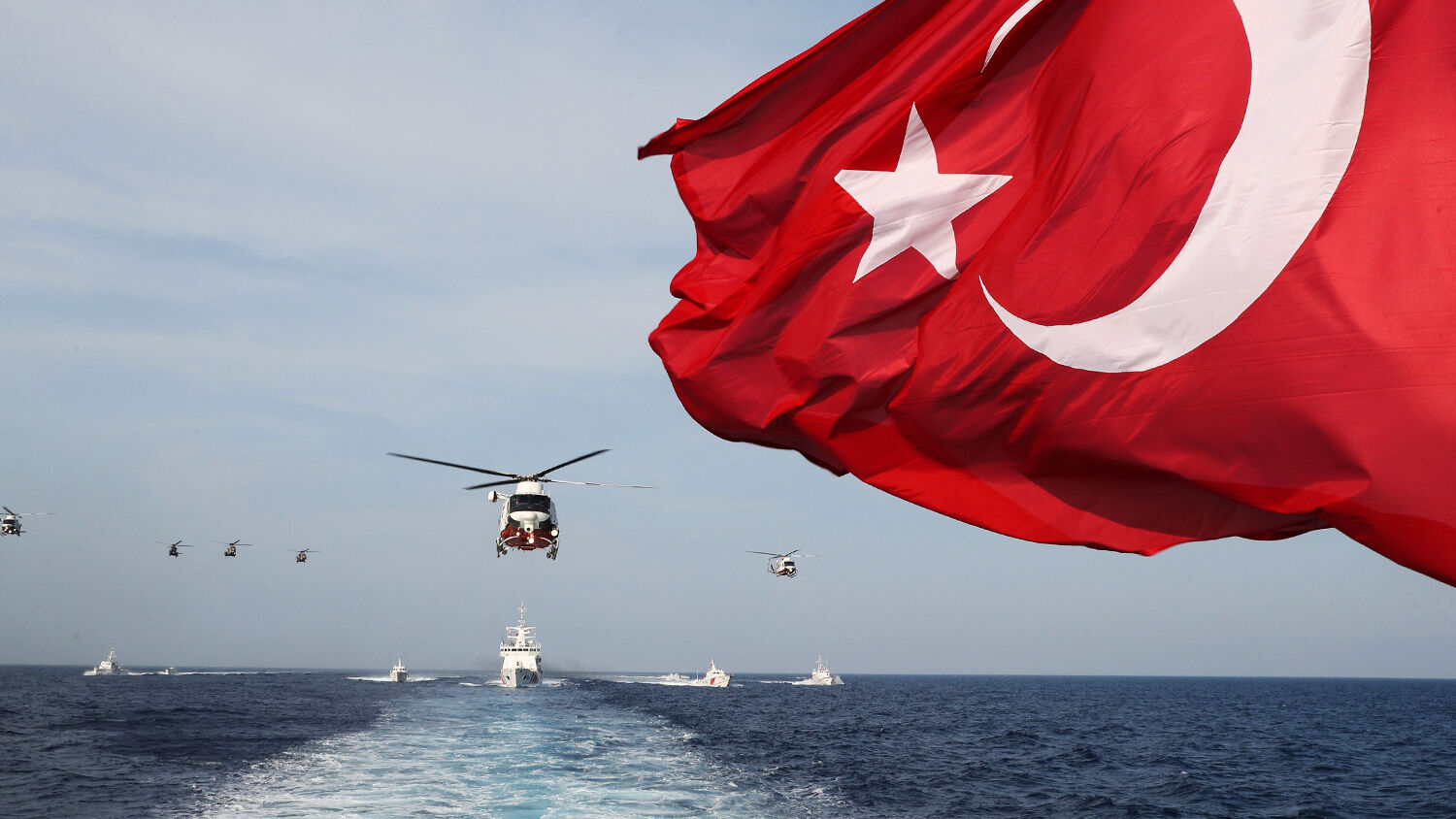 Germany Empowers Turkey's Navy
Greece has twice sent official requests to Germany, asking that it stop selling arms to Turkey. Thus far, it has received no response.
A classified document revealed in June by the German Press Agency (dpa) said that Turkey has been the number one recipient of German arms exports for the second year in a row.
In October 2019, Turkey invaded Syria with a force that used German-built tanks. In the aftermath, Germany was pressured into denying Turkey weapons of war that could be used in the crisis. But maritime goods are largely exempt from the ban.
These Turkey-bound German arms exports are highly controversial in light of the conflict between Greece and Turkey. "The main focus of the recent criticism is the construction of six Class-214 submarines, which will be assembled in Turkey with the major participation of ThyssenKrupp Marine Systems," Germany's Handelsblatt noted. "The federal government had already approved the delivery of components in 2009 and secured the export with a so-called Hermes guarantee of $2.9 billion. Back then, relations between the two countries were much more relaxed" (Trumpet translation throughout).
Why is Germany supporting a power that is destabilizing much of the Middle East?
German arms companies have supplied the Turkish Navy since the early 1960s. Even then, Greece challenged Germany's decision to arm one of its primary enemies. In the end, it was agreed that Germany would arm both Turkey and Greece. But Turkey is now rising to become a dominant maritime power and the situation appears to be escalating.
German-Foreign-Policy.com wrote:
Accordingly, the Turkish Navy now has a considerable number of German-made warships. Not a few of them were built under license—and with the support of German companies—by the shipyard of the Turkish naval forces, Gölcük Naval Shipyards, southeast of Istanbul. The warships of German design owned by the Turkish naval forces include 12 older submarines that were manufactured by ThyssenKrupp Marine Systems (tkms) or its predecessor hdw (Howaldtswerke-Deutsche Werft). Eight frigates were built in Hamburg by Blohm + Voss or with their license in Gölcük; four of them are to be modernized quite elaborately by 2025 in light of future deployments. In addition, the Turkish Navy owns almost 20 speedboats designed by the Lürssen shipyard in Bremen; there are also several minesweepers that were manufactured in Germany by Lürssen and Abeking & Rasmussen from Lemwerder or under license in Turkey. In addition, six new submarines designed by tkms are currently under construction. The first has since been taken over by the Turkish Navy.
Thanks to Germany's help, Turkey's naval forces are a force to be reckoned with. Even though Germany delivers weapons to various other nations, its close cooperation with Turkey needs to be carefully watched. Greece isn't the only nation that regards Turkey as an enemy.
On January 2, Israel, Cyprus and Greece signed a deal to build a new natural gas pipeline connecting gas reserves in Israeli and Cypriot waters to Greece. "For the land surrounded by enemies," Die Welt noted, "the sea is [Israel's] lifeline. But now it is being drawn into a conflict that is about nothing less than power over the Mediterranean."
Israel indeed is surrounded by enemies in the Middle East, and Turkey is one of Israel's biggest threats. German politicians have often said that Israel's security is one of the nation's greatest priorities. "'Israel's security is German reason of state'—Angela Merkel's confession to the Knesset is probably the most frequently quoted sentence by a German head of government in Israel," Die Welt noted.
But is this really true if Germany is arming one of Israel's greatest enemies?
Israel is certainly concerned. So Germany sent four new warships to secure Israel's natural gas fields. And on November 11, the Kiel-built warship ins Magen (Hebrew for protective shield) was handed over to the Israeli Navy. It is the first of four Sa'ar 6-class corvettes that the Israeli government has ordered from ThyssenKrupp. According to the Ministry of Defense, the federal government is financing around a third of the project with $136 million.
Seth Frantzman, director of the Middle East Center for Reporting and Analysis, noted that Turkey does not necessarily need the gas in the Mediterranean, as it could fall back on deposits in the Black Sea. "Actually, the dispute is not about gas," he said, "but about dominance in the Mediterranean."
Since the United States is withdrawing from the global stage, naval forces around the world are arming in a fashion "similar to that before the First World War," Frantzman noted.
The parallels to World War i are striking. As theTrumpet.com assistant managing editor Richard Palmer noted in "New Alliances Shake Up the Mediterranean":
As Germany unified and rose in power in the late 19th century, Turkey was its gateway to the Middle East. Turkey went through coups and revolutions, but Germany worked hard to remain its partner.

This culminated with Turkey fighting alongside Germany in World War i. Germany used this alliance to spread its influence across the Middle East. Turkey was the key pivot in Germany's effort to stir Arabs into revolt against the British Empire.

"Germany sought to harness the forces of militant Islam to its cause with the help of its ally Turkey," wrote historian Peter Hopkirk in his book On Secret Service East of Constantinople. "By unleashing a holy war against them, Wilhelm and his hawkish advisers aimed to drive the British out of India, and the Russians from the Caucasus and Central Asia. It was a bold and adventurous strategy, for there were no precedents for a jihad in modern warfare."
Europe has a fervent ambition to take control of Jerusalem. "Jerusalem is one of the holiest sites in Islam," writes Trumpet editor in chief Gerald Flurry. "It is also probably the holiest site of the European Union. You will see that more and more as Europe completes its formation into a Holy Roman Empire. It currently has [27] member nations, but to play this part as a religious empire, Bible prophecy says the EU will pare down to a smaller number of core nations bound by religion and led by a single strong leader from Germany."
Turkey and Catholic Europe have a history of conquering Jerusalem. The Church of St. Anne in Jerusalem's Muslim Quarter in the Old City is one example of this history. The church building, originally built by crusaders just before 1140, was given to France by the Ottoman Empire in 1856 for aid in the Crimean War.
The Bible reveals that Europe will once again conquer Jerusalem. An end-time prophecy in Daniel 11:40-41 reveals: "And at the time of the end shall the king of the south push at him: and the king of the north shall come against him like a whirlwind, with chariots, and with horsemen, and with many ships; and he shall enter into the countries, and shall overflow and pass over. He shall enter also into the glorious land, and many countries shall be overthrown: but these shall escape out of his hand, even Edom, and Moab, and the chief of the children of Ammon."
The king of the north in this prophecy refers to a German-led Europe. Psalm 83 shows that Edom is in an alliance against Israel (primarily referring to the United States, Britain and the Jewish nation in the Middle East): "They have said, Come, and let us cut them off from being a nation; that the name of Israel may be no more in remembrance. For they have consulted together with one consent: they are confederate against thee: The tabernacles of Edom, and the Ishmaelites; of Moab, and the Hagarenes" (verses 4-6).
Bible prophecy reveals why Germany and Turkey have forged a close alliance. Soon we will see these prophecies fulfilled. While the whole world will be in utter shock, you can be assured that God's sure word of Bible prophecy is true. To learn more about these prophecies and what is immediately ahead of us, request Jerusalem in Prophecy, by Gerald Flurry.