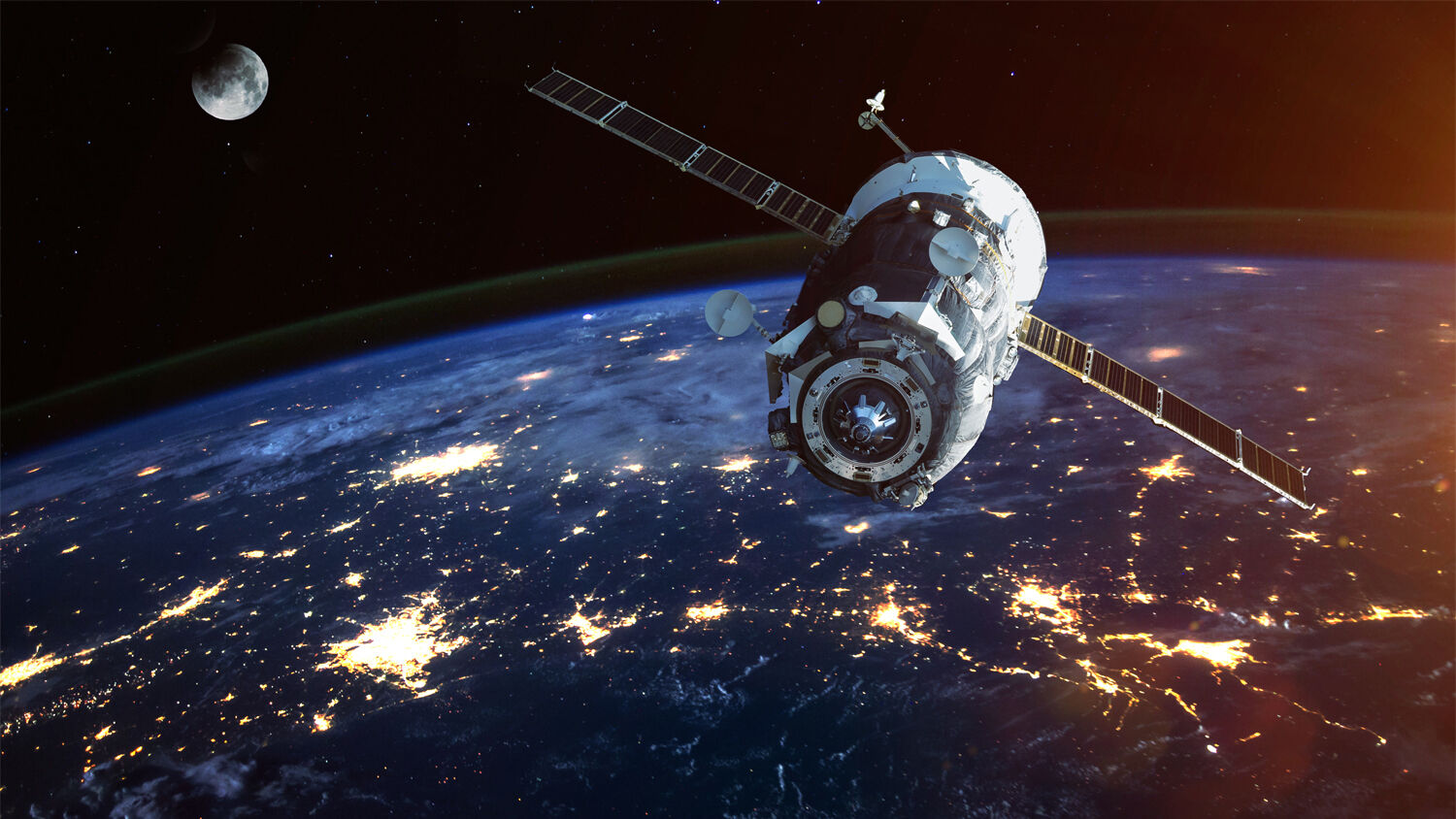 Germany Becomes Center of Future Space Wars
Every space technology could potentially be used for war.
Future military conflicts will, to a large extent, be decided in space. Whoever controls space also controls what happens on Earth. The North Atlantic Treaty Organization realizes the danger enemy nations pose in space and agreed on October 22 to establish a new nato Space Center at Allied Air Command in Ramstein, Germany.
Germany is increasingly becoming the heart of nato operations, gathering insights of the military alliance's plans, fears and advances. It is being trusted with unusual amounts of intelligence, almost without hesitation. Germany has a history of warmongering, but today, it is becoming a trusted peacekeeper.
The militarization of space is becoming a reality despite efforts to prevent it. The United States, China, Russia, India and others have capabilities to take down satellites, or are working toward that goal.
"When it comes to defending America, it is not enough to merely have an American presence in space," U.S. President Donald Trump said at a meeting with the National Space Council on June 18, 2018. "We must have American dominance in space."
Anything short of dominance could indeed prove fatal for millions of people. An attack on a nation's satellite system, for example, would be devastating for the entire nation and could even prevent it from going to war. This is why nato's 30 defense ministers decided to establish a new space center in Germany.
On October 22, the first day of meetings, nato Secretary General Jens Stoltenberg laid out the plans:
It will help to coordinate Allied space activities
Support

nato

missions and operations from space, including with communications and satellite imagery
And protect Allied space systems by sharing information about potential threats.
nato is becoming increasingly dependent on technology in space. Communication during military operations are conducted through satellites. They are used for reconnaissance and espionage, as well as for navigation systems. An attack on nato satellites could considerably reduce defense capabilities and, in the event of war, paralyze parts of public life.
Attacks on satellites would also greatly impact the everyday life of all citizens. For example, the processing of cashless payment transactions or navigation systems for road, sea and air traffic could be severely impaired.
"Some nations—including Russia and China—are developing systems which could blind, disable or shoot down satellites," Stoltenberg said in the lead-up to the meeting. "Space is essential for our ability to navigate, communicate and detect missile launches, and fast, effective and secure satellite communications are vital for our troops."
The space center in Ramstein is meant to prepare nato for future challenges. The center could gather information about possible threats against satellites and could later expand into a command center for defense measures. "Every space technology is potentially suitable for warlike purposes," Germany's tagesschau.de noted (Trumpet translation throughout).
According to information from the German Press Agency, a so-called competence center for nato's space activities will also be set up shortly; potentially in Kalkar, North Rhine-Westphalia, Germany, or Toulouse, France. nato's Joint Air Power Competence Center (japcc) is already based in Kalkar.
The Air Force's space situation center is located in Kalkar and Uedem on the Lower Rhine. The Combined Air Operations Center Uedem (caoc–Uedem) is located in nearby Uedem, where German Defense Minister Annegret Kramp-Karrenbauer recently established the German Air and Space Operations Center (asoc).
The U.S. is trusting Germany with various other responsibilities in nato. In 2018, it was asked to establish a new planning and command center for rapid troop and supply deployment.
German and U.S. armies will cooperate more closely in cyberwarfare, according to an August 4 report. "At the end of 2019, Germany and the U.S.A. agreed to intensify their cooperation in the areas of cyber and [information technology]," wrote the Bundeswehr's Newsletter Verteidigung. "In the first half of 2020, a bilateral agreement, Cyber-IT Engagement Framework (citef), was signed between the two states at ministerial level …."
The German Air Force has a supposedly peaceful space program and the Bundeswehr a supposedly peaceful cyber combat unit.
But things could change suddenly. If, for example, Germany plans a surprise attack against the U.S. and starts by attacking its power grids, satellites and computer systems, it would have a most dangerous advantage over its former enemy.
While many nations rely solely on satellites for their military advances, Germany is looking for alternatives. The Rafael Advanced Defense Systems and France's Atos Information Technology are developing new technologies to coordinate land, sea and air forces. While this system still connects to satellites, it also facilitates direct wireless communications. And Germany is interested in the technology.
At the request of the German Federal Office of Bundeswehr Equipment, Information Technology and In-Service Support, Rafael and Atos have teamed up to create a so-called glass battlefield, c4isrnet reported on December 13. The real-time 3-D picture of the battlefield allows unmanned aerial systems and combat vehicles to operate more efficiently and in greater unity.
Germany is also working on its own Future Combat Air System that will unite European forces. Airbus explained the purpose of fcas:
By connecting a range of manned and unmanned platforms, the Future Combat Air System can help secure European sovereignty and technological leadership in the military aviation sector.

In the past, combat pilots had to do a lot of things by themselves. But times are changing: Future air power will be based on a network of intelligent, connected platforms, delivering highly accurate, real-time information.
Swarms of drones, fighter jets, cargo aircraft and satellites connected through artificial intelligence armed with laser weaponry—that's the visionary concept of fcas.
One may wonder what is Germany preparing for?
Bible prophecy indicates that the U.S. will eventually be betrayed by Germany. But America won't be able to go to battle. "Wherefore I have delivered her into the hand of her lovers, into the hand of the Assyrians, upon whom she doted" (Ezekiel 23:9). As punishment for its sins, God will deliver America and Britain (the modern descendants of Israel) into the hands of Germany (the modern-day descendants of Assyria), whom they trusted as an ally.
Ezekiel 7:14 reads, "They have blown the trumpet, even to make all ready; but none goeth to the battle …." In his January 1995 Trumpet personal, Trumpet editor in chief Gerald Flurry explained:
The trumpet of war was blown in Israel—mainly America and Britain. It seems everybody was expecting our people to go into battle. But the greatest tragedy imaginable occurred! Nobody went to battle—even though the trumpet was blown!
Winston Churchill warned of Germany's deceit in the lead-up to World War ii. Churchill's understanding is shamefully missing among today's leaders. It's almost as if military leaders grant Germany more and more trust. But the Bible gives a warning that is a thousand times stronger for our time today than even that of Churchill's. In his booklet Winston S. Churchill: The Watchman, Mr. Flurry writes:
[Churchill] understood Germany's history of surprise attacks! … And this is the method of warfare they followed throughout World War ii! This happened repeatedly to Hitler's enemy nations and even those who thought they were his friends! Daniel 8:23-25 state that deceit and surprise attacks by Germany will be even worse in World War iii!
Failing to recognize Germany's military ambition has caused the death of tens of millions in just the past century. How soon have we forgotten this history? The Bible reveals that there is only one way to prevent the coming calamity. "As I live, saith the Lord God, I have no pleasure in the death of the wicked; but that the wicked turn from his way and live: turn ye, turn ye from your evil ways; for why will ye die, O house of Israel?" (Ezekiel 33:11).
To understand why the Trumpet repeatedly warns about Germany, request a free copy of Ezekiel—The End-Time Prophet. Our world longs for peace, but mankind fails to see that only God can bring such peace.