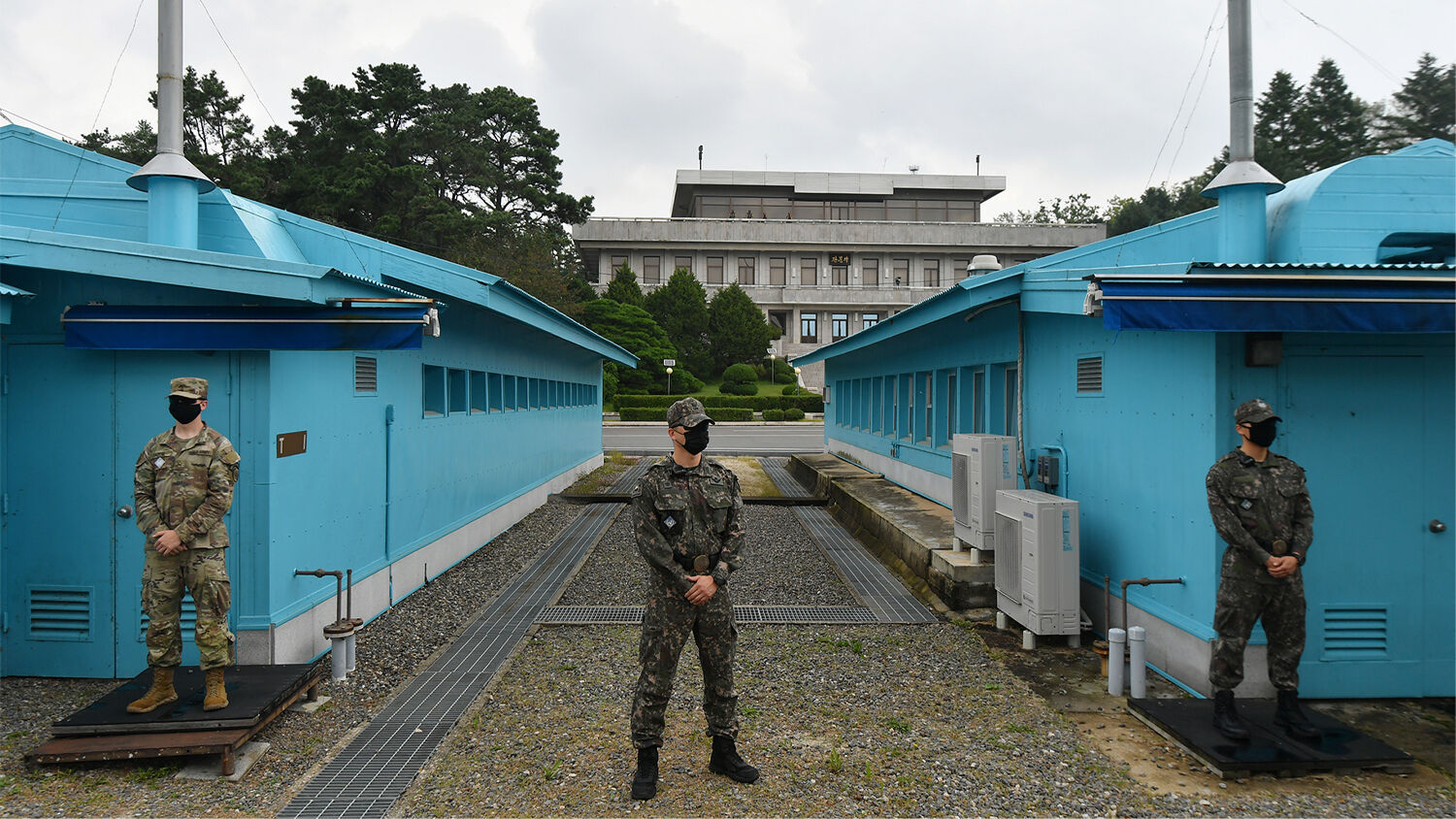 South Korea Mulls Ending Military Alliance With U.S.
'Just because Korea chose the U.S. 70 years ago does not mean it has to choose the U.S. for the next 70 years, too.'
Powerful South Korean voices are crying out for the nation to end its military alliance with the United States, placing a sobering question mark over the future of the 70-year-old alliance.
On October 12, the nation's ambassador to the U.S., Lee Soo-hyuck, addressed the South Korea National Assembly's Foreign Affairs and Unification Committee, saying: "Just because Korea chose the U.S. 70 years ago does not mean it has to choose the U.S. for the next 70 years, too."
Lee went on to say that South Korea should more highly prioritize its relationship with China.
Coming from the man whose job is primarily to manage the South Korea-U.S. relationship, these were bombshell remarks. And they follow similar statements that Mr. Lee made back in June when addressing correspondents in Washington, D.C..
Lee's most recent statements come less than a week after Gen. Won In-choul, the chairman of South Korea's joint chiefs of staff, told the South Korean parliament that wartime operational control (opcon) of South Korea's military must be transferred from Washington to Seoul. Won said: "If the opcon transition becomes a distant aim, or is delayed too much compared to what we expect due to the conditions, those parts need to be revised or supplemented."
Also notable is that South Korean Minister of National Defense Suh Wook and U.S. Defense Secretary Mark Esper abrupty called off a press conference on October 14 that was scheduled to take place following a meeting they held about the alliance. South Korea's Hankyoreh said that while it may have been called off due to the nearness of the U.S. presidential election, "there was speculation that the cancellation was connected with the two sides' disagreement about items on their agenda, including the opcon transfer."
Such statements from South Korean leaders and such disagreements between them and their American counterparts are becoming more frequent. Since they follow U.S. President Donald Trump's increased pressure on the South to pay significantly more for American's military presence in the country, these developments are somewhat understandable. But the prospect of a rupture in the South Korea-U.S. alliance is sobering in light of all that is at stake for the region—and the world.
For seven decades, this alliance has stood as a pillar in America's strategy to stabilize Asia. A split would see the U.S.'s 28,500 troops stationed in South Korea ousted, and would almost certainly bring an end to the Terminal High Altitude Area Defense system that America operates on the peninsula. These developments would shift a hefty amount of political and military influence away from the U.S. and toward Asia's regional behemoths. They would give far more power to China and Russia to assert their will in East Asia and beyond.
The Trumpet has long predicted that such a shift would take place. "The scenario of an America-free Asia will not remain hypothetical for much longer," we wrote in January 2014. "We can already see tectonic geopolitical shifts that are rapidly turning it into a reality."
For decades, the Trumpet and its predecessor the Plain Truth have maintained this same forecast. Now a growing number of trends—such as the deepening fissures in the U.S.-South Korea alliance—indicate how quickly it could happen. Bible prophecy says it will occur in the near future, just before a third world war.
In the 1930s, Herbert W. Armstrong began forecasting that U.S. power and influence would eventually disintegrate. Following America's failed attempt to invade Cuba in 1961, he put the blame not on the U.S. military or the Kennedy administration, but on the people of the nation: "Unless or until the United States as a whole repents and returns to what has become a hollow slogan on its dollars: 'In God we trust,' the United States of America has won its last war! [T]he God America has deserted gave it its most humiliating defeat! What does the Cuban debacle mean? It means, Mr. and Mrs. United States, that the handwriting is on your wall!" (Plain Truth, October 1961).
Mr. Armstrong understood that U.S. power would decline. He knew it would happen because of his understanding of Bible prophecy, which makes specific forecasts about the descendants of ancient Israel, which includes the Americans. (This can be proved by reading our free book The United States and Britain in Prophecy, by Herbert W. Armstrong.) In Leviticus 26:19, God warned the people of Israel that if they rejected His law, He would "break the pride" of their power.
Since Mr. Armstrong's death in 1986, Americans have intensified their rejection of God and His law. Meanwhile, the U.S. has entered into numerous military conflicts, each one draining a little more of the nation's pride in its power.
The situation on the Korean Peninsula today shows that more and more people around the world are coming to see that America's pride in its power is broken. South Korea and other countries are readying for a future in which they no longer rely on the U.S.
Meanwhile, Revelation 16:12 discusses a group of nations called "the kings of the east" that will rise to power in the end time, just as the U.S. is declining. Revelation 16, Ezekiel 38 and other Bible passages show that this bloc will play a major role in the final global war. Ezekiel 38 shows that this bloc will be comprised of Asian nations led by Russia and, to a lesser degree, China.
Revelation 9:16 shows that the combined militaries of all these Asian "kings" will amount to 200 million soldiers—a military far larger than any in history. Ezekiel 38:6 lists as part of this Asian alliance some ancient names for the modern people of Korea. This shows that whether the Koreas unite or not, the peninsula will eventually lend its military power to the colossal bloc led by Russia and China.
To understand where these trends are heading and the remarkable hope that is tied to them, order your free copy of our booklet Russia and China in Prophecy.