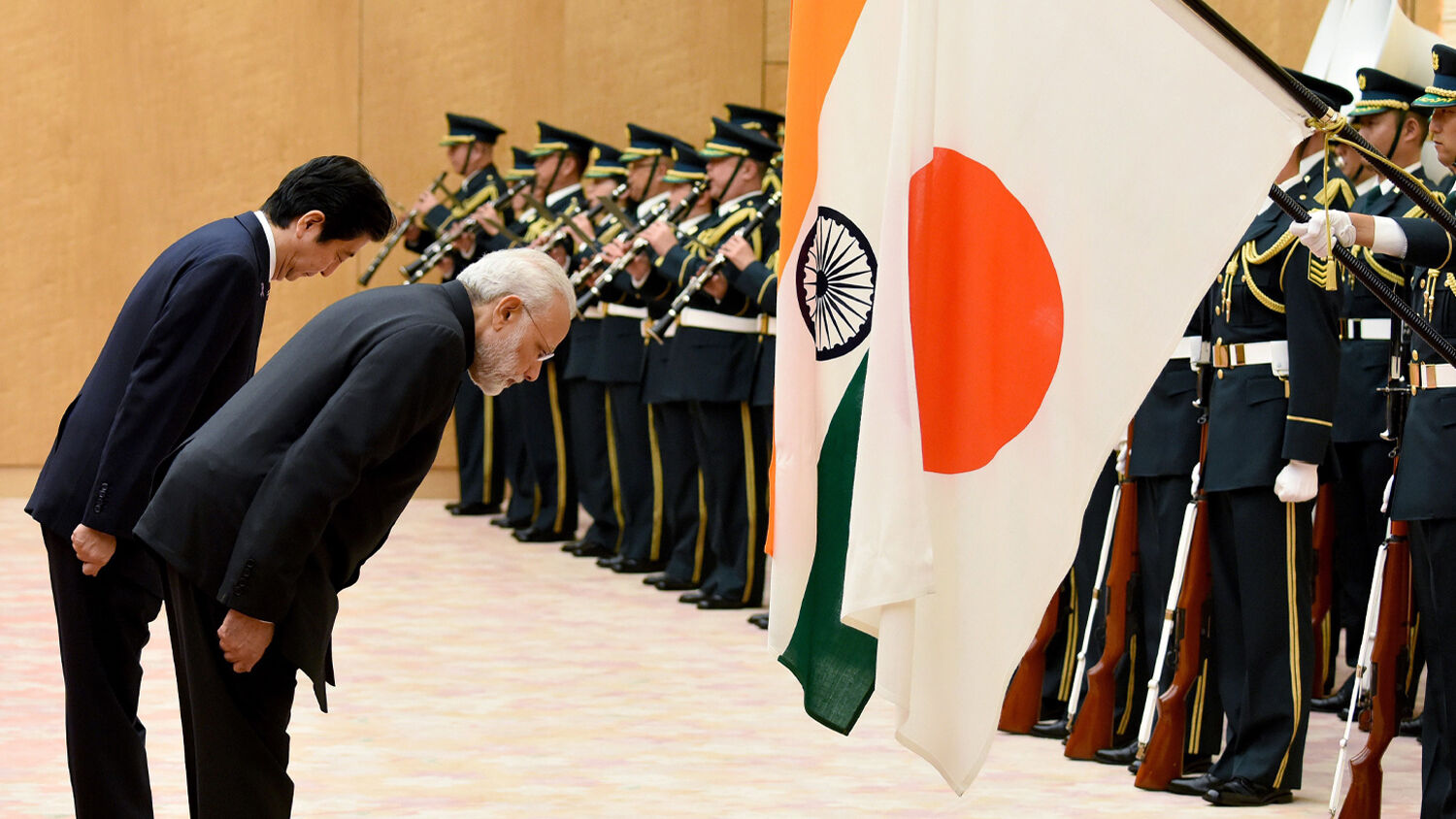 Japan and India Synchronize Their Militaries
Two Asian giants sign deal to join forces.
The Japanese and Indian governments signed a military pact, the Acquisition and Cross-Servicing Agreement (acsa), on Thursday, September 10. Both militaries can now supply the other with food, fuel and spare parts. They can also transport each other's troops during military exercises and United Nations peacekeeping missions—in other words, actual wars.
The Indian Navy has also been granted access to Japan's military base in Djibouti, while the Japan Maritime Self-Defense Force (jsdf) can now use Indian bases in the Andaman and Nicobar Islands, an offshore archipelago administered as an Indian territory.
The agreement has been two years in the making, but many suspect it was signed now due to Tokyo's and New Delhi's frosty relationships with China. China, who has a track record for unilaterally annexing its neighbors' maritime territory, has been making territorial demands over Japan-claimed Senkaku Islands for years. And this June, the Chinese and Indian armies engaged in a brief skirmish over their disputed border in the Himalayas.
This is the latest event in a blossoming relationship between Japan and India under outgoing Japanese Prime Minister Shinzō Abe. The Diplomat wrote that Abe, "more … than any single Japanese leader in the past two decades, has driven Indo-Japanese convergence, [seeing] Tokyo's fate in Asia as very much intertwined with New Delhi's." The Economic Times called Abe "a pillar of strength" for India.
Abe first proposed a partnership with India in a speech to the Indian Parliament in 2007, during his first term as prime minister. In 2014, Abe and Indian Prime Minister Narendra Modi came to an agreement to double Japanese investment into India by 2019. Since 2015, jsdf ships have made frequent forays into the Indian Ocean, apparently with India's blessing.
Meanwhile, Japanese military manufacturer ShinMayway Industries Ltd. agreed to a technology transfer for its aircraft, the US-2i, to India, with an agreement for the aircraft's production in India signed in 2019.
There are a few things to note about this agreement, especially regarding Japan's role in it. Both Japan and India are on bad terms with China, a nuclear power with the second-largest economy in the world and a formidable conventional military. While the agreement falls short of synchronizing the distribution of weapons or ammunition, it still shows that Japan takes the threat of war with China seriously.
This means that Japan is preparing for war with a global power.
But why should Japan be so concerned about going to war with China when the United States, the world's largest economy with one of the most advanced military arsenals on the globe, promised to protect it in a treaty signed over half a century ago?
America still has a sizable military presence in Japan. However, U.S. President Donald Trump routinely pledging to bring American troops home, coupled with his "America first" squabbles in getting military allies to contribute more to their defense budget (including both with Japan and Japan's neighbor, South Korea), may be making Abe wonder if America is a reliable ally.
At the end of World War ii, Japan was required to commit to a pacifist constitution, under which it would "forever renounce war as a sovereign right of the nation and the threat or use of force as a means of settling international disputes"; further stating that "land, sea, and air forces, as well as other war potential, will never be maintained."
Yet Japan has been quietly (and sometimes, not-so-quietly) developing its military to a force equipped for much more than "self-defense." Global Firepower ranked Japan this year as the fifth-most powerful military in the world. India was ranked fourth. Abe, in his resignation speech on September 15, stated that he regretted not being able to change Japan's Constitution to make its military more formidable.
Yet before and during Abe's time in power, Japan has continued to develop a real military. It opened its naval base in Djibouti in 2011. And it continues to strengthen its military and relations with other Asian nations.
Japan's remilitarization, while unnoticed by many today, will lead to Tokyo joining a military alliance in a gigantic war against a hostile superpower.
But that superpower won't be China; actually, China will be a part of the alliance.
How can we make such a bold prediction? In 1968, the Plain Truth, our parent magazine, wrote:
Despite its many national, religious and political differences, Asia will ultimately be welded together into a common power bloc. … It will ultimately send its military muscle into the Middle East at the return of Jesus Christ. This prophecy is recorded in Revelation 16:12 and 16. Japan will play a vital role in this battle.
Herbert W. Armstrong, founder and editor in chief of the Plain Truth, wrote in 1971:
Japan today has no military establishment. Some United States forces are still there. But we should not lose sight of the fact that Japan has become so powerful economically that it could build a military force of very great power very rapidly.
As we have seen, this prediction has proven true.
Revelation 16:12 and 16 discuss a military power known as "the kings of the east." This power will march into the Middle East to counter a growing European power, a resurrection of the old Roman Empire. (This is explained in our free booklet Who or What Is the Prophetic Beast?) Mr. Armstrong named the nations to build this Asian military colossus: "Russia with her allies … possibly China or Japan." Revelation 9:16 describes this army as having 200 million men!
Japan already has a robust military and highly advanced technology. But to reach the astronomical number of 200 million, the billion-and-counting population of India—also a military heavyweight—must also be taken into consideration. We see these two nations orchestrating their militaries to a new level already.
To learn more about this united Asian superpower that is currently forming, please request our free booklet Russia and China in Prophecy.