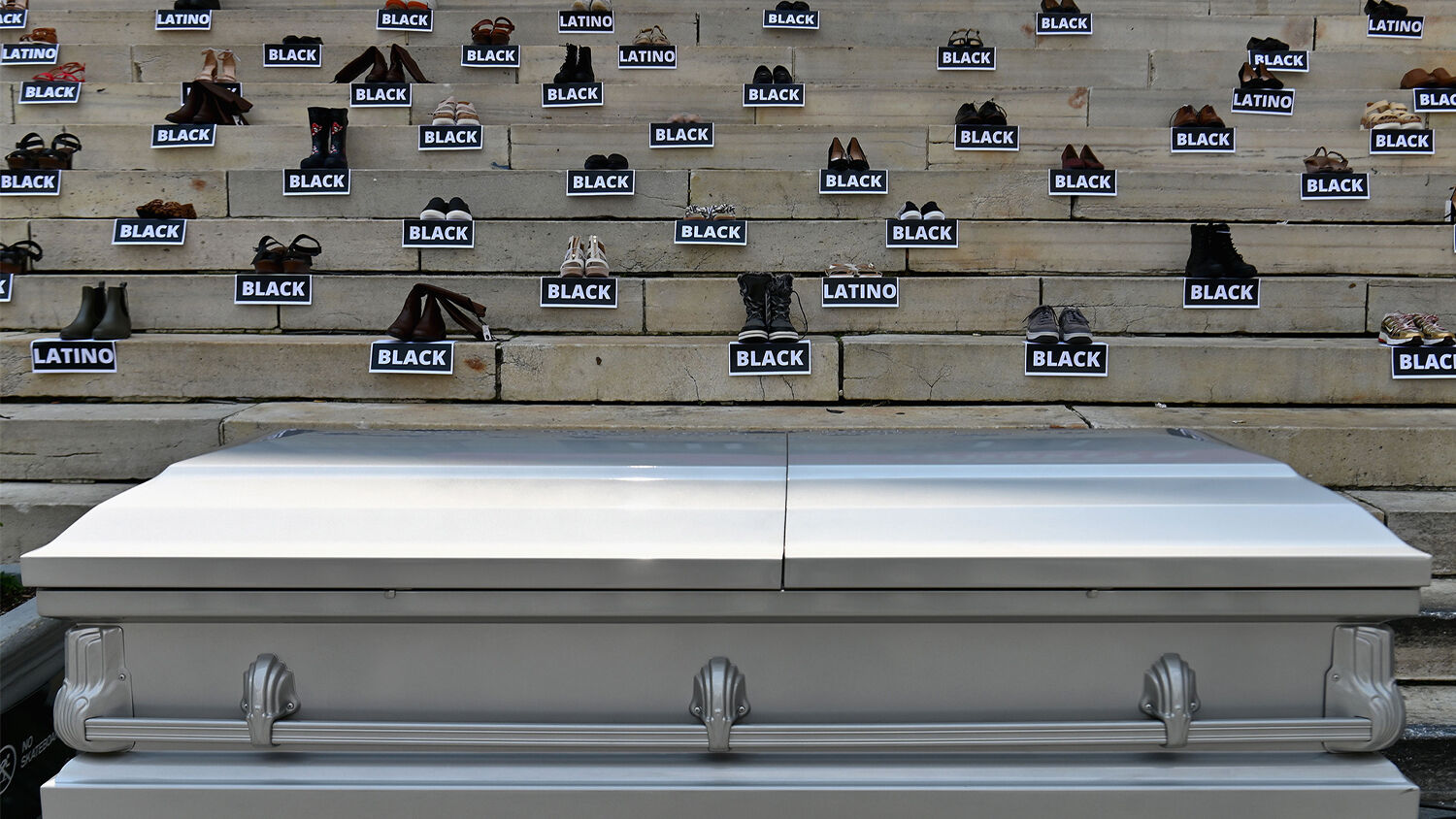 Violent Crime Spikes as Cities Defund Police
The evidence is in—but who is paying attention?
Shootings and homicides have increased dramatically in American cities since riots and calls to defund the police began in early June. Over the past six weeks, at least 600 people have been murdered—many of them African-Americans.
In America's worst-affected city, New York City, homicides since the beginning of the year have increased by 21 percent compared to the same period in 2019. Shootings are up by 46 percent. In the Bronx, a black father was shot and killed in front of his 6-year-old daughter while walking along the street in broad daylight.
Democratic Mayor Bill De Blasio publicly commented on the violence that plagued the city over the July 4 weekend. After acknowledging that the city has "a lot of work to do" to restore order, he blamed coronavirus for the spike in crime. "This is directly related to coronavirus," he told Fox News. "As we're getting into warmer and warmer weather, we're feeling the effects of people being cooped up for months, the economy hasn't restarted—we have a real problem here."
In reality, the spike in killings aligns with De Blasio's decision to disband 600 officers from anti-crime units and his new policy on bail reform, which allows criminals to go free before their paperwork is filed. De Blasio and the city council aim to cut $1 billion from the city's policing budget. He has also released prisoners from Rikers Island, and intends to continue doing so. Other changes, like banning police from putting a knee on a suspect's back, have made it "difficult for officers to make arrests," according to New York Police Department Chief Terence Monahan. New York's police are now "hesitating to enforce" the law.
Los Angeles is facing America's second-highest crime surge. In the first week of June, coinciding with the beginning of riots, Los Angeles experienced a 250 percent surge in homicides compared to 2019. Shootings increased by 56 percent over that period. Meanwhile, the Los Angeles Police Department has received a $150 million cut in funding.
Chicago has fared no better. Since 2020 began, the city has had 1,508 shootings. This is 350 more than the same period in 2019. From January 1 to June 15 this year, there were 254 murders. This is higher than the same time period in 2019, 2018, 2015, 2014 and 2013. If the trend continues, this year's homicide figures could be among the city's highest ever. Over the July 4 weekend alone, Chicago saw 80 shootings and 15 deaths.
The nation's capital has not been spared either. From January 1 to July 7, Washington, D.C., saw a 13 percent increase in homicides compared to the same period in 2019. The only comparable increases are car theft and arson, according to data from the city's police department—meaning the surge in murders is likely linked to the riots. Washington, D.C., police have faced $15 million in cutbacks since June.
Philadelphia and Baltimore are also affected. In Philadelphia, shootings increased by almost 67 percent for the period from January 1 to June 12. The police force will have $19 million chopped from its budget. Baltimore, which for five years in a row experienced more than 300 murders, will lose $22 million in police funding. As of June 3, the city had already experienced 134 murders, six more than at the same point in 2019.
If Baltimore's trend continues, homicides this year will exceed its all-time high of 348 in 2019. Over the July 4 weekend alone, 12 people were shot, one fatally.
The July 4 weekend proved fatal in Atlanta too: 30 were injured by gunfire, and five died. The city experienced "over 75 shootings" in June, Atlanta's Democratic mayor, Keisha Lance Bottoms, told cnn. "You can't blame that on apd [Atlanta Police Department]," she acknowledged.
As in the case of Chicago, Baltimore, Atlanta and most large cities, the victims of this violence are often African-Americans. And increasingly, they are children or teenagers.
One of the dead in Atlanta was an 8-year-old girl. Her mother had driven into a parking lot, where protesters had set up illegal barricades. As she attempted to turn around, two protesters opened fire on the car, killing her daughter, Secoreia Turner. The suspects are currently at large.
"They say black lives matter," said Turner's father at a July 5 news conference. "You killed your own. You killed a child."
Over the Independence Day weekend, at least six African-American children died in black-on-black crime. In Washington, D.C., an 11-year-old boy was shot in front of his aunt's house. In Chicago, a 7-year-old girl was shot while playing with a group of children in front of a house.
Defunding the police will only worsen this suffering.
The Trumpet has been warning for years that lawlessness and racial tension in America's cities would grow worse. Editor in chief Gerald Flurry recently wrote "Race Riots—Three Decades of Prophetic Warning," reviewing those predictions and how they have been coming true. How did we know? Bible prophecy foretold exactly this situation.
Isaiah 1:7 says, "Your country is desolate, your cities are burned with fire: your land, strangers devour it in your presence, and it is desolate, as overthrown by strangers." This scripture refers to violence, especially race riots, consuming American cities. Mr. Flurry wrote in that article, "We see terrible violence and destruction in our cities. Americans—and people all over the world—are seeing how quickly our racial tensions can snap into nation-threatening chaos. … It is all aimed at destroying the enforcement of law in America, which will destroy America!"
Defunding and demoralizing the police will allow riots to spiral out of control much more quickly, and with deadlier results, just as the Bible prophesies.
In the August 2020 Trumpet issue, Mr. Flurry's article "Race Riots Were Prophesied!" goes into detail about how destroying the rule of law in America is leading the nation to civil war. The suffering in New York, Los Angeles, Chicago and other cities over the past month has been terrible. But it will look small compared to what is prophesied to come.
"Where are the riots in America leading us?" he asked. "If you look at Bible prophecy, God makes the answer clear. He also makes clear that there is a solution and what that solution is!"
The Bible says that racial division and weakened rule of law will tear America apart, but it also reveals the solutions to these seemingly insurmountable crises. To learn what it is, read "Race Riots Were Prophesied!" by Gerald Flurry.