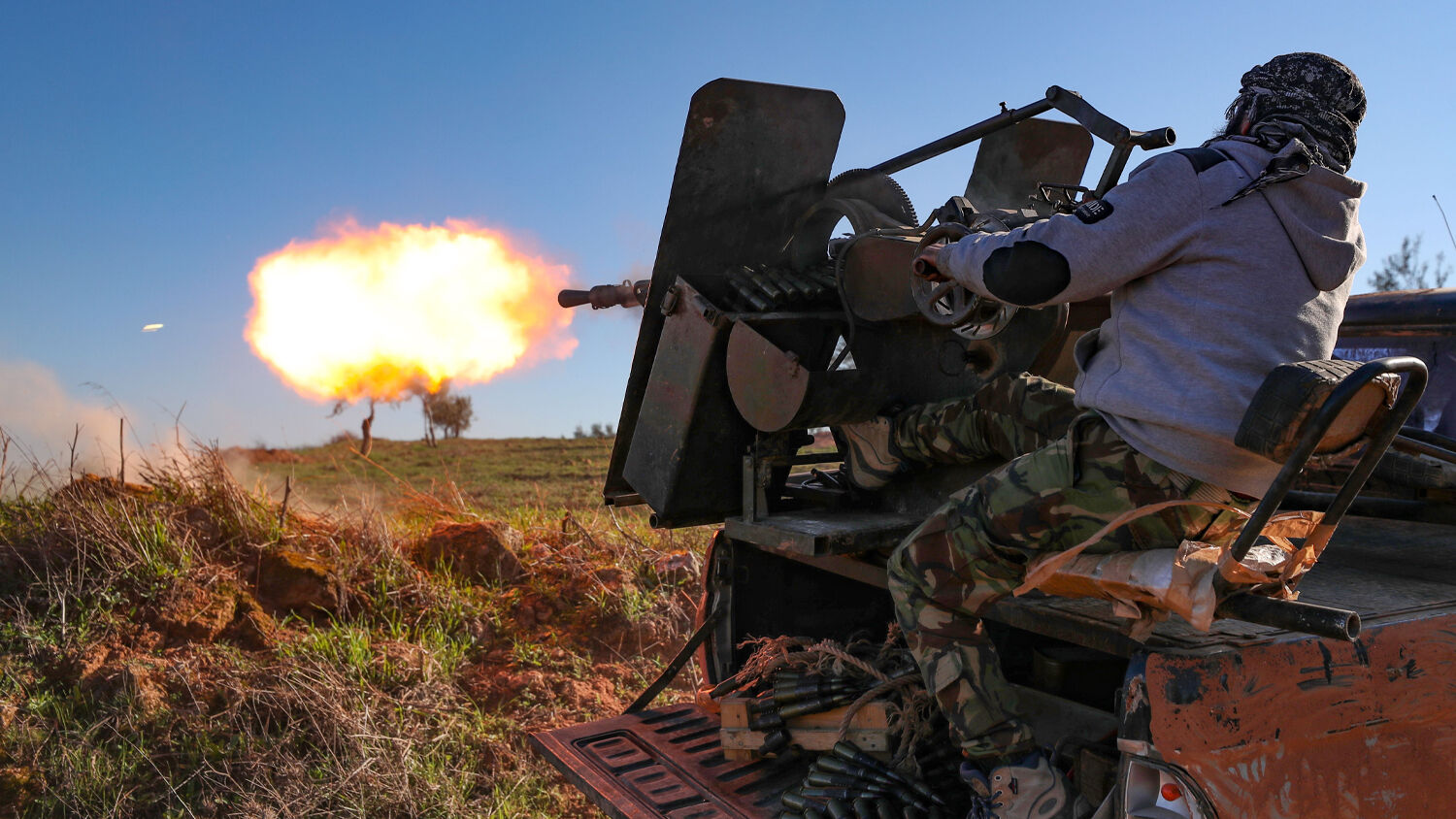 German Arms Exports to Turkey Boomed in 2019
Germany's alliance with Turkey portends doom.
Turkey received more than a third of Germany's total weapons exports last year, a classified document by the Ministry of Economic Affairs, now available to the German Press Agency, shows. Turkey is one of the most controversial members of the North Atlantic Treaty Organization and has repeatedly pursued opposing goals. Germany's alliance with Turkey foretells a betrayal of the United States-led alliance.
Germany exported $928.6 million worth of weapons in 2019, including submarines, tanks, combat aircraft and guns, according to its Economic Ministry. When other armaments, such as armored ambulances and military trucks, are added in, the arms exports amounted to over $8 billion.
No country has bought as many war weapons from Germany as Turkey. In 2019, Turkey received $388.6 million worth of weapons.
The arms export report for 2019, which the federal government published earlier this year, did not include the export figure for Turkey, to protect business and trade secrets.
Parliamentarians receive the information on request, but it remains classified. Members from the Left and Greens parties have criticized this practice. "It is scandalous that the federal government is falling behind in terms of transparency in arms exports," Greens armaments expert Katja Keul said.
The Economic Ministry website noted: "Decisions on arms export permits are primarily based on foreign and security policy, not economic or employment considerations" (Trumpet translation throughout).
But when it comes to exporting weapons to Turkey, there is cause for concern.
Because of Turkey's invasion of Syria in October 2019, which included the use of German-built tanks, Germany was pressured into denying Turkey weapons of war that could be used in the crisis. "German weapons of war may not be used in Syria; this is how the arms export stop against Turkey has been stipulated since 2019," n-tv.de noted on June 23. "But that does not prevent either country from making even more extensive military deals than before."
After the partial arms export ban to Turkey, Germany delivered exclusively "maritime" goods, namely in the form of submarines. And for the second year in a row, Turkey is Germany's number one recipient of war weapons.
Despite this alarming development, many reassured by the fact that both Germany and Turkey belong to nato. "Arms exports to Turkey are controversial, not only because of the entry of Turkish troops into Syria," faz.net noted. "The United Nations also includes Turkey among the countries that intervene in the war in Libya with arms deliveries. Last week there was a military operation in northern Iraq against the Kurdistan Workers' Party (pkk), which Turkey regards as a terrorist organization. On the other hand, Germany and Turkey as nato members also belong to the same military alliance." Is it naive to be relieved by Germany's and Turkey's nato connection?
Germany and Turkey have both had recent disagreements with the United States.
Germany is in the process of building the Nord Stream 2 pipeline with Russia, which the U.S. sanctioned in November 2019. Additionally, Germany is seeking new trade alliances with China and Latin America, while opposing U.S. sanctions against Iran and its policy toward Israel.
Turkey disagrees with the U.S. about its policy in Syria, Libya, Israel and much more. U.S. President Donald Trump sanctioned Turkey last year after its military assault on Kurdish regions in northern Syria.
This close cooperation between Germany and Turkey isn't without historic precedent.
In World War i, the Ottoman Empire and German Reich fought side by side. Such history is not easily forgotten and has shaped relations to this day. The fact that the two are now nato members doesn't mean they have given up their global ambitions. Turkey has the second-largest number of military personnel in nato. Germany is the fourth-largest arms exporter and an economic heavyweight, with the potential to rapidly become a military giant.
Within nato, Turkey and Germany have access to nuclear bombs through the nuclear-sharing agreement.
German-Turkish cooperation should concern America.
Trumpet editor in chief Gerald Flurry explained in "A Mysterious Prophecy" that Psalm 83 speaks of an unprecedented alliance that is prophesied to form in our day. This prophecy says that Turkey (Edom), Saudi Arabia (Ishmaelites), Syria (Hagarenes) and Germany (Assur) will make up this alliance.
These nations are prophesied to secretly conspire against modern-day Israel (primarily the U.S., Great Britain and the Jewish nation in the Middle East).
Psalm 83:1-5 warn: "Keep not thou silence, O God: hold not thy peace, and be not still, O God. For, lo, thine enemies make a tumult: and they that hate thee have lifted up the head. They have taken crafty counsel against thy people, and consulted against thy hidden ones. They have said, Come, and let us cut them off from being a nation; that the name of Israel may be no more in remembrance. For they have consulted together with one consent: they are confederate against thee."
Mr. Flurry explained:
This prophecy gives us an insight into what is coming in the very near future: the Great Tribulation and the times of the Gentiles (Matthew 24:21; Luke 21:24). God is going to punish these three nations of Israel more severely than at any time in their history, because of all their "abominations." …

There has never been such an alliance to attack or totally destroy Israel in history. Concerning this psalm, the Anchor Bible reads, "History transmits no record of the national crisis when the nations enumerated in this psalm formed a league to wipe out Israel …." Lange's Commentary points out, "The 10 nations who are here enumerated as being combined against Israel, are never mentioned elsewhere as enemies allied at the same time and for the purpose of annihilating Israel." Other commentaries make the same point.
As this alliance is taking shape, we can expect Germany to become more militarily involved. The world at large will pay little attention to these developments, but the Bible reveals the betrayal will come suddenly.
A prophecy in Daniel 11 provides further insight into this German-Turkish alliance: "And at the time of the end shall the king of the south push at him: and the king of the north shall come against him like a whirlwind, with chariots, and with horsemen, and with many ships; and he shall enter into the countries, and shall overflow and pass over. He shall enter also into the glorious land, and many countries shall be overthrown: but these shall escape out of his hand, even Edom, and Moab, and the chief of the children of Ammon" (verse 40-41).
The "king of the north" in this prophecy refers to a German-led European empire, and the "king of the south" refers to radical Islam, led by Iran. Some of the same countries mentioned in Daniel 11 that will escape Germany's invasion in the Middle East are also mentioned in Psalm 83 as being in the alliance with this German-led European empire. These end-time prophecies are connected.
Most astonishing is that this alliance was prophesied thousands of years ago. The Trumpet, under the direction of Gerald Flurry, predicted this alliance years ago based on these prophecies. We are now seeing it form.
You need to understand the Bible's prophecies and why God inspired them. Request our free booklet History and Prophecy of the Middle East for more detailed information and read "A Mysterious Prophecy," by Gerald Flurry. These prophecies expose many of today's evils, but they also give hope of God's soon-coming intervention in world affairs.