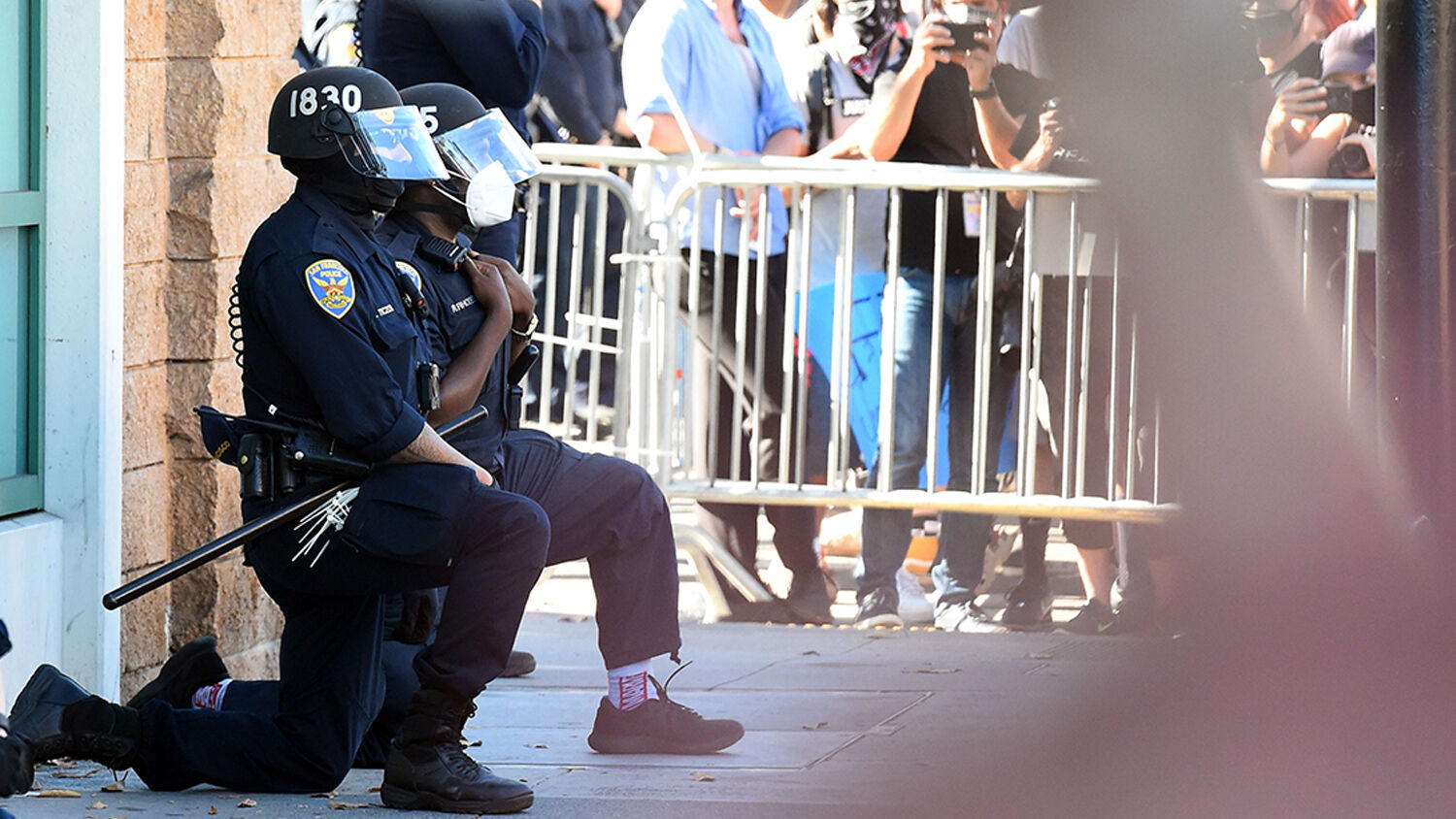 A World Without Police
The attack on law enforcement is part of a sinister plot decades in the making.
Law enforcement officers are public enemy number one in America. The death of George Floyd has set off an unprecedented level of rioting and protest. United States President Donald Trump has had his unfair share of blame for all that has taken place. White supremacy has also been decried as the source of all the trouble, as has systemic racism. However, the main channel through which all these purportedly pervasive evils are believed to have been sustained is through the police.
And so, a movement has begun to reduce, and in some cases completely abolish, law enforcement in America.
The subject of police brutality is based on the belief that racism is endemic in law enforcement. The issue has returned to the fore after four black people were killed by the police over six months in 2014. For many in the black community, it harkened back to the 1991 Rodney King beating and the subsequent acquittal of the responsible police officers, resulting in the Los Angeles riots.
Black Lives Matter was founded after the acquittal of George Zimmerman in 2013. Its mission is to "eradicate white supremacy and build local power to intervene in violence inflicted on black communities by the state and vigilantes."
The organization aims to create a world where "Black lives are no longer systematically targeted for demise" (emphasis added throughout).
And so, in the wake of the tragic death of George Floyd, Black Lives Matter is calling for "the national defunding of the police," because "for black people, law enforcement doesn't protect or save our lives. They often threaten and take them."
Since 2015, the Washington Post has been tracking data and information on police shootings in America. In 2015, police officers killed 258 blacks. This is far fewer than the 669 white and Hispanic deaths. But the Post argues that the numbers for blacks are more significant because African Americans account for 26 percent of those fatally shot by police, despite being just 13 percent of the population.
Therefore, the touted evidence of racism within law enforcement is the fact that the rate of black deaths is higher than that of other races. However, the important metric to use is not of the whole race, but of police encounters within the races. Despite the black population being lower, it has a higher rate of criminal encounters with the police.
The Bureau of Justice Statistics reports that blacks are responsible for 62 percent of all robberies, 57 percent of murders and 45 percent of assaults in the 75 largest U.S. counties.
According to Federal Bureau of Investigation data, black criminals have been responsible for 40 percent of the 1,627, police deaths over the last decade, an average of 163 per year. On the other hand, in 2019, police fatally shot nine unarmed blacks.
In addition, upon analyzing the Philadelphia Police Department, the Justice Department found that as far as actual shootings by the police of black suspects, white police officers are actually less likely than black or Hispanic officers to shoot unarmed black suspects.
The Proceedings of the National Academy of Sciences concluded in a 2019 study that there is "no significant evidence of anti-black disparity in the likelihood of being fatally shot by police."
The main reason for the comparatively higher rate of black deaths is due to the higher probability of a violent confrontation with a black suspect. In 40 percent of those cases, the officer is the one killed by the black suspect. And the numbers show that black police officers are the ones who more readily use violent force against black suspects.
How can racism be endemic when, in understandable context, black officers are the more likely to use violent force against black suspects?
'Charge All the Cops'
Regardless, Derek Chauvin and three other officers were fired following the death of George Floyd. Chauvin was recorded kneeling on Floyd's neck for 8 minutes and 46 seconds. Accordingly, he was charged with second degree murder and manslaughter. The other three officers have subsequently been charged as well.
But the only real solution being touted is to do away with the police completely.
In the protests and riots following Floyd's death, no group has been more at risk than police. Amid the carnage and violence, rioters have specifically targeted law enforcement officers. Four police officers were shot in downtown Missouri. In Las Vegas, one policeman took a bullet to the head and is on life support in the hospital. In Richmond, Virginia, two policemen were injured after a shooting with a protester. In Buffalo, New York, a protester drove an suv into a group of law enforcement officers, seriously injuring at least two. A similar hit-and-run took place in the Bronx. Two other New York Police Department officers were shot, and another was stabbed in the neck while on guard against looting.
It is difficult to remember a time when the attitude toward law enforcement was worse than it is now. All this violence is representative of the animus against the police. As far as the public is concerned, the problem is not only with Derek Chauvin, but with all police.
The assertion that law enforcement is institutionally racist led to attacks on and murders of police officers during the Obama administration. The movement is now looking for a more permanent and exhaustive solution. That solution is to put away not only Derek Chauvin, but all the police.
Popular Women's March activist Tamika Mallory, in a now viral video of her speaking at a rally, said, "Young people … are enraged. And there is an easy way to stop it. Arrest the cops. Charge the cops. Charge all the cops. Not just some of them—not just here in Minneapolis. Charge them in every city across America where our people are being murdered. Charge them everywhere! That's the bottom line. Charge the cops."
The video has been watched over 10 million times. It has been shared by multiple users across social media. The sentiment expressed in the video is gathering momentum. It is the same as that which is behind the movement to defund the police. The solution is to remove the police from the equation. That is the "easy way to stop" the violence—to get rid of the police.
Defund the Police
The movement to defund the police is gaining followers among the general public and celebrities alike. Alex S. Vitale, author of The End of Policing, explains: "It's time for everyone to quit thinking that jailing one more killer cop will do anything to change the nature of American policing. We must move, instead, to significantly defund the police and redirect resources into community-based initiatives that can produce real safety and security without the violence and racism inherent in the criminal justice system."
He argues that even policing on the most lawful and procedural level "assumes that the professional enforcement of the law is automatically beneficial to everyone." However, procedures like a routine drug arrest are "still going to ruin some young person's life for no good reason."
"We don't need school police, we need counselors and restorative justice programs," he says. "We don't need police homeless outreach units, we need supportive housing, community based drop-in centers, social workers."
Late night talk show host John Oliver derided those who fear that defunding the police is a call for the dismantling of police forces entirely. "It means moving away from a narrow conception of public safety that relies on policing and punishment," he says, "and investing in a community's actual safety—things like stable housing, mental health services and community organizations."
He continues, "The concept is that the role of the police can then significantly shrink because they are not responding to the homeless or to mental health calls or arresting children in schools or really any other situation where the best solution is not someone showing up with a gun—that's the idea of defunding the police."
In other words, law enforcement is violent. And so, people will riot. To stop them from rioting, defund the police, "charge them everywhere." Because not only is law enforcement racist and deadly, it doesn't help in all other aspects of society. Society is too policed, and the solution is to have fewer police in schools and decriminalization of prostitution and drugs, and this will result in freedom and happiness.
However, the idea of defunding the police seems to mean different things to different people.
While John Oliver, Alex Vitale and others believe it only means "significantly shrinking the role" of police, according to Tamika Mallory, the idea is to "charge the cops everywhere."
And Patrisse Cullors, cofounder of Black Lives Matter, gave more insight of the ultimate goal behind defunding the police, saying: "We don't disband law enforcement in just one day. That's not logical. I think we should ultimately abolish [law enforcement]; but what we can do right now is drastically reduce law enforcement's relationship to the community."
Minneapolis has already reacted. The Minneapolis public school board unanimously voted to terminate its contract with the police department. They will now no longer provide security to the school because the district "cannot align itself with the Minneapolis police and claim to fight institutional racism," a board member said.
Now, its city council has vowed to abolish the entire police department altogether. Los Angeles, New York City, San Francisco, Baltimore and Philadelphia are on the same trajectory.
This is only the first step in what would be a zero-police society. A world in which fewer of those who "protect and serve" today, are even available to do that. Their absence is supposed to ultimately be synonymous with a reduction in criminality.
But research shows that more police means fewer crimes and therefore less need to arrest people. A 2005 study found that that when Washington, D.C., police were mobilized in "high alert" periods, crime levels dropped significantly. A 2018 Princeton university study found that a 3.2 percent increase in police staff led to a 3.5 percent reduction in crime. Another 2018 study found that from 1960 to 2010, every extra dollar spent on policing generated nearly $2 in social benefits, mainly through fewer murders.
This movement to eliminate police from society might seem to be an instantaneous reaction to perceived injustices. The raw data shows that the believed injustices are not systemic but rather incidental—not symptomatic of a racist society but, as in the case of George Floyd, isolated events of unwarranted aggression and abuse of power.
However, the leftist political establishment has been pushing this perceived injustice and agitating for "reform." In a 2016 campaign ad, then Democratic nominee Hillary Clinton said, "We have to face up to the hard truth of injustice and systemic racism." Vermont Sen. Bernie Sanders said it is imperative to "end racism and reform our broken criminal justice system." In 2016, then President Barack Obama said that black parents were right to be afraid that their children may be killed by police whenever they go outside. Presumptive democratic nominee Joe Biden said, "We all need to take a hard look at the culture that allows for these senseless tragedies to keep happening."
But if the police are defunded and ultimately completely abolished, what will happen? As the Los Angeles Police Protective League wrote: "What will we say to that victim of domestic violence who waits even longer for a police response due to shortages of personnel in the field? What do we say to the woman who was sexually assaulted, yet her assailant is still on the loose because resources are not available to locate him?"
Trumpet editor in chief Gerald Flurry wrote, "Past wrongs and present inequalities create fertile ground for hurt, frustration and anger. Many prominent leaders, both black and white, are deliberately fueling those grievances for their own political gain."
The system cannot be brought down without eliminating those who safeguard and protect law and order. That is what is behind this concentrated push to do away with law enforcement.
The increasingly radical left is desperate to gain power and is willing to see the country burn if it can rule over the ashes.
'Violent Chaos and Anarchy'
The Democratic Socialists of America released a statement on May 28, just as the riots and protests sweeping the nation were gathering speed:
Racist police violence is not incidental to the capitalist system, it is necessary to maintain its operation. We recognize that as we fight for a better world, it will be the police who threaten our protests, the police who will break up our picket lines, the police who selectively wield their monopoly on violence against black people and working-class people to protect those with power and privilege. …

We stand with and share the rage of all those who are making themselves heard on the streets after years of being suffocated by policing and poverty, after years of being looted by corporations, landlords and billionaires.
The Workers World Party, named after the famous concluding sentence of the Communist Manifesto, demanded "justice for George Floyd and all victims of police violence." It went on to justify the "responsive violence of the masses" as crucial to upending the system, as the "the masses have never made any real leap forward with the theory of nonviolence."
The Revolutionary Communist Party is also calling for violent action for those who are tired of "police murder after murder after murder." It is calling for millions to help "bring this system down and replace it with a new society based on the Constitution for the New Socialist Republic in North America."
All these groups are agitating for the removal of the police, citing violence as both the cause and the solution! Mr. Flurry wrote in his 2016 article "The Roots of America's Dangerous Turn Left": "Most of these people hate the Constitution, the supreme law of the land! They are lawless! They can't stand to be constrained by the Constitution and law. … Notice how viciously they are attacking America's police, the last line of the nation's defense. After that comes violent chaos and anarchy!"
Mr. Flurry wrote that four years ago! How significant it is today. This is what is at the root of all the agitations for police to be removed. It leads to nothing but anarchy. That is what happened when the mayor of Minneapolis decided to evacuate the police from the Third Precinct—the rioters became even more unruly and violent and left a trail of destruction in their wake.
The same thing happened in New York: Police were withdrawn, rioters were left to themselves, and they went on to inflict a great deal of damage.
That is the spirit behind the violence aimed at law enforcement officers today. It is the spirit behind the push to defund the police, decriminalize acts such as sex work and drugs, and remove police from schools.
"What will happen when the police are rendered powerless and the military is unprepared?" Mr. Flurry asked. "Once the police are handicapped and can't do anything, it won't be long before cities burn (Isaiah 1:7)." We have seen over 20 days of nonstop rioting so far. Despite the media's best efforts to lie about the nature of these protests, they are indeed violent and the cities are indeed burning.
The system cannot be brought down without eliminating those who safeguard and protect law and order. That is what is behind this concentrated push to do away with law enforcement.
Alexander Solzhenitsyn was one of the victims of the brutal Communist regime of the Soviet Union. He warned the West, and America in particular, that in its pursuit of "freedoms" it had abandoned all moral principles and adherence to religion. The main argument fueling the anti-police movement is that reduced policing will leave society free to do drugs, practice sex work, and live the lives they want.
The belief is that with less policing, less law enforcement, freedom can finally be attained.
But Solzhenitsyn responded:
[I]n early democracies, as in American democracy at the time of its birth, all individual human rights were granted on the ground that man is God's creature. That is, freedom was given to the individual conditionally, in the assumption of his constant religious responsibility. … Two hundred or even 50 years ago, it would have seemed quite impossible, in America, that an individual be granted boundless freedom with no purpose, simply for the satisfaction of his whims. …

The West has finally achieved the rights of man, and even excess, but man's sense of responsibility to God and society has grown dimmer and dimmer.
Society wants to be "free" to enjoy moral decadence. But the road being taken to achieve this false idea of freedom, one which is devoid of law enforcement and law itself, will in fact simply enslave the U.S. and lead to its destruction.
Herbert W. Armstrong, editor in chief of the Plain Truth magazine, wrote in 1956, "Communism is worldwide psychological warfare" intent on "perverting our morals … destroying our spiritual and religious life" and finally "after such infiltration, overthrowing our government by force and violence!"
What we see today, under the false crusade of anti-police brutality, yearning for "freedom," and movement for equality, is the meticulous and strategic fomentation of anger and frustration to bring about the downfall of America. It has been taking place for decades, in a slow and steady infiltration.
But just as we saw in Minneapolis and in New York, the removal of law enforcement, of law and order, of policing, will not result in peace or unity. It will only precipitate chaos and violence.
An Attack on Law
All of this taking place is an attack on law. Human reasoning is that less policing and fewer laws will equal greater freedom. But there is no freedom without law!
The Black Lives Matter protests and riots, the claims of systemic racism and the tragic death of George Floyd are all a smokescreen. They are being mobilized for the real agenda under the surface, an agenda determined to dismantle law and order in America and see the country implode, committing national suicide.
The main proponent of this attack is Satan the devil, the god of this world (2 Corinthians 4:4). He is full of wrath and he has deceived the people of America, and even all over the world, into believing that bringing down the system and doing away with law will bring change, happiness and freedom (Revelation 12:9, 12).
Even last week, crowds in London attacked the police force.
But this overthrow of law only brings curses, the kind we are seeing today! "Ah sinful nation, a people laden with iniquity, a seed of evildoers, children that are corrupters: they have forsaken the Lord, they have provoked the Holy One of Israel unto anger, they are gone away backward. … Your country is desolate, your cities are burned with fire" (Isaiah 1:4, 7).
Mr. Flurry explained in "Police Under Attack" that America is acting just like Sodom and Gomorrah. God "is disgusted with our morals and our spiritual lives!" he wrote. "The nation's conduct has gotten so bad that, as I wrote last month, God says, Even when you lift up your hands and pray to me, I will not answer you! (Isaiah 1:15). He is talking to America! … All of this is happening because of transgression. When we are caught up in sin, God will not protect us against the devil—and we don't stand a chance against him and his demons without God's protection. Satan is simply too powerful."
The only solution to all these problems—the racial divide in America, the dismantling of law, the violence that is crippling and destroying the nation—is repentance (Ezekiel 33:11).
The Founding Fathers understood the authority of the Bible. They based the U.S. Constitution on the laws found in the Bible. Those are the laws that people are so eager to cast down today. Only when we turn from our wicked ways and turn to God, in submission to His law, can we truly be free.
Request your free copy of America Under Attack, by Mr. Flurry, to gain important context and understanding of what is happening in America today, and how it will finally be resolved.