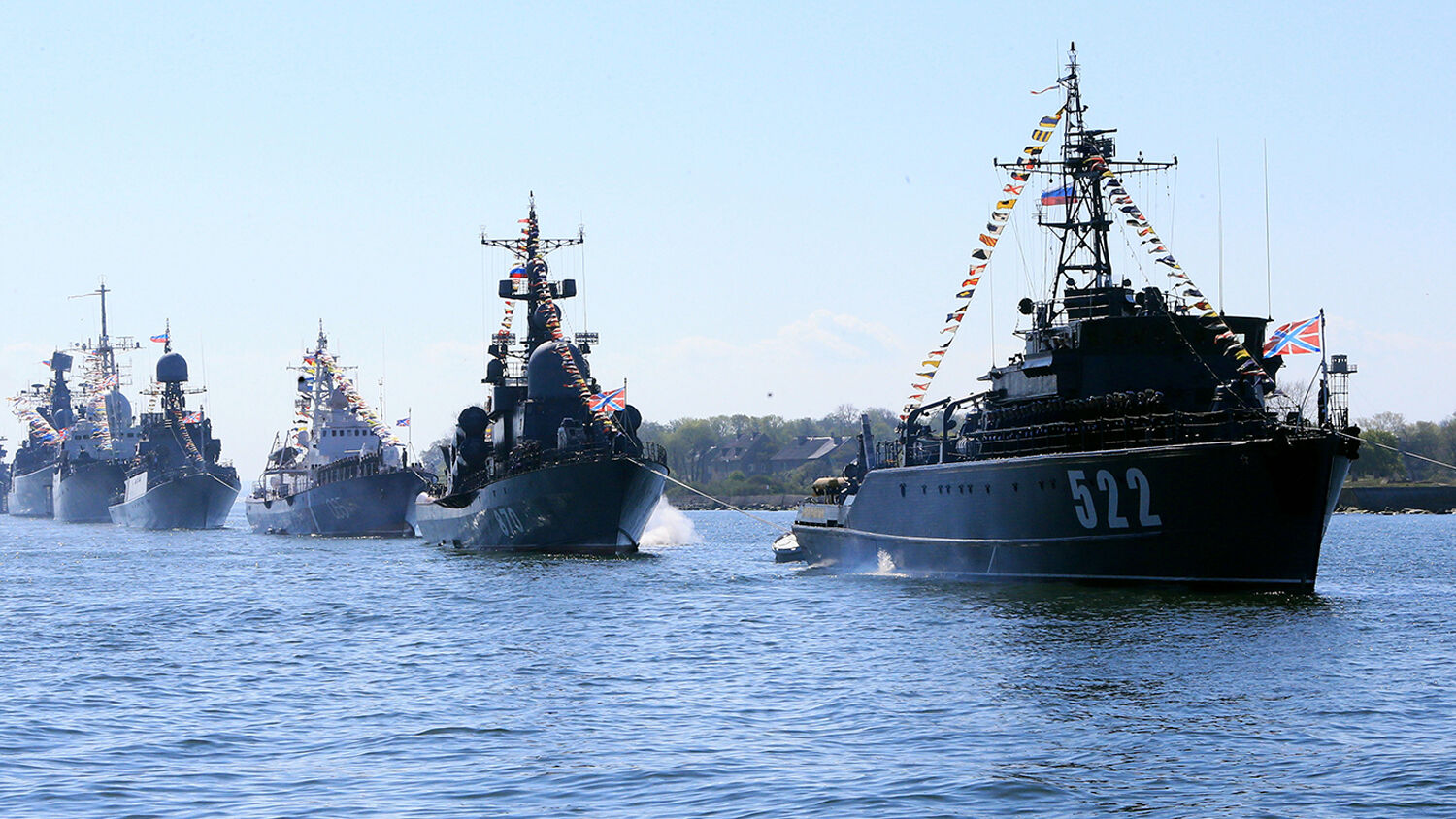 Russian Navy Bolsters Baltic Fleet With Cutting-edge Warships
The Russian Navy's famous Baltic Fleet will soon be capable of greater destruction. How will European nations respond?
The commander of Russia's Navy delivered a nationalistic message on May 18, honoring his country's historic successes in the Baltic Sea—presently a region of tension between Russia and the nations of the North Atlantic Treaty Organization—and announcing that his Baltic Fleet would soon be strengthened by six advanced warships.
In an address commemorating Baltic Fleet Day, Adm. Nikolai Yevmenov reminded Baltic Fleet sailors of their force's rich history, having been founded under Peter the Great more than three centuries ago. He said the Baltic Fleet was a pillar of the navies of both Imperial Russia and later the Soviet Union and "won many brilliant victories over the enemy, who tried to push the Russian state off the Baltic coast."
With the Soviet Union's collapse in 1991, the fleet was stripped of crucial bases in Estonia, Latvia and Lithuania. Baltiysk in Kaliningrad Oblast was left as its only port on the Baltic coast that does not freeze during winter months.
This was a major setback for the Baltic Fleet. But in the years since Vladimir Putin became head of Russia, rebuilding and modernizing the famous fleet has been a priority. Today, it is a balanced inter-arm force, operating surface vessels and submarines, aviation and air defense, and land troops. Russia's Kommersant newspaper reported in 2008 that the fleet was up to 75 combat ships of various kinds. It has become more central to Russia's navy since 2018 when Defense Minister Sergei Shoigu pledged to conduct the "Ocean Shield" maritime exercises there annually, with more than 10,000 naval personnel and dozens of warships taking part.
"The Baltic Fleet today," Yevmenov said, "is solving the most difficult tasks, effectively interacting with the forces of all the fleets of the Russian Navy, including as part of the Permanent Operational Formation of the Russian Navy in the Mediterranean."
The most significant part of Yevmenov's message was an announcement that the fleet would be significantly growing. "[I]n the near term," he said, "the surface component of the Baltic Fleet will be replenished with a series of six small missile ships." The vessels will be Project 22800 Karakurt-class corvettes, built for augmented seaworthiness, advanced maneuverability and minimal radar signature.
All six of the 220-foot-long warships will be equipped with an eight-cell 3S-14 vertical launcher for Kalibr cruise missiles. Four will also be armed with the marine version of Russia's Pantsir-M antiaircraft systems. Each is also expected to carry Orlan-10 unmanned aerial vehicles.
With the additional six vessels, Yevmenov said, the Baltic Fleet will be equipped better than ever to "prevent sea threats in the operational zone of responsibility."
This addition of warships to the Baltic Fleet is part of a broader buildup of military power by Putin's Russia. A considerable portion of this buildup is occurring on Europe's periphery or even in its heart—in Kaliningrad and Crimea. And the main significance of this development is the effect it will have on the nations of Europe.
'Russia Frightens Europe—and Fulfills Bible Prophecy'
In 2018, after new satellite imagery revealed Russia's expanding military might in Kaliningrad, cnn said the news was exacerbating hostilities between Moscow and Europe. "Tensions between Russia and the West," it wrote, "have been at highs not seen since the Cold War."
In the years since, those tensions have only increased.
A report last month by Stockholm International Peace Research Institute (sipri) showed that Russia reentered the world's top five military spenders last year. At the same time, Germany made the largest percentage increase in defense spending of any of the world's top 15 spenders. sipri made clear that these two surges are deeply connected, writing: "The growth in German military spending can partly be explained by the perception of an increased threat from Russia."
Trumpet editor in chief Gerald Flurry has long said that the fear Europeans feel over Russia's increasing power and authoritarianism is leading to the fulfillment of a specific Bible prophecy.
In 2004, just after Putin had manipulated an election in a fashion that tightened his grip on power, Mr. Flurry wrote that the move and "Europe's acute fear" of it "caused a Bible prophecy to flash into [his] mind."
In his article "Russia Frightens Europe—and Fulfills Bible Prophecy," Mr. Flurry quoted parts of Daniel 11. Verses 40 and 44 say that in the near future, "tidings out of the east and out of the north" will "trouble" a power called "the king of the north." Mr. Flurry explained that this is about modern-day Russia frightening modern-day Europe, and thereby prompting the Europeans to militarize and unite behind a strong leader.
He wrote that a combination of historical memory and current trends are leading to this outcome. "Europeans still remember how violent Russia was in World War ii, and Russia is a close neighbor with massive piles of nuclear weapons," he wrote.
Putin's increasingly dictatorial and militaristic direction "will hasten the uniting of the European Union" and "will cause Germany and other European nations to want a stronger leader."
Mr. Flurry continued: "Throughout history, Germany has often sought a strong leader. Bible prophecy says it will do so again—for the last time!"
In 2014, just after Russia had annexed Ukraine's Crimean Peninsula, Mr. Flurry reiterated this same forecast:
The fear you see in Europe because of events in Crimea is going to cause 10 leaders in Europe to unite in a sudden and dramatic way—and in precise accordance with the Bible's description of that European empire! … Europe's new fear of Russia is going to play a major role in hastening the fulfillment of that prophecy!
As the people of Europe watch Putin's shadow growing longer and his power in the Baltic Fleet and elsewhere growing mightier, many wish to politically and militarily unite their countries. A unified European bloc, they believe, would boost their ability to stand up to the rising Russian threat.
Mr. Flurry's 2014 article discussed other prophecies recorded in Ezekiel 38, Daniel 2 and 8, and Revelation, which show that the trends now underway are leading to a time of destruction that "will cause more suffering than the world has ever known!" Yet he added that these trends are closely connected to joyous news:
These prophecies can seem dark and dire, but the Bible tells us that they all have a positive ending. … The Messiah will come and stop these disastrous wars. … Is this a gloomy message? Well, it does describe a lot of suffering coming upon this world—the worst ever. But it is tied directly to the coming of the Messiah, when all suffering ends, and God brings peace, happiness and joy to the world! That is the best news you could ever hear!
To better understand these Bible prophecies and to learn more about the "best news you could ever hear," read Mr. Flurry's booklet The Prophesied 'Prince of Russia.'