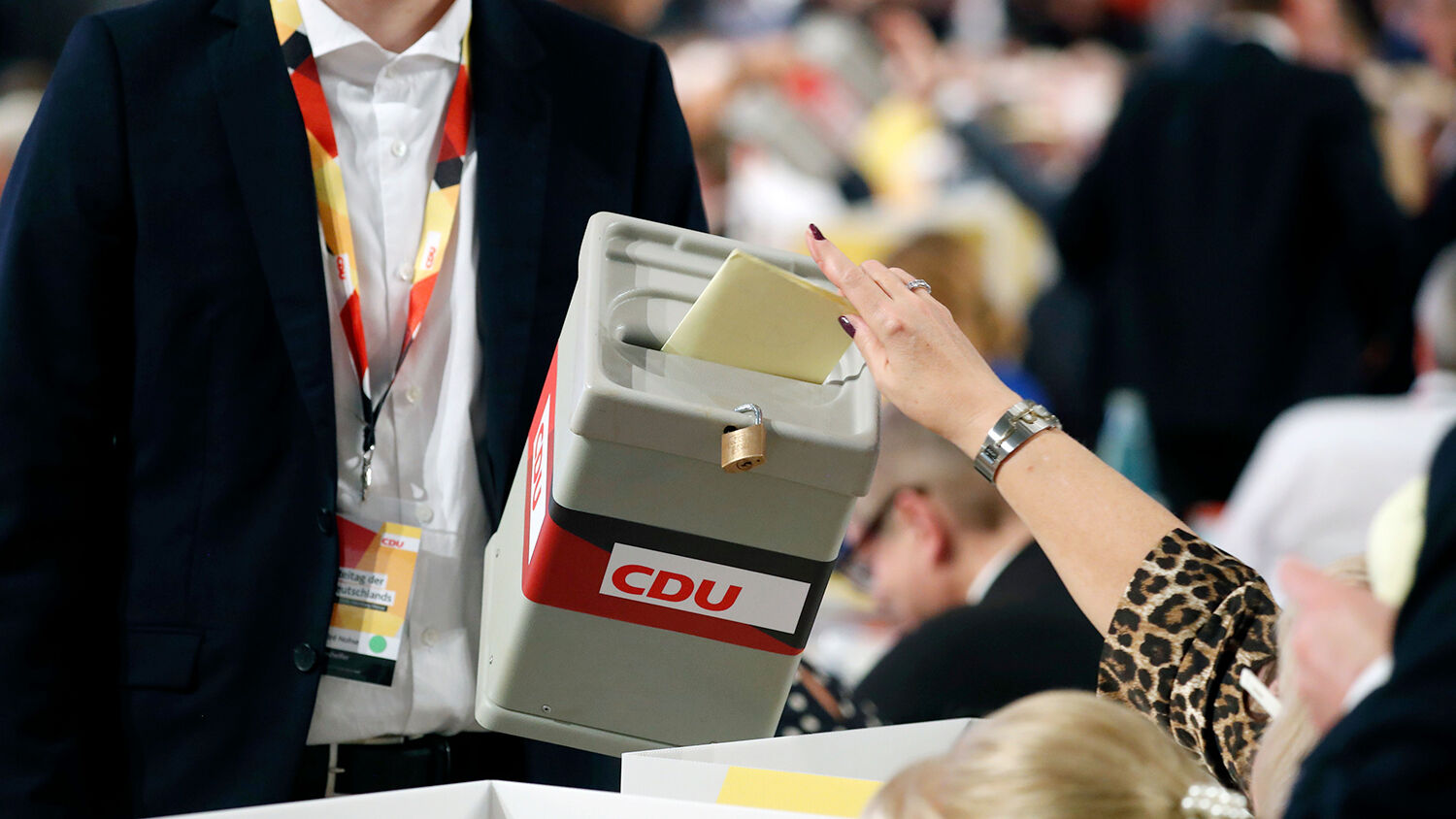 Germany's Next Chancellor Could Emerge in an Unprecedented Way
Karl-Theodor zu Guttenberg demands change in how Germany's chancellor candidate is selected.
Who will replace Angela Merkel as Germany's chancellor? This question was asked long before Merkel announced she would no longer run in the next elections. But as the popularity of Merkel's favorite candidate declines, many are calling for a change in how the Christian Democratic Union (cdu) and the Christian Social Union (csu) select their candidate. In this debate, former Defense Minster Karl-Theodor zu Guttenberg supports having the party base select the next chancellor candidate.
Traditionally, the top leadership of the cdu and csu decide on the candidate they believe will have the best chance to win the chancellorship. But in early October, a debate sparked about the cdu base selecting the party's next candidate. This method of selecting the next candidate is supported by the cdu's Young Union, the conservative branch of the party and had been previously suggested by former csu chairman Edmund Stoiber.
Guttenberg expressed his support of the change in his interview with Bild: "'The Thought of Primary Elections Isn't Bad': Guttenberg Calls for Primary Election for the Next Chancellor Candidate," Bild wrote on October 7 (Trumpet translation throughout).
Practically this would mean that various candidates present themselves to the membership of the cdu and csu, who will then determine who the Union's next chancellor candidate will be. Anyone who prevails in such a primary election "could be a strong candidate for the next chancellorship," Guttenberg said.
The next German elections are scheduled to take place in 2021. However, the recent debate shows that many expect the current governing coalition could fail at any time. This means a chancellor successor would need to be determined much earlier.
By demanding that the party membership determines that successor, one implies a distrust in the current party leadership. This criticism is directed first of all against Merkel and her favored successor, Annegret Kramp-Karrenbauer.
Some fear that leaving the choice with the party members could lead to further division in the party and confusion, as seen in the United States. Rebutting this fear, Guttenberg said: "I believe we have a good tradition in our country; we don't just throw buckets of dirt at each other. We can treat each other respectfully. One ought to openly talk about it rather than immediately reject it …."
Still, surveys show that the opinions of party members are divided and no clear candidate is seen as a favorite. However, a Bible prophecy shows that Germany will undergo a dramatic change in leadership, and the current debate could lead directly to the fulfillment of that prophecy.
This prophecy, found in Daniel 11, is explained in our free booklet A Strong German Leader Is Imminent, by Trumpet editor in chief Gerald Flurry. "And in his estate shall stand up a vile person, to whom they shall not give the honour of the kingdom: but he shall come in peaceably, and obtain the kingdom by flatteries" (Daniel 11:21).
This prophecy applies to Germany in this end time. We have alluded to the possibility of Guttenberg fulfilling it. While in German politics, Guttenberg was perceived as Germany's next chancellor. But due to the plagiarism scandal that drove him from office, he was not given the "honour of the kingdom."
It seems likely that the cdu and csu's top leadership would not grant him that honor considering his repeated criticism of them. But the membership may support him. Despite many critics, Guttenberg still has many supporters in Germany, especially among the public.
"He inherits the throne of Europe 'peaceably,' obtaining his kingdom by 'flatteries,'" Mr. Flurry explains. "He is crafty and sly, with a brilliant mind and an engaging, attractive personality. The Jamieson, Fausset and Brown Commentary says 'the nation shall not, by a public act, confer the kingdom on him, but he shall obtain it by artifice, 'flattering.' In other words, a deceived public, or a group of European leaders, likely invites this man into power."
Guttenberg is sowing division between Germany's leaders and their supporters. While he attacks leading politicians, he flatters the public saying that they know best. His strategy could lead him to power. Rising division and turmoil demand a strong leader step in, and we believe Guttenberg will fill that role. Mr. Flurry wrote in "Germany—A New King Is Imminent":
Current conditions in Europe, including the refugee crisis and the turmoil in German politics, provide probably one of the greatest opportunities ever for a new leader to come into power "by flatteries." Chancellor Merkel is on her way out and is now a lame duck. Expect political and social crises in Germany and Europe, and public resentment and anger, to grow even deeper.

Then watch for a strongman to take advantage and make his way to power through flatteries!
Fueling the debate on how the chancellor candidate is selected could open the door for Germany's prophesied strongman to come to power through flatteries. Current events in Germany need to be carefully observed. To understand the full prophetic context of these events, request your free copy of A Strong German Leader Is Imminent, by Gerald Flurry.