80 Years On: German Tanks Are Reentering Poland
Poland seeks to join the German-led European tank project.
In 1939, Poland was dramatically overrun by German tanks. Exactly 80 years later, Poland is again hosting German tanks. But this time, the tanks are there to equip the Polish armed forces. On August 16, Poland announced its intention to join the European Main Battle Tank project that is led by Germany and France.
Fear of Russia is driving Poland into the arms of its old archenemy. What's more, Eastern Europe's major countries are following its lead. "Poland's search for new European tanks is contagious," defensenews.com reported on August 27.
Following a meeting with German Defense Minister Annegret Kramp-Karrenbauer on August 16, Polish Defense Minister Mariusz Błaszczak said that the "main topic" of their discussion was the "challenges associated with aggressive Russian politics."
He concluded that it would "be a good solution for the Polish defense industry" to join the European Main Battle Tank program and suggested that it would be "beneficial if this initiative were to be accelerated and it became a [Permanent Structured Cooperation] project" strengthened by European Union funding. Permanent Structured Cooperation is an EU initiative to cooperate on various military projects.
"Poland's new desire to join the European Main Battle Tank project, an initiative spearheaded by the Franco-German tandem, is part of a larger regional trend under which numerous Eastern European allies are pursuing plans to acquire new vehicles and replace their Soviet-designed tracked and wheeled rides," defensenews.com noted.
On Dec. 19, 2018, German tank manufacturer Krauss-Maffei Wegmann signed a historic contract with the Hungarian Ministry of Defense in which Hungary ordered 44 of Germany's Leopard 2A7s main battle tanks and 24 Panzerhaubitze 2000 self-propelled howitzers.
But the future of European tanks lies in Germany's and France's cooperation in building a new supertank. This cooperation couldn't have come at a better time: Many European countries are in need of modernizing their armed forces. France's and Germany's pursuit of joint projects has inspired others to contribute and place orders.
Like many other East European countries, Poland is still operating hundreds of Soviet-produced main battle tanks and armed vehicles.
Although Poland's defense industry has already developed its own tank prototype, it decided to join the European program, one of many examples that shows Europe uniting militarily as result of Russian aggression.
Late educator Herbert W. Armstrong wrote in his Jan. 23, 1980, co-worker letter that fear of Russia "will be the spark to bring the heads of nations in Europe together with the Vatican to form a 'United Nations of Europe.'"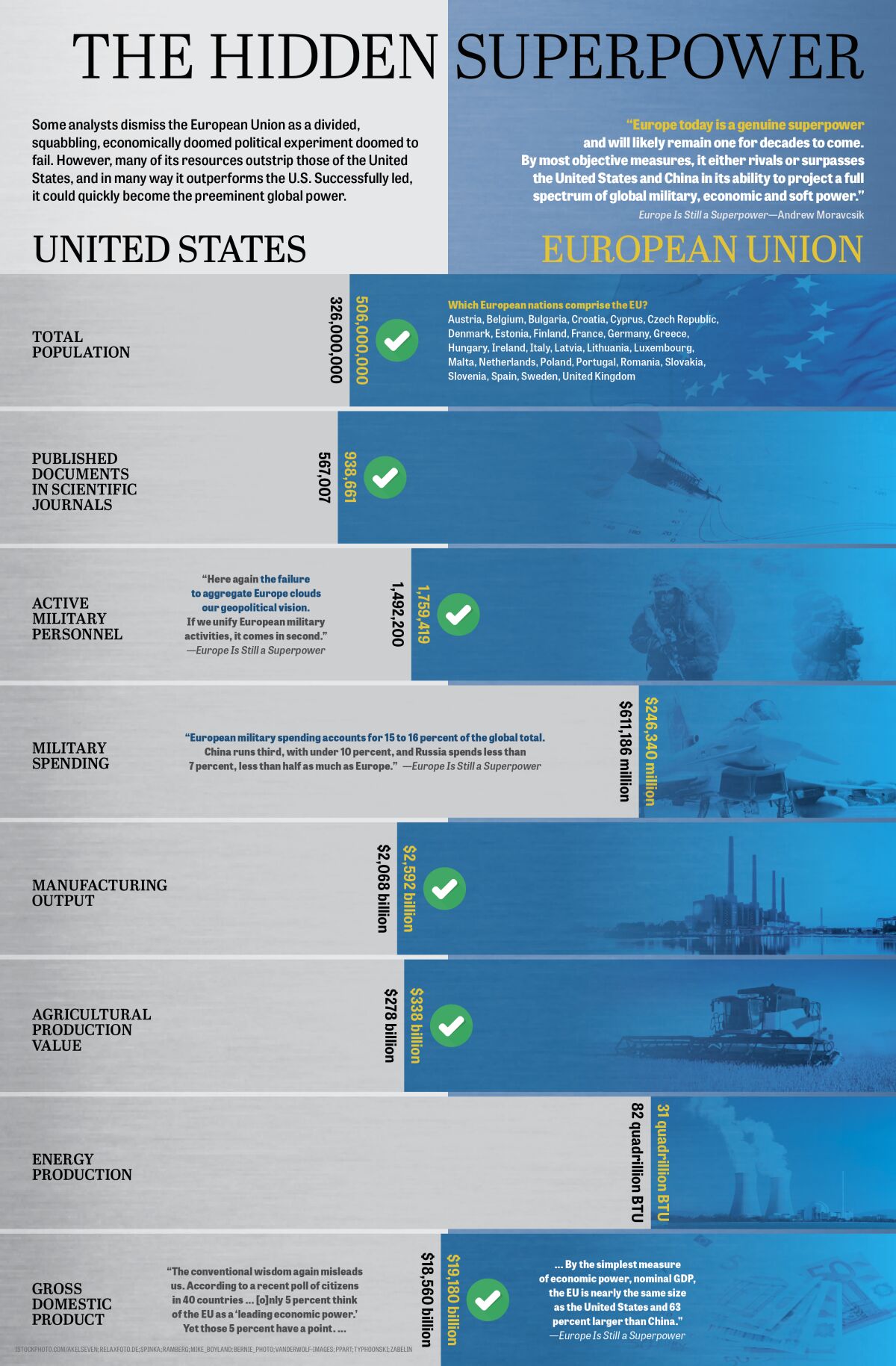 When Germany invaded Poland on Sept. 1, 1939, Adolf Hitler was pursuing a plan to subjugate Europe before attempting to conquer the rest of the world. Today, Germany is already uniting much of Europe's military production under its command, increasingly gaining control of other European armies. You can read more about this trend in "Europe's Push Toward a Unified Military."
Over the course of World War ii, the Polish population was reduced by almost 18 percent. The whole of Eastern Europe and France experienced a similar fate. But today, these same nations are cooperating with Germany and turning their backs on the United States, which formerly guaranteed their protection. Europe is putting its trust in the war machine that caused the greatest suffering ever to occur on the Continent.
The world at large is paying little attention to this trend—and yet it has deep prophetic significance.
In "France Rejects America—and Empowers Germany!" Trumpet editor in chief Gerald Flurry summarized some of Europe's recent military cooperation and its profound implications for this world:
[French President Emmanuel] Macron visited Berlin on Nov. 18, 2018. One week earlier he had hosted leaders around the world and used the occasion to be openly hostile to the United States. But during his trip to Germany on November 18, there were no harsh words or criticisms. "If you do not understand the words from France, remember that France loves you," he told the German parliament (emphasis mine throughout).

Macron has never said anything like that to Britain or America. Instead, he has called for a "true European army" to protect Europe "with respect to China, Russia and even the United States of America." France certainly does not love the United States.

Why would the French president say "France loves [Germany]"? There is an important reason we all must grasp!

These words from Macron were, I believe, a signal that France will never again have the will to stand up to Germany. The French today want to be close friends and allies with Germany, and they are prepared to go to great lengths to support Berlin. That is what Macron means by saying, "France loves [Germany]." It is really a groveling statement. Germany is Europe's master, and it is as if France is begging to share in Germany's power!
With France leading the way, all of Europe is now "begging to share in Germany's power."
We are seeing a key end-time prophecy beginning to be fulfilled: "And the ten horns which thou sawest are ten kings, which have received no kingdom as yet; but receive power as kings one hour with the beast. These have one mind, and shall give their power and strength unto the beast" (Revelation 17:12-13). This prophecy refers to 10 leaders who head 10 nations or groups of nations. All of these leaders are giving their national power to one great empire (or beast). In Who or What Is the Prophetic Beast?, Mr. Armstrong thoroughly explained this prophecy and urged readers to take the Bible's warning seriously, because the greatest suffering is yet ahead.
The biblical narrative doesn't end by discussing the suffering that is about to befall mankind. Instead, it offers the most spectacular hope you could ever imagine: Jesus Christ is about to return, heal mankind from the pain of suffering, and restore abundant peace and happiness to this Earth.