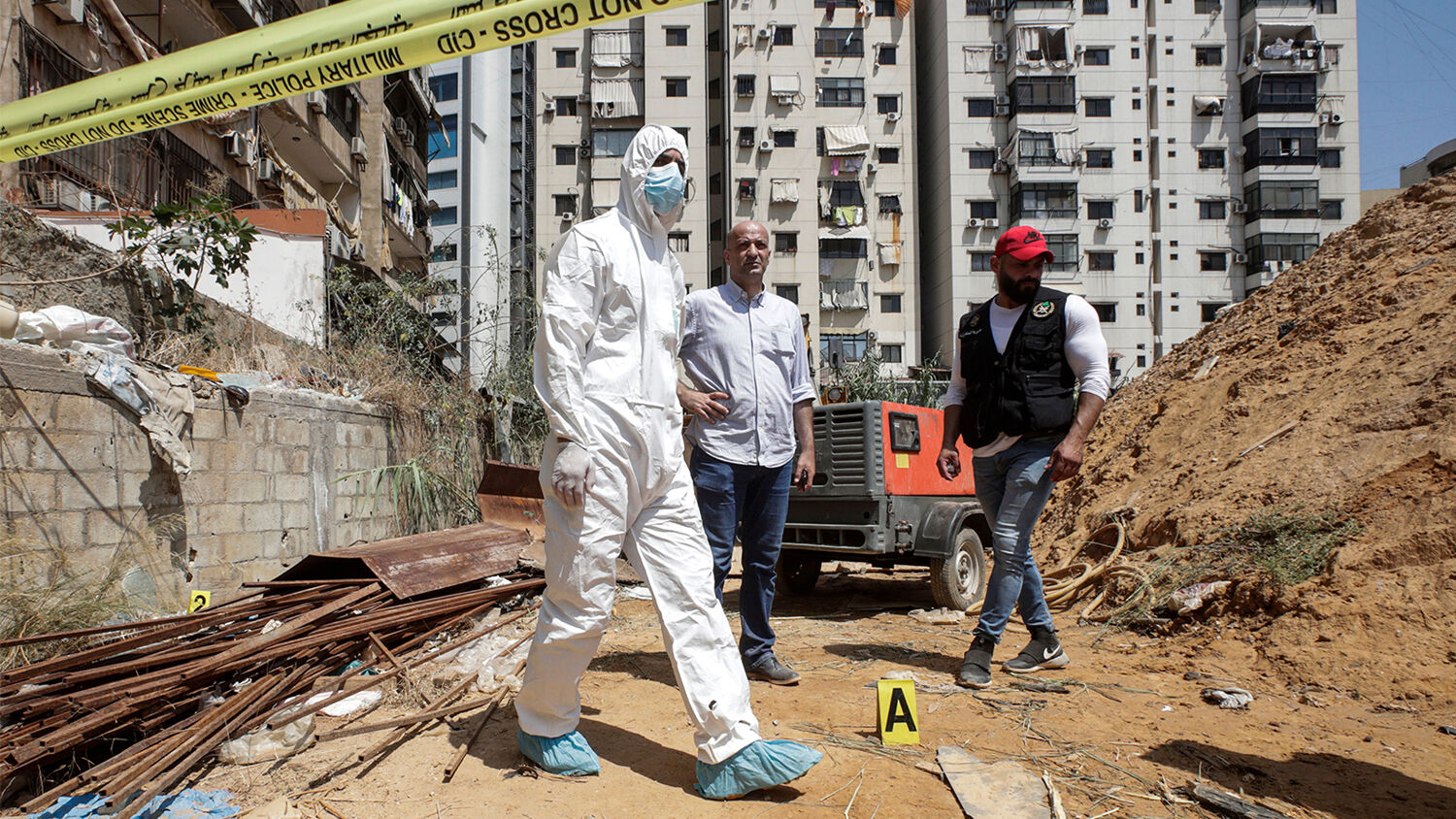 'Killer Drone' Warfare: Iran's New Terror Strategy in the Middle East
Iran's 'land bridge' in the Middle East 'came into full view over the weekend.'
For several months, the Israeli Army watched an Iranian terrorist cell in Israel's Golan Heights.
The terrorists were organized and trained by Qassem Suleimani, commander of Iran's Quds Force. After arriving at Damascus International Airport, the operatives, equipped with drones and explosives, set up base in a village in the Golan Heights, from where they would advance their plans to attack Israeli cities.
The terrorists most likely heard about air strikes against a compound for Iranian-backed Shiite militias near Balad Air Base in Iraq on August 20 and realized that they had to move fast.
Two days later, on August 22, the Israelis watched and recorded on camera as the terrorists prepared to launch "a large-scale attack of multiple killer drones" that would kill many Israeli civilians.
Israel thwarted the attack. But the terrorists retained possession of their drones and explosives.
Finally, Israel conducted air strikes against the base on August 24.
On Sunday, August 25, Israel did something it rarely does: It publicly acknowledged that it had conducted the attack. Israel Defense Forces spokesman Ronen Manelis told reporters that this incident must be made public. He said Israel is prepared "defensively and offensively," acknowledging that "there could be [more] developments." He said that these are "drones we see in action in Iraq, Syria and Yemen."
These are drones Iran has repeatedly tested and perfected, and it is now doing so with greater frequency than ever before.
Not long after Manelis delivered his comments, Iranian-sponsored Houthi rebels in Yemen launched drones targeting Abha Airport in Saudi Arabia.
In response to the attacks and threats, Israeli Prime Minister Benjamin Netanyahu said, "Iran has no immunity anywhere. Our forces operate in every sector against … Iranian aggression. … I have directed that our forces be prepared for any scenario. We will continue to take determined and responsible action against Iran and its proxies for the security of Israel."
That's precisely what Israel has been doing.
On August 25, Israel launched its own drones at a stronghold of Iranian terrorist proxy Hezbollah south of Beirut, Lebanon. Israel later attacked a compound of the Popular Front for the Liberation of Palestine-General Command, another Iranian terrorist proxy in eastern Lebanon.
According to Hezbollah's leaders, these were Israel's first such hostile acts since the 2006 Lebanon War. Hezbollah-aligned Lebanese President Michel Aoun said the attacks resembled "a declaration of war that entitles us to resort to our right to defend our sovereignty, independence and territorial integrity."
In a statement on August 25, Hezbollah leader Hassan Nasrallah said that Prime Minister Netanyahu "would be mistaken if he thinks that this issue can go unnoticed."
Nasrallah continued: "The time when Israeli aircraft come and bombard parts of Lebanon is over. … From tonight, I tell the Israeli Army on the border, wait for our response, which may take place at any time on the border and beyond the border. … Do not live, do not rest, do not be reassured, and do not bet for a single moment that Hezbollah will allow … aggression of this kind."
Later on August 25, a suspected Israeli drone strike in Iraq killed two members of an Iranian-aligned Iraqi militia.
Middle East analyst Seth Frantzman wrote in the Jerusalem Post:
The drones, air strikes and tensions stretching from Yemen to Iraq and then to Syria and Beirut comprise an arc of simmering conflict that links Iran's role throughout the region. The report that Iran wanted to use Qasif-type drones—the kind the Houthis have used against Saudi Arabia—against Israel from Syria shows how these conflicts are increasingly linked.

In addition, the presence of Shiite militias in southern Syria, whether linked directly to Hezbollah and [Iran's Islamic Revolutionary Guard Corps] or to Iraqi-based militias, or to local Shiites in Syria, shows how the patchwork of Iranian-linked paramilitaries are entrenched in a corridor of influence stretching from Beirut to Baghdad. This has been called Iran's "land bridge," and it came into full view over the weekend.
Iran has both the determination and capability to terrorize United States allies in the Middle East, especially Israel. Its new drone strategy is potentially devastating. Iran has also used drones, via its proxies, to attack oil shipments in the region—a problem that has global ramifications.
Airborne drones are agile and typically small enough to evade radar detection. That partly explains why Israel has prioritized targeting them before they are airborne.
Frantzman observed for the Jerusalem Post: "In August 2017, former [Israeli Air Force] Cmdr. Amir Eshel said that Israel had struck in Syria more than 100 times in five years. That number grew to more than 1,000 air strikes by January 2019." Israel's increase in targeted strikes is a good indication of the high stakes, not only in Syria, but in the entire region in general, and also of the dangers that Israel is facing.
As helpful and successful as Israel's counterstrategies might be, it's clearly not enough to confront Iran one proxy at a time—or one drone base at a time. It's not easy to keep up with these terrorist proxies, let alone their somewhat stealth-like "killer drones."
In Jerusalem in Prophecy, Trumpet editor in chief Gerald Flurry writes:
Looking at the ongoing violence in Jerusalem today—the absolute inability of the involved parties to solve things by peaceful means—we can easily see how one half of Jerusalem shall be taken captive in the very near future. The present violence is an embryo that is about to grow into much greater violence. That is the critical event prophesied in Zechariah 14:2.

We will see this prophecy in Zechariah 14:1-2 fulfilled very soon. And while it will involve some sickening atrocities and bloodshed, it is directly connected to the greatest news this world has ever heard!
The drone attacks in the Middle East show that war in the Middle East is simmering just beneath the surface. The Bible tells us that this warfare will play a huge role in world events. Request your free copy of Mr. Flurry's booklet Jerusalem in Prophecy to understand these life-changing prophecies and to be ready for what's shortly ahead.