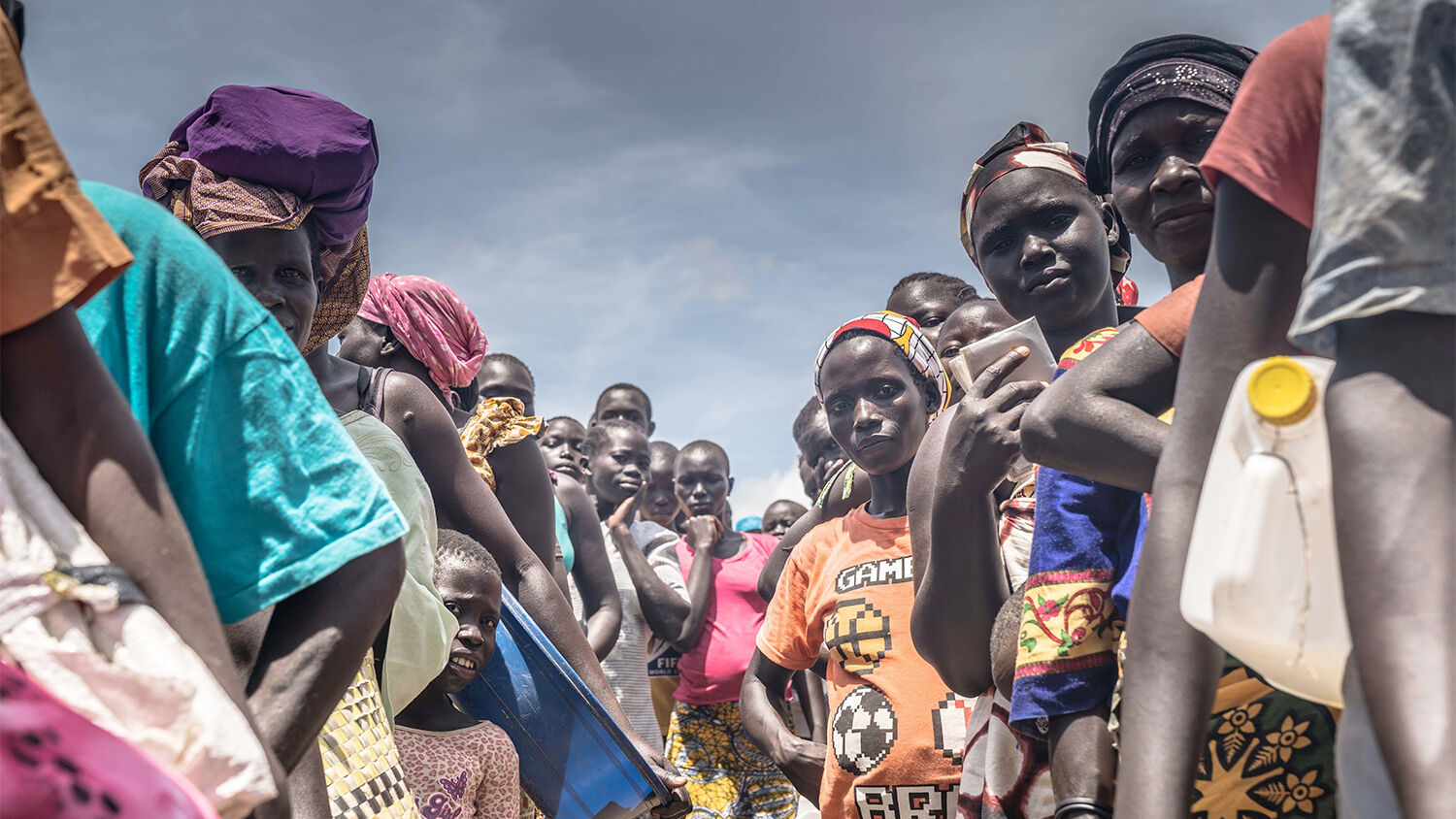 Report: Rising Number of People Around the Globe Face Hunger
As food prices rise, few stop to consider what is really behind the increase of crop-destroying diseases and pests.
The number of people who cannot meet their daily food needs has been rising for several years, according to a report published by ReliefWeb on June 2. The trend is most pronounced in Africa, but severe cases were also noted in Afghanistan, Syria and Yemen.
"For several years the number of people who cannot meet their daily food needs without humanitarian assistance has been rising, primarily driven by two factors: persistent instability in conflict-ridden regions and adverse climate events," stated ReliefWeb's 2019 food crises report.
The report found that 113 million people in 53 countries experienced acute food insecurity in 2018. A slight decrease was noted between 2017 and 2018, thanks to a minor change in weather.
Added to this, large swaths of Africa and Asia are suffering from crop-eating caterpillar infestations and disease outbreaks among livestock. This is causing food prices to rise, both in the affected countries and globally.
Taking into account current events, 2019 will almost certainly bring a major increase to those numbers.
One such event is an ongoing outbreak of African swine fever spanning three continents. African swine fever (asf) is a highly contagious viral disease, harmless to humans but fatal to pigs. It has killed more than 1 million pigs in China, and 2.5 million pigs have been culled in Vietnam. The virus has also spread to Cambodia and North Korea and could easily reach the Philippines and Australia.
Pigs are in extremely high demand throughout China: The average person eats 3 pounds of pork for every pound of chicken and beef. Due to the outbreak, the price of pork has increased almost 20 percent year-over-year and is at a three-year high.
In addition, consumer inflation in China has reached a 15-month high, with southern China experiencing fresh fruit crop failure, causing prices to increase by 27 percent year-over-year.
Hong Kong faces similar problems. "Given the drastic shortage of fresh pork, retail prices have spiked between 60 percent to 100 percent in various [Hong Kong] districts," stated the United States Department of Agriculture (usda) in a June 3 report.
China is also battling another imminent threat to its food production: the fall armyworm. This invasive caterpillar devours crops; it migrates and reproduces at astonishing speeds. The pest has been reported in 18 of China's 23 provinces.
The scale of destruction they leave behind led the Centre for Agriculture and Bioscience International (cabi) to call this creature the "pocket-sized monster."
The caterpillars feed on corn, soybeans, wheat and sugarcane, all of which are important to the economy. They advance methodically, devouring large areas of crops before moving on to the next patch. When they turn into moths, they are able to fly up to 100 kilometers in a single night, spreading rapidly to other regions. During their annual migration, they are able to fly a total of 2,000 kilometers. Females can lay up to 1,000 eggs and reproduce within a month. The caterpillars feed on more than 80 different types of plants and cannibalize other armyworms when possible. Because of the fall armyworm, corn production for any given area could be decreased by 20 to 50 percent, and sorghum by as much a 16 percent.
The fall armyworm is a global problem and continues to spread. Native only to tropical areas of North and South America, it is considered invasive in most areas of the world. In 2016, it showed up in West African nations such as Benin, Nigeria, Sao Tome and Principe, and Togo, inflicting more than $13 billion in damage to crops. The countries currently reporting armyworm presence are Myanmar, Taiwan, Thailand, India, Sri Lanka, Bangladesh, Yemen and all of sub-Saharan Africa.
The usda says there is a high probability the armyworm will continue to spread through China next year, since most farmers lack the means to eradicate it. Adding to all this, the U.S.- China trade war continues to drive up food prices.
The strength or weakness of China's corn industry, under threat from armyworm and wet weather, has consequences for the whole country. Geopolitical Futures summarized the importance of corn to China's economy, writing, "China is the world's second-largest producer of corn, and the plant's myriad uses—for human consumption, animal feed and other derivative products—means that any impact on the corn supply will affect other related agricultural products in China."
China is not the only country with a corn shortage. In the U.S., extremely wet weather has caused farmers to delay planting corn. Last year, 90 percent of major corn crops were planted by this time; as of this month, just over half that amount have been planted.
The effects of corn shortages could soon be felt around the world. If one believes the lower estimate, that China has only lost 10 percent of its crop this season, that would do away with the entire surplus produced in Argentina or Brazil. If one relies on the higher estimate of 50 percent crop loss, China's need for imports would be so great that only the U.S. could fill the void. And that would likely be complicated by the ongoing trade war.
As Geopolitical Futures wrote, "This is particularly problematic because, perhaps more than any other economic pressure, a shock to food prices is the sort of thing that drives people to protest."
When the supply of vital foods is threatened and people begin to go hungry, they often start asking why these events are taking place. Many wonder why, if there is a God, such events like famines and disease so often rampage through entire populations, leaving behind a trail of financial and human destruction.
Many have heard of famine and disease being signs of the end of the world. Did the Bible really predict, thousands of years in advance, that famines and disease would increase in frequency in our time? In "Famine: The Black Horseman Is Not Finished Riding," Trumpet writer Jeremiah Jacques stated:
The biblical book of Revelation is about "things which shall be hereafter," or occurrences that would take place after the era of the Apostle John (Revelation 1:19). In Revelation 6, John discusses "the seven seals" that lead up to the return of Jesus Christ. The first four are often called the "four horsemen of the apocalypse." They represent religious deception, war, famine and pestilence (verses 1-8).

Regarding the third horse and its rider, John writes: "And when he had opened the third seal, I heard the third beast say, Come and see. And I beheld, and lo a black horse; and he that sat on him had a pair of balances in his hand. And I heard a voice in the midst of the four beasts say, A measure of wheat for a penny, and three measures of barley for a penny; and see thou hurt not the oil and the wine" (verses 5-6).

This is a personification of mass famine, cruel and unyielding. The passage describes a time when scarcity of food is so great that staple grains are carefully weighed and prohibitively expensive.

Ellicott's Commentary says "measure" in verse 6 means "the amount of food sufficient to support a man for a day." And "penny" refers to "the usual daily pay of the laborer, and of the soldier." An entire day's wage would allow a man to buy only enough wheat to feed himself for that same day! Or he could buy enough of the less nutritious barley to feed three, making the feeding of a family nearly impossible. …

Revelation is not the only biblical book to mention an end-time return of famine. Jesus Christ Himself said that mass famines will occur prior to His return: "For nation shall rise against nation, and kingdom against kingdom: and there shall be famines …" (Matthew 24:7; Mark 13:8; see also Luke 21:11).
The disease and famine in today's world are clear signs of a far better future soon to come. Your Bible says this future will become reality. Although in the short term there will be worse famines and disease outbreaks than anything the world has yet experienced, those days will soon come to an end at Jesus Christ's return. To understand the hope behind these signs, request your free copy of The Four Horsemen of the Apocalypse.