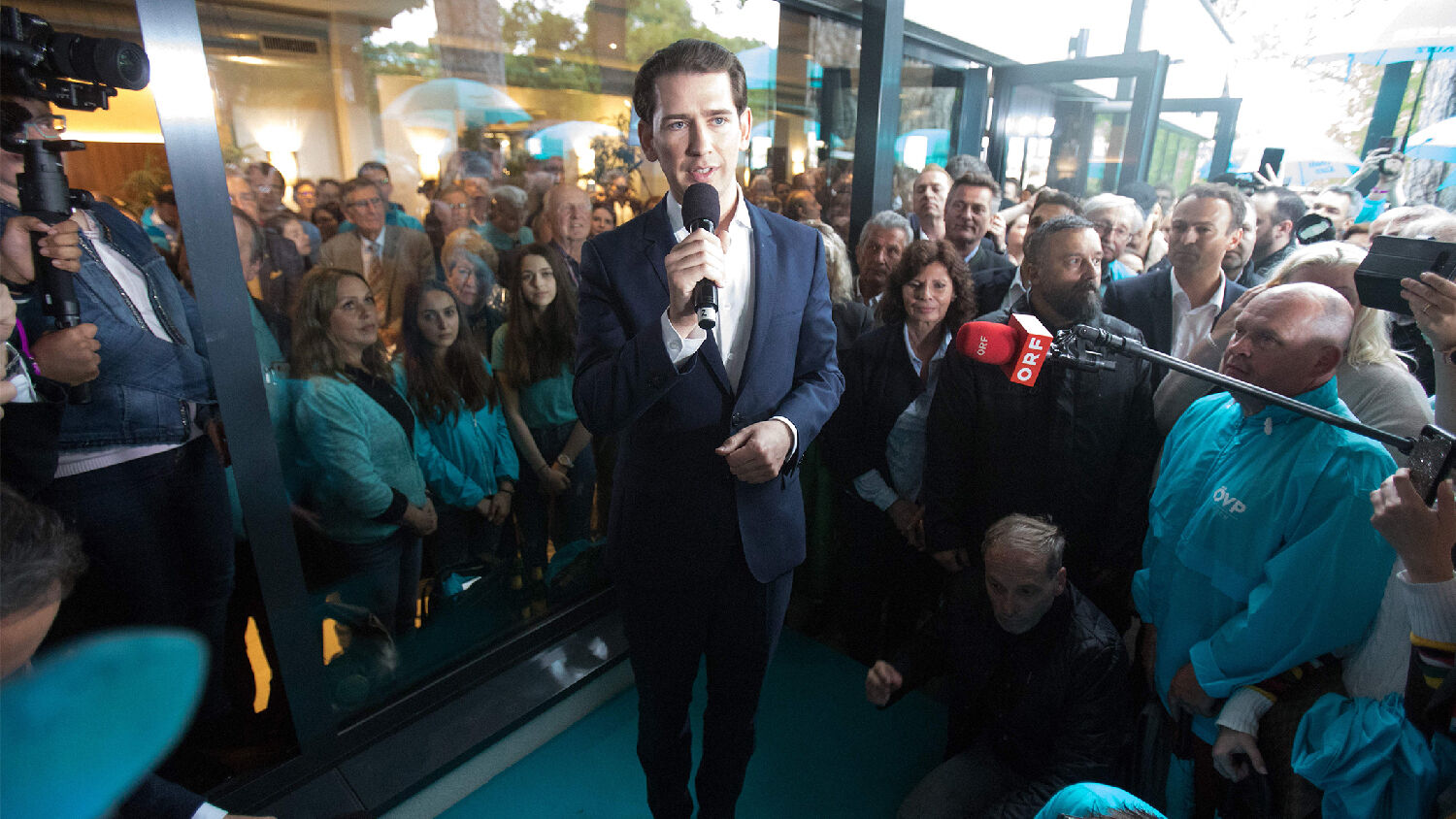 Sebastian Kurz Takes a Break From Being Chancellor
Turmoil may work to Kurz's advantage by causing Austria and Europe to demand strong leadership.
Sebastian Kurz lost his job as Austria's chancellor on May 27 after the Austrian Parliament passed a vote of no-confidence against him and his government. New elections are set for September. Kurz is gone for now, but he could be back, more powerful than ever, in just a few months.
Austria's political turmoil began on May 17 with the publication of a video showing Vice Chancellor Heinz-Christian Strache at a secret meeting with a supposed Russian benefactor. In it, Strache offered government contracts in return for political donations.
The day after the video was publicized, Strache resigned from all political offices. Following his resignation, Kurz took calculated steps to extend his own power. He called for reelections in September and started attacking Strache's party, the Free Democrats (fpö), even though it was his coalition partner. He also attacked the biggest opposition party, the Social Democratic Party (spö).
The German newspaper Bild asked Kurz whom he believes was behind the video trap. He responded: "Concerning the methods, this strongly reminds me of Tal Silberstein, the campaign aide of the spö in 2017. He used similar methods all across the world."
Kurz attacked the fpö even more ferociously. After Strache resigned, Kurz demanded the resignation of Interior Minister Herbert Kickl, another fpö member, and called for further investigations into the party's past, including alleged illegal campaign funding. He did this knowing his demands would prompt fpö members to withdraw from his coalition government.
Following the fpö ministers' resignation, Kurz cooperated closely with Austrian President Alexander Van der Bellen to set up a transitional government that replaced the fpö ministers with experts.
Kurz made seemingly no effort to consult or cooperate with any political party other than his own. His actions left his political opponents with the choice of enduring his power grab or forcing him out of office by a vote of no confidence.
spö leader Pamela Rendi-Wagner, who submitted the motion of no confidence against Kurz's entire government, said that the chancellor's actions are a "shameless, unbridled and irresponsible grab for power" (Trumpet translation throughout). Kickl also accused Kurz of seeking to extend his power rather than governing for the welfare of Austria.
The fpö and spö, former enemies, joined forces to successfully remove Kurz from office.
But while they temporarily succeeded, their attempt to stop Kurz's power grab may fail in the long run, and it may even backfire. While some in Austria's media claim Kurz is responsible for what has happened, many have criticized the no-confidence vote. A majority of Austrians believe Kurz should have continued his chancellorship.
On Sunday, prior to the vote, Kurz told Bild, "A new astonishing coalition is forming in Austria: Herbert Kickl (fpö) together with Pamela Rendi-Wagner (spö). Both parties agree that they want to get rid of me as chancellor. The citizens clearly say that they don't want this, because there will be elections in September anyway."
Despite the video scandal and resulting political turmoil for his coalition, his Austrian People's Party (övp) achieved a historic success in the elections for European Parliament, just prior to the no-confidence vote. Other mainstream parties throughout Europe suffered historic losses. If this trend continues, Kurz's party may perform well enough in September to forgo a coalition with either the fpö or the spö, and instead form a minority government.
Until September, Austria will be ruled by a transitional government that adds to Austria's and Europe's feeling of uncertainty.
Kurz can already count on a "shining comeback" as Germany's Die Welt noted. The more uncertain Austria's political situation becomes, the more Kurz will blame the turmoil on his political enemies.
So far, Kurz has been a major driving force in advancing the European Union. His time out from the chancellorship may benefit him in the next election, but beyond Austria, it will increase the pressure on Europe's already struggling leadership.
Germany's Christian Democratic Union and its coalition partner, the Social Democrats, faced another major setback in the European Parliament elections. Germany is lacking strong leadership. With Kurz out of office in Austria and the nation in political turmoil while Brexit negotiations and other issues press on Europe, Germany is in urgent need of strong leadership. Trumpet editor in chief Gerald Flurry noted in January with his article "Germany—A New King Is Imminent":
Today, Germany has great power. It dominates and even domineers Europe. But it lacks a strong leader. And it isn't about to jump into a major war or do anything too radical until it has that strong leader. Germany has always needed a confidence-inspiring leader. And when that strongman is present, the nation can change quickly and radically!
Bible prophecy shows that the rising pressure in Europe will lead to the ascent of this strongman. "And the ten horns which thou sawest are ten kings, which have received no kingdom as yet; but receive power as kings one hour with the beast. These have one mind, and shall give their power and strength unto the beast" (Revelation 17:12-13)
The Bible prophesies of 10 kings rising in Europe. But this prophesied European empire will be led by Germany. Mr. Flurry explained in "Germany and the Last Holy Roman Empire":
Watch Europe! This last "head" of the Holy Roman Empire is going to have 10 kings banding together, with one as the supreme head. Even today, Europe is looking for a strong leader who can resolve the challenges of European unity and move the project forward. You can be sure that this most powerful king will be from Germany. As has been the case so many times in history, Germany will preside over and control the whole empire.
There is no such strongman currently in German politics. And while Austria's strongman is forced to take a break, and other governments are also struggling, Germany's cry for such a leader is getting stronger and stronger. Europe's political landscape is about to dramatically transform.
Kurz will likely play a subordinate role in that transformation as one of the 10 kings. The real transformation will be led by a strongman ruling Germany. This trend will not only affect Europe, it will change the world's current order altogether. To fully understand what is behind this current political trend that is sweeping Europe, read "Germany—A New King Is Imminent," by Gerald Flurry.