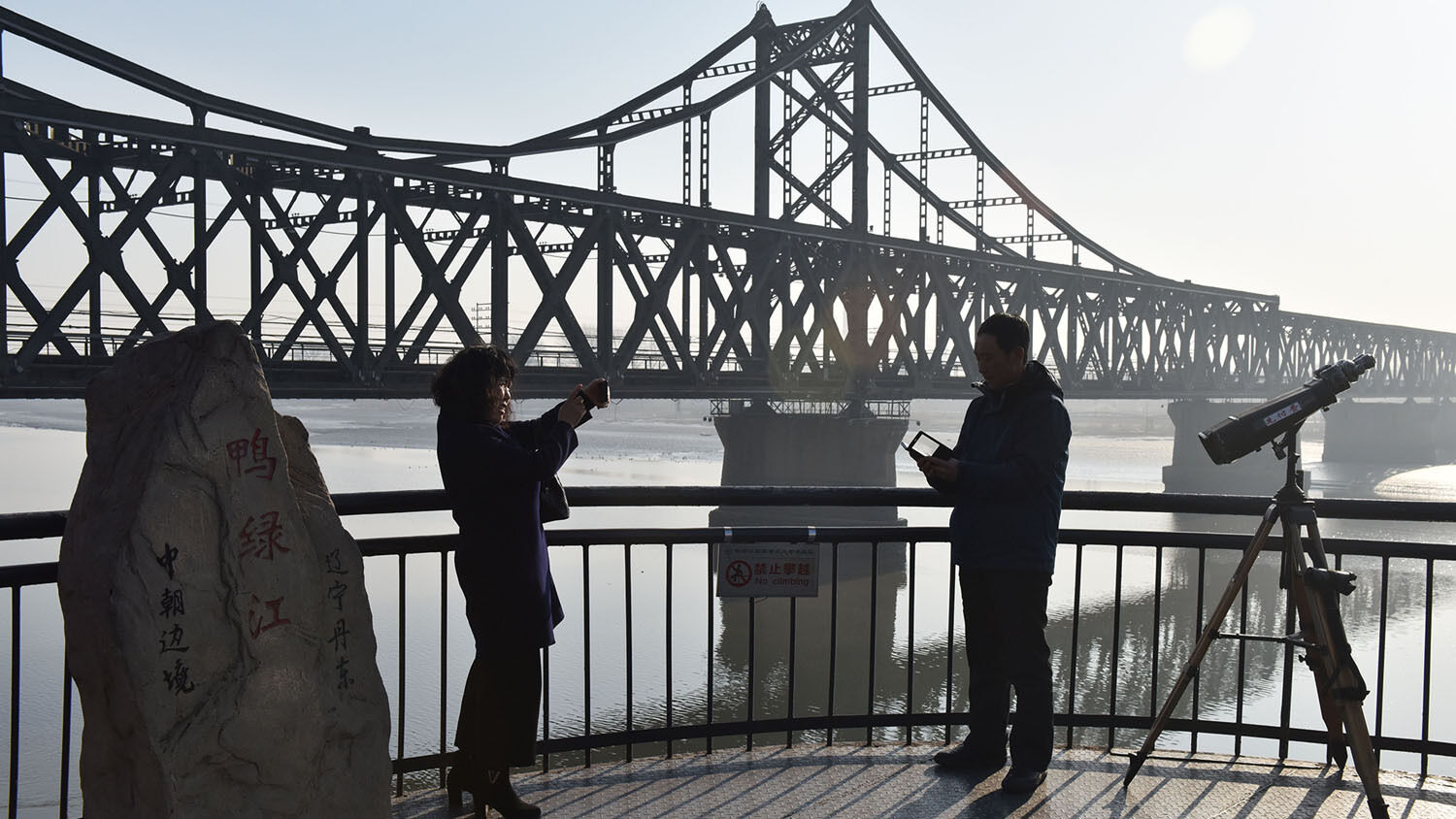 China and North Korea Open New Cross-Border Bridge
Russia and China 'are the only reason North Korea is able to operate freely.'
China and North Korea on April 8 opened a bridge across the Yalu River, signaling a stronger desire between the neighbors to deepen bilateral trade despite international sanctions imposed on North Korea.
The new bridge connects the northeastern Chinese city of Jian with North Korea's northern border city of Manpo. The Jian-Manpo bridge is built mainly for passenger and cargo transport. The passageway will feature an advanced customs facility equipped with 5G technology.
China and North Korea agreed to the massive project in 2012. The construction was completed in 2016, but opening of the bridge was delayed due to international sanctions on North Korea.
"North Korea's denuclearization has not been implemented, but the environment surrounding North Korea and China appears to be partially changing," a source in the border area told Yonhap News Agency. "China may not expand its economic cooperation with North Korea considerably in consideration of its relation with the United States. But the opening of a new bridge may signal expansion of bilateral economic exchanges."
Boo Seung Chan, adjunct professor at the Yonsei Institute for North Korean Studies in Seoul, said the bridge would likely be used to boost tourism in North Korea, which is the only means of economic activity China can conduct with North Korea under United Nations sanctions. "Tourism is the only sector left for the North Koreans to earn foreign revenue," Boo said. "Besides, China can only offer its financial help through the tourism sector as it does not wish to violate UN sanctions."
Another construction of an expressway linking Jian with Tonghua, an industrial city in the northern Chinese province of Jilin, is underway. When finished, it will improve the flow of goods from Manpo city in North Korea to the Chinese border city of Jian and Tonghua, another sign that the two nations are willing to boost bilateral trade amid international sanctions.
China is North Korea's largest trading partner. North Korea is heavily reliant on China to keep its weak economy alive. Without China's economic aid, and to some extent Russia's aid, North Korea would not survive long. Therefore, it is these two nations that allow North Korea to behave as it does. In a 2017 co-worker letter, Trumpet editor in chief Gerald Flurry said that the Russian and Chinese threat are far more alarming than the North Korean threat. He wrote:
The Bible's prophecies show that, in a sense, the North Korea crisis is a massive distraction from the real threat posed by China and Russia. These powerful Asian nations are the only reason North Korea is able to operate so freely. And Bible prophecy shows that they pose a threat many times greater than the one from North Korea! Nevertheless, nuclear technology from North Korea could still play a major role in events during the time ahead.
The specific Bible prophecies that Mr. Flurry's analysis is predicated upon are found in Ezekiel 38 and 39, Daniel 11 and Revelation. These scriptures show that a powerful bloc of Asian nations, led primarily by Russia and secondarily by China, will form and play a pivotal role in the Great Tribulation, an end-time period of unparalleled war and suffering. These passages also show that smaller Asian nations, such as North Korea, will be integrated into this Russian-led bloc.
With the opening of a new bridge between China and North Korea, we can expect North Korea to deepen its economic ties with China to keep its economy afloat and possibly join the Russian-led bloc.
To understand more details about the prophecies that Mr. Flurry's analysis is based on, please request our free booklet Russia and China in Prophecy.