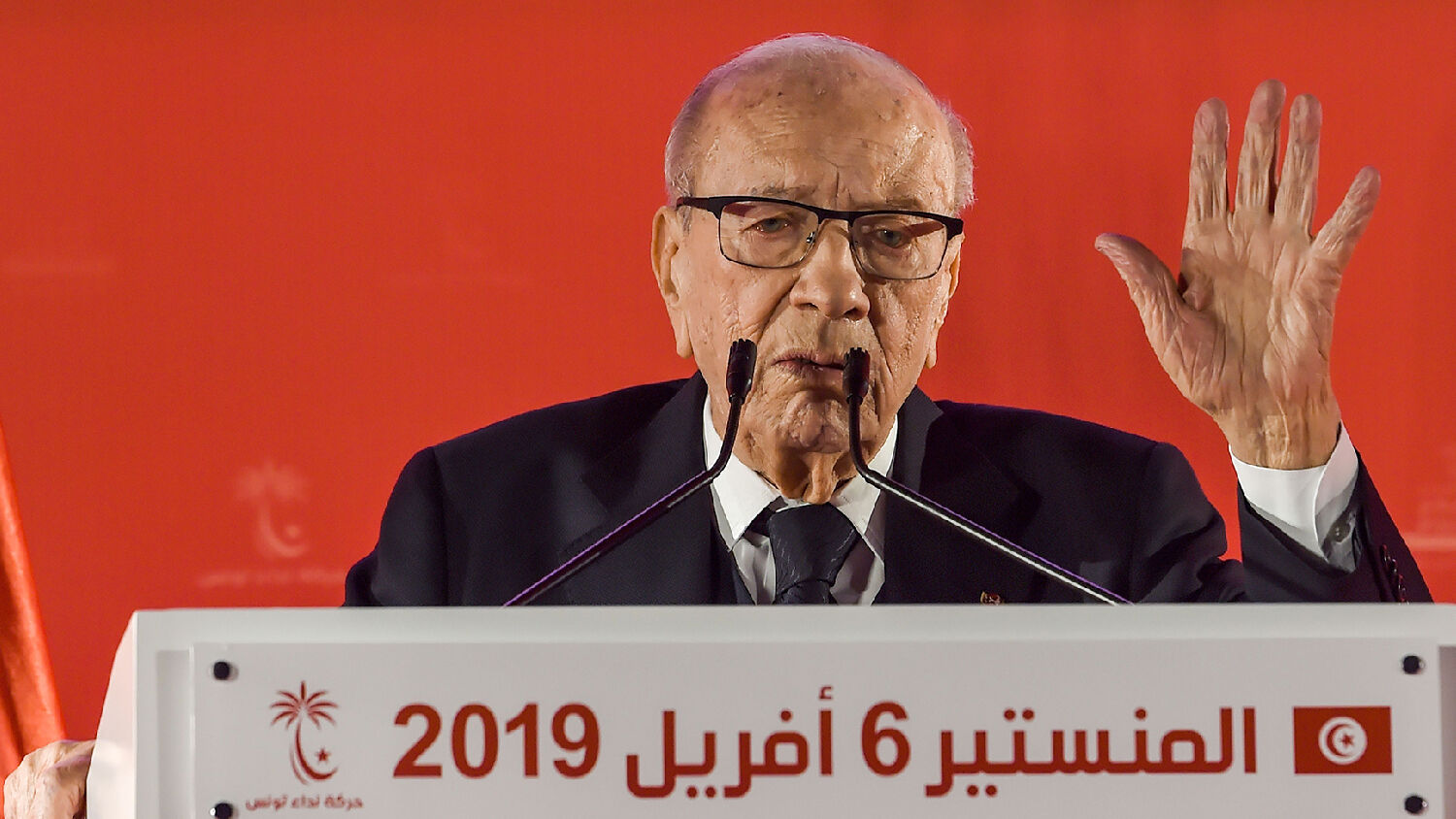 Tunisia Protests Expose Instability
Could radical Islam end Tunisia's democratic success story?
Tunisian President Beji Caid Essebsi announced on April 6 that he will not run for another term in office. His decision comes at a time when antigovernment protests over Tunisia's troubled economy could lead to a second uprising.
Although his party has encouraged him to stay, the 93-year-old Essebsi, who was sworn into office on Dec. 31, 2014, said he intends to resign when his term finishes at the end of this year. "I will say frankly that I do not want to [be] present for a second term," stated the president in a party meeting.
It is possible that he has timed his resignation to avoid the worst of future unrest.
Recent mass protests in neighboring Algeria have given rise to Tunisians' resentment against their own government. If these protests turn into an uprising, many fear it could mean the end of stability in a nation that is viewed as the Arab Spring's only success story.
In 2011, Tunisian dictator Zine El Abidine Ben Ali was kicked out of office by mass protests which marked the beginning of the so-called Arab Spring. However, he was removed peacefully, and unlike others, Tunisia was not consumed by warring rival factions.
Eight years later, Tunisia remains the only nation involved in the 2011 Arab Spring that has removed its dictatorial government without falling into chaos. In 2014, the government established a democratic constitution; to Western observers, this made Tunisia a model for Arab democracy.
Now, however, there is a danger that violence and unrest in neighboring Libya and Algeria have lit the fuse of antigovernment backlash in Tunisia as well.
Tunisia is surrounded by violence. In Libya, factions have been fighting for control of the leaderless nation ever since dictator Muammar Qadhafi was killed. A brief lull began last year due to a United Nations-backed peace deal between the UN-backed government and various factions. That lull ended last week when General Khalifa Haftar, leader of the Libyan National Army movement, began waging an offensive to capture Tripoli, the capital, which is controlled by the UN-backed government.
Algeria has also seen major protests in recent weeks, which have resulted in its ailing president, Abdelaziz Bouteflika, being removed from power. An interim leader has been chosen, pending an election, who has also been met with protests.
There is one major reason to fear that unrest in neighboring countries could turn Tunisian protests into a violent uprising. That reason is Tunisia's economy.
The current protests in Tunisia erupted the first week of April and are directed against a government decision to increase fuel prices. Since the uprising in 2011, the country has suffered through a severe economic slowdown, leading to constantly increasing anger over youth unemployment, and a general feeling of financial hopelessness.
In the ancient Tunisian city of Kasserine at the end of last year, 32-year-old television reporter Abderrazak Zorgui poured gasoline over himself and set himself on fire, his death coming just days before the anniversary of the Arab Spring. His final message to the government, live-streamed on YouTube just before his grisly death, reflected the despair and unease felt by his countrymen. "In Kasserine, there are people dying of hunger," said Zorgui. "Are we not humans? … The unemployed people of Kasserine, the jobless, the ones who have no means of subsistence, the ones who have nothing to eat."
Zorgui said his goal was "to put a revolution in motion."
Spurred on by Zorgui's death, and by increasing unemployment, thousands of Tunisians were reported as having joined radical Islamic groups, such as the Islamic State and al Qaeda.
Zorgui's actions mirror the death of Mohamed Bouazizi, who also burned himself to death, igniting the Arab Spring protests. This one man's deed caused a violent reaction that spread quickly and toppled governments. Trumpet editor in chief Gerald Flurry wrote about this in his free booklet Libya and Ethiopia in Prophecy:
Bouazizi's actions and the Tunisian revolution quickly captured the imaginations of millions of angry, disgruntled Arabs throughout North Africa and the Middle East. The revolutionary spark spread, first to Libya, then Egypt, then Yemen, Bahrain, Syria, Algeria, Iraq, Jordan, Kuwait, Morocco, Sudan, and the list goes on. Today, this massive wave of social and political revolution is known as the Arab Spring. The consequences have been profound. Longstanding governments in such important places as Tunisia, Egypt and Libya have been toppled. Muslim populations and Islamic values, politics and policies have risen to prominence. Most significantly, these Arab revolutions have created political and ideological vacuums. In many instances, such as Egypt, these power vacuums have been filled by radical Islam!
At any time, one event could reignite violence in Tunisia.
Radical Islam is looking for a way into these countries on the edge of the Mediterranean. From there, they can pose a more serious threat to their biggest enemy: Europe. The Bible describes a clash between these two powers: Europe, known in Scripture as "the king of the north," and radical Islam, led by Iran, which is called "the king of the south" in Scripture.
"And at the time of the end shall the king of the south push at him: and the king of the north shall come against him like a whirlwind, with chariots, and with horsemen, and with many ships; and he shall enter into the countries, and shall overflow and pass over" (Daniel 11:40). These two powers will confront each other, signaling the beginning of what the Bible describes as the worst time of suffering mankind will ever experience.
Expect an uprising in Tunisia, because the Bible prophesies that radical Islam will expand its influence in the region, eventually clashing with Europe. But just as surely, you can expect the prophesied return of Jesus Christ soon afterward.
To read more about why you should pay attention to North Africa and the Bible prophecies about this region, request your free copy of Mr. Flurry's booklet Libya and Ethiopia in Prophecy.