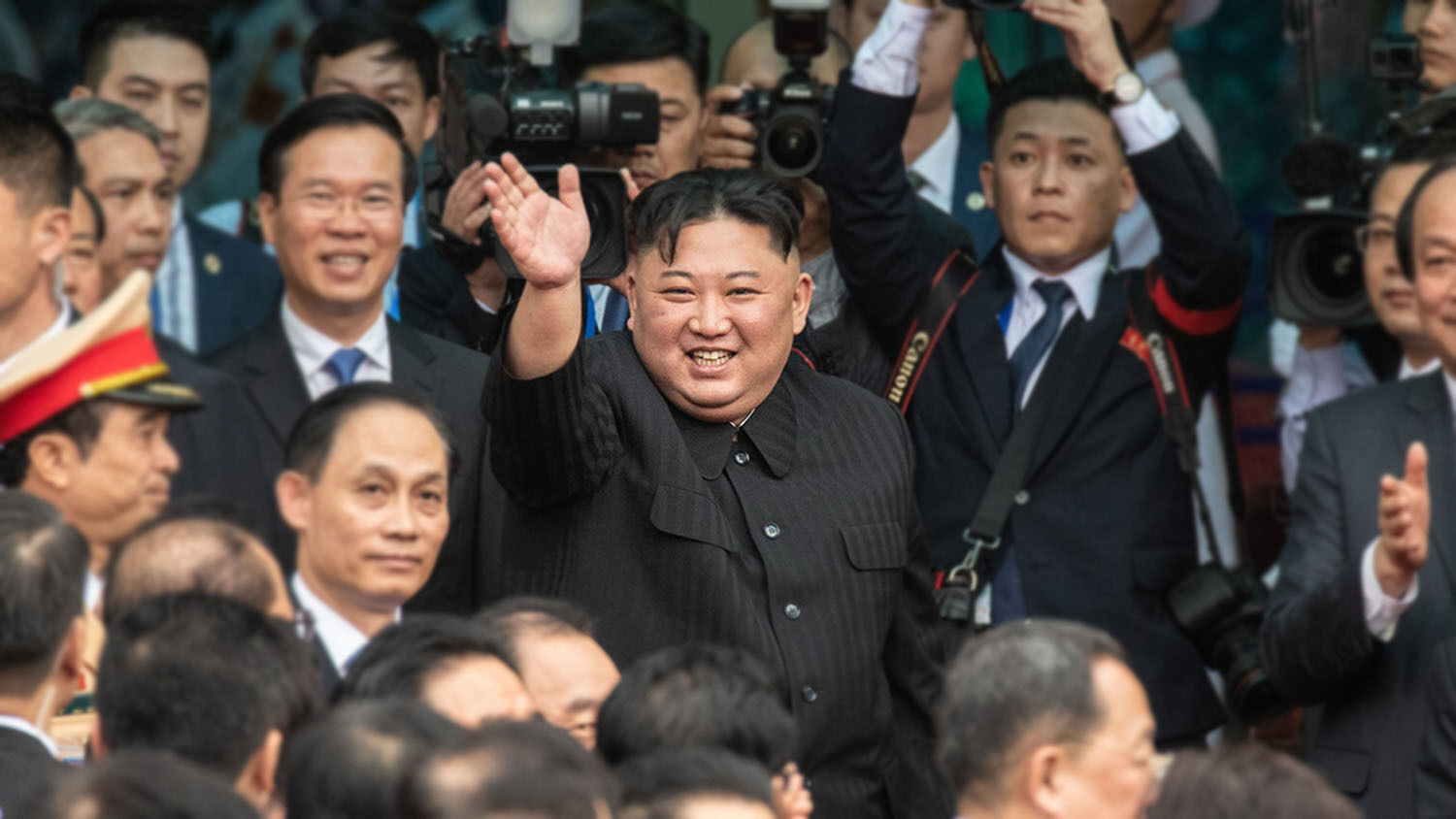 Kim Jong-un to Visit Vladimir Putin in Russia
Report comes days after negotiations collapsed between North Korea's leader and U.S. President Trump.
North Korean leader Kim Jong-un will soon travel to Russia to meet with President Vladimir Putin, according to a March 4 report from Putin's press secretary.
"I have already said that such a visit is really on the agenda," press secretary Dmitry Peskov said. "There is a necessary invitation, and we hope that in the foreseeable future the exact date and place will also be agreed on."
The announcement comes just four days after Kim's second meeting with United States President Donald Trump came to an abrupt end in Vietnam, after the two sides failed to reach an agreement about denuclearizing North Korea.
The collapse of the Trump-Kim talks was ridiculed on Russian government-run tv, and now Putin appears eager to pounce on the opportunity to increase his influence with North Korea. The fact that the upcoming visit will take place somewhere in Russia—instead of in a neutral third country as with the U.S. summit—also indicates that Kim may desire a more personal relationship with Putin, similar to the close relationship he has cultivated with Chinese leader Xi Jinping.
Kim's first foreign trip since becoming North Korea's supreme leader in 2011 was to Beijing in March 2018, where he met with Xi. Kim has made three other trips to China to meet Xi since then, in May 2018, June 2018 and January 2019.
Kim's visits with Xi and his upcoming trip to Russia reveal where North Korea's support and power originate. And they point to where the greater threat lies.
In 2017, at the height of North Korea's provocations, Trumpet editor in chief Gerald Flurry said Bible prophecy shows that the world should be more concerned about Russia and China than about North Korea. He pointed out that those two nations allow the North to behave as it does.
He wrote in a co-worker letter on Sept. 13, 2017:
The Bible's prophecies show that, in a sense, the North Korea crisis is a massive distraction from the real threat posed by China and Russia. These powerful Asian nations are the only reason North Korea is able to operate so freely. And Bible prophecy shows that they pose a threat many times greater than the one from North Korea! Nevertheless, nuclear technology from North Korea could still play a major role in events during the time ahead.
The prophecies that Mr. Flurry's understanding is based on can be found mainly in Ezekiel 38 and 39, Daniel 11 and Revelation 9:16 and 16:12. These reveal that Russia will lead a stunningly powerful military bloc in the end time, with China in a position of junior leadership. These passages show that several Asian countries, likely including North Korea, will be integrated into that Russian-led confederacy and lend their military might to it. But they will not be lead players.
In his booklet The Prophesied 'Prince of Russia,' Mr. Flurry explains how these various scriptural passages connect. And he shows that Russia, with Vladimir Putin in charge, will be at the helm of this furious end-time Asian military power. He shows that this bloc will soon play a key role in the most violent conflict in mankind's history.
But Mr. Flurry also shows that some astonishingly good news lies at the heart of these prophecies.
He writes:
Vladimir Putin is a sign, literally a sign, that Jesus Christ is about to return! This is one of the most inspiring messages in the Bible. What we are seeing in Russia ultimately leads to the transition from man ruling man to God ruling man! And it is almost here! It is just a few short years away.
Putin's leadership, including his outreach to Kim Jong-un, is destabilizing the world, intensifying threats, and laying the groundwork for global catastrophe. But it is also "literally a sign" that righteous leadership is "just a few short years away"!
To understand more about both the danger and the hope in these prophecies, order your free copy of Mr. Flurry's booklet The Prophesied 'Prince of Russia.'