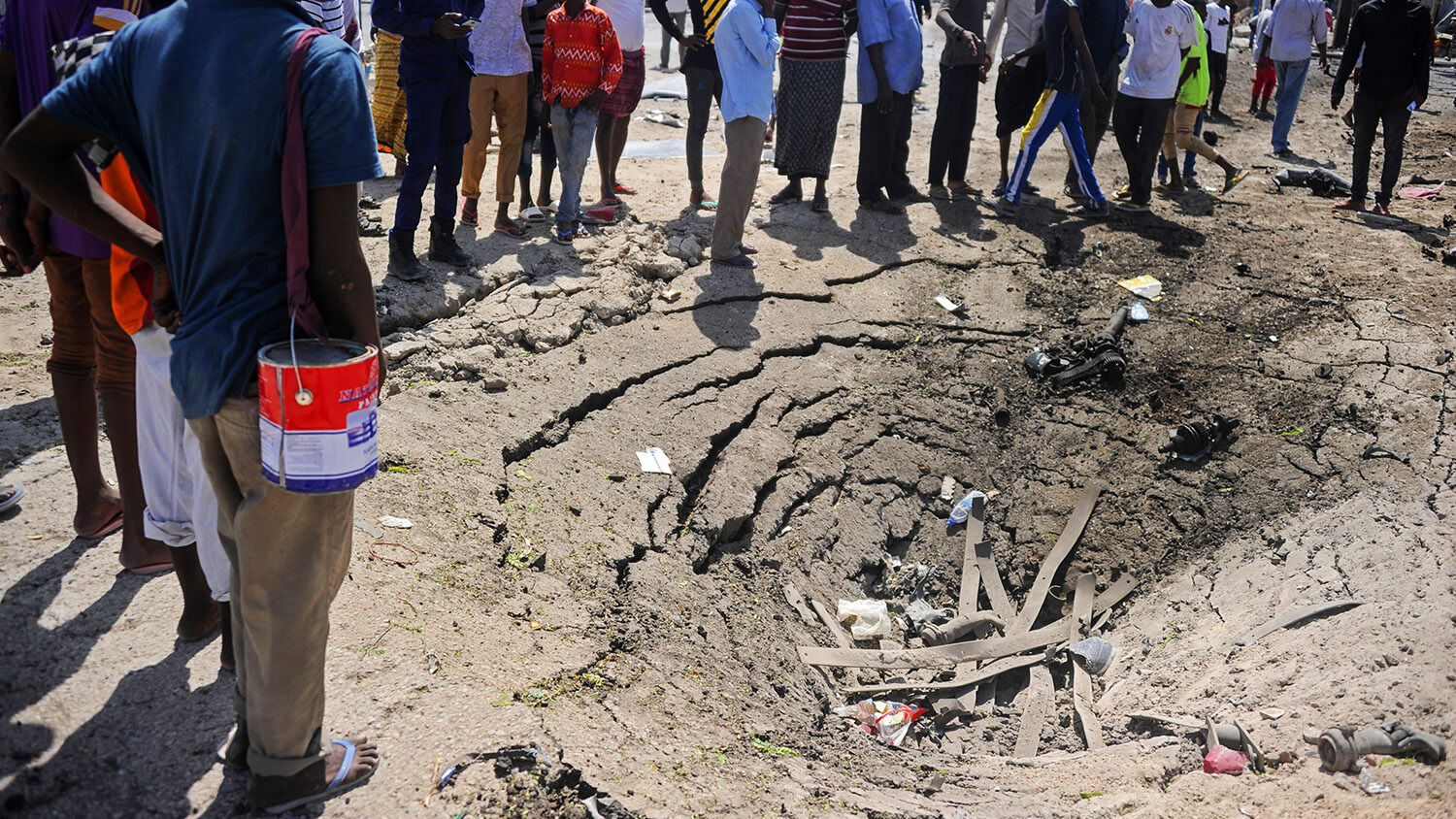 Islamic State Still a Threat
As America retreats, Europe seeks to strengthen its position in Syria.
Between December 22 and 25, Islamic State bombings struck Somalia, Libya, Iraq and Afghanistan. The attacks came only days after the United States declared the terrorist group defeated and said its troops would leave Syria. Now, Europe is waking up to a new reality: It must prepare to act alone to keep the Middle East under control.
The first attack happened in the Somali capital of Mogadishu. A suicide bomber approached the rear entry checkpoint of the presidential palace on December 22 and detonated his explosives-laden car. Later, another suicide bomber set off a smaller bomb outside a nearby government-run prison. The plume of smoke from the bombing was visible for miles. At least 26 have died and 20 are wounded, some seriously.
The largest attack was at a government building in eastern Kabul, Afghanistan, also on December 22. The assault began with a car bombing in front of the building, quickly followed by the entrance of armed men who went room to room searching for their victims. At least 357 people were evacuated by police when the shooting began, but many were left inside. Some employees successfully blocked doorways, while others were taken hostage and held during the 8-hour standoff that ensued. The hostages' presence hampered local police. At least 43 people were killed, including one officer; three other officers were wounded. Nobody claimed responsibility, but the main suspects are local Islamic State or Taliban groups, which are known for carrying out daylight attacks.
On December 25, a car bomb detonated outside the Libyan Foreign Ministry building in Tripoli before three men pelted the building with bullets. Two of the men detonated their suicide vests; the third man tried to enter the building and detonate his vest, but was killed by security before doing so. At least three people were killed and 10 injured. The Islamic State claimed responsibility for the attack.
Another bombing happened the same day in Iraq. The city of Tal Afar was shaken by a car bomb that detonated outside a café, leaving two dead and 11 injured. Islamic State claimed responsibility. The city had been a stronghold for militants until it was retaken by Iraqi forces in August 2017.
All of these attacks came after United States President Donald Trump declared victory over the Islamic State and announced the withdrawal of all American troops from Syria and about half of all American troops from Afghanistan. "We have won against isis," he claimed. Just a few days later, however, the four attacks made headlines, with the Islamic State openly claiming responsibility for three of them. What does this mean for the future of Syria and the Middle East?
Clearly, the Islamic State is not vanquished. There is abundant speculation as to why the president made his decision, when even his usual supporters disagreed with him, as did other members of the Syrian coalition. Many are asking whether Mr. Trump made the right decision. Right or wrong, the withdrawal is definitely a milestone—not only for America, but for Europe as well.
The following day, another troubling announcement came when President Trump's defense secretary, James Mattis, said he would resign.
The U.S.'s decision has caused panic among Europe's leadership. Carl Bildt, cochair of the European Council on Foreign Relations, said there had been "a morning of alarm in Europe" after the president's announcement.
Germany is waking up to reality in Syria and realizing it will soon need to act. "Mattis was the last man standing for what had been U.S. foreign policy since World War ii," said German Foreign Affairs Committee chairman Norbert Rottgen. He called Mr. Mattis the only "grown-up in the room."
Then German politician Norbert Röttgen made this telling statement: "We have to be mature, and we have to rely more on ourselves. How many more wake-up calls do we need in order to engage?"
Israel was also shaken by President Trump's decision. As America withdraws, Iran will have more freedom to get involved in Syria. This is unwelcome news for Israel, which will need to look somewhere other than America for its security. "Mattis believed that a strong American presence in the Middle East served as a buffer to Iran and other hostile elements," said Michael Oren, the Israeli deputy minister in the prime minister's cabinet and former Israeli ambassador to the U.S. "Today as in the past, Israel will have to defend itself with its own forces to deal with the great threats in the north."
Each time America withdraws, and each time the Islamic State carries out another attack, Europe sees more clearly the need for action and self-reliance. The Trumpet has followed this trend for years. We have long forecast that Syria would be influenced by Iran, only to eventually align with a resurgent Europe. As our readers know, we look at world events from a unique perspective, one that is proven and credible: that of Bible prophecy. In this light, America's retreat, Israel's defense dilemma, and Europe's advance take on much greater significance.
In his booklet Jerusalem in Prophecy, Trumpet editor in chief Gerald Flurry writes about the results of America's retreat from the Middle East. Prophecy describes a time when America will be so weakened and inwardly focused because of domestic troubles that Israel will look to Germany and Europe for safety. German-led European armies will surround Jerusalem, giving the impression that peace is just around the corner. But then something tragic happens. He writes:
Why is this European army surrounding Jerusalem? At this point, the main power of the Arab world will already be destroyed. This army has just conquered the king of the south and is probably there to keep peace in Jerusalem. The Holy Roman Empire will undoubtedly make some kind of a peace pact to protect Jerusalem. It will look like the world is about to have peace. The beast power will enter into Jerusalem. At that point, this European power will double-cross the Jews (see Ezekiel 23). It will become one of the greatest double crosses in the history of man. At this point, people will realize that Judah's "wound" leads to a cataclysmic end! Suddenly, in a moment, the Great Tribulation begins—the worst time of suffering ever on Earth.
President Trump's unexpected decision to withdraw is leading to yet another Bible prophecy coming to pass in the Middle East. It will turn out to be disastrous, both for America and the nation of Israel. But there is also hope in what you are seeing. As this prophecy comes to pass, the return of Jesus Christ draws near. Only then will there be guaranteed peace for all mankind. To learn more about the hope-filled truth in these Bible prophecies, and to gain vital insight into events in the Middle East, request your free copy of Jerusalem in Prophecy.