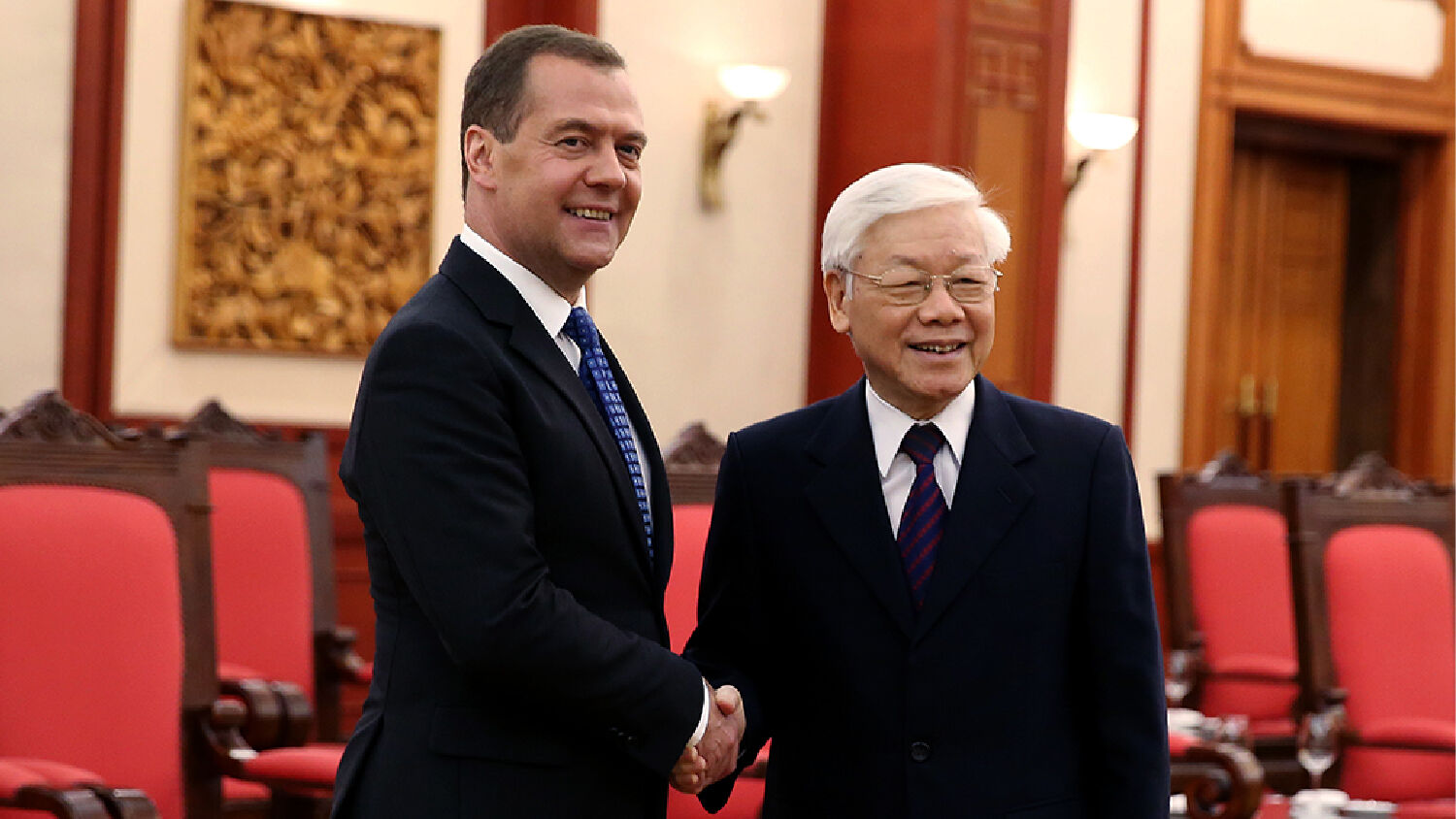 Russia and Vietnam Aim to Triple Trade by 2020
Relationship indicates how Russia will lead Asian nations.
Russia and Vietnam will triple bilateral trade to $10 billion by 2020, according to statements by the nations' prime ministers on November 19. Trade between the two nations reached $3.6 billion last year.
"Russian and Vietnamese energy companies are cooperating effectively," Russian Prime Minister Dmitry Medvedev said. "[A]nd we want to strengthen these ties further with measures to facilitate joint energy investment projects in Russia, Vietnam and in third countries."
Vietnamese Prime Minister Nguyen Xuan Phuc echoed Medvedev's remarks. "We have agreed to cooperate more closely and effectively implement a free-trade agreement Vietnam has signed with the [Russia-led] Eurasian Economic Union," Phuc told reporters in Hanoi after holding talks with Medvedev.
Russia currently invests approximately $990 million in projects in Vietnam, mostly in oil and gas exploration. Russia is Vietnam's largest weapons supplier and is also its "second-largest foreign investment destination."
"Vietnam is the only strategic partner of Russia in the Asia-Pacific region, with the partnership established in 2001," said Deputy Minister of Industry and Trade Tran Quoc Khanh. He added that both countries have benefited from having "time-tested and close-knit relations in all fields."
Russia and Vietnam's relationship is significant because Trumpet editor in chief Gerald Flurry has identified Russia as the nation that will lead an end-time Asian bloc referred to in the Bible as "the kings of the east" (Revelation 16:12). Revelation 9:16 shows that this massive Asian bloc will field an army of 200 million men. In his booklet The Prophesied 'Prince of Russia,' Mr. Flurry writes:
The Bible gives some important details about this largest army ever assembled on Earth. It tells us which nations will contribute soldiers to it. It shows it will include the combined forces from several Asian nations. It refers to this Asian confederacy as "the kings of the east" (Revelation 16:12). …

Current events show this Asian army is taking shape already. You can see it in Putin's growing authoritarianism, and also in his outreach to other Asian powers. …

With other Asian nations joining in, you quickly reach combined populations of 3.5 to 4 billion people!
Mr. Flurry's analysis of Russia leading the 200 million-man army is based on specific end-time Bible prophecies. Ezekiel 38 shows that an Asian bloc led by Russia will form during the end time. Verse 2 reads, "Son of man, set thy face against Gog, the land of Magog, the chief prince of Meshech and Tubal, and prophesy against him." Mr. Flurry continues:
Scholars generally agree that "Gog" is Russia, and that "the land of Magog" includes China. The descendants of Meshech and Tubal have been found together throughout history. In Assyrian and Greek histories, Meshech appears as Musku, Muski or Mushki—all names related to the Russian spelling of Moscow. … What about Tubal? On the eastern side of the Ural Mountains lies the city of Tobolsk, named after the Tobol River, a name derived from Tubal. Tobolsk was once the seat of Russian government over Siberia and was basically considered Russia's Asian capital.
Vietnam's warm relations with Russia could lead to it joining the Russian-led "kings of the east" alliance. With Vietnam's large population, it could end up contributing to the 200 million-man army. Keep watch as Russia continues to deepen relations with Vietnam and other Asian nations. Keep watch as Russia spearheads the biblically prophesied "kings of the east" alliance.
To understand why Russia is the leading power of the "kings of the east" alliance, please request your free copy of The Prophesied 'Prince of Russia,' by Gerald Flurry. This booklet explains how Russia will play a key role in fulfilling major Bible prophecies. It also proves why Russia will end up as the head of the 200 million-man army.