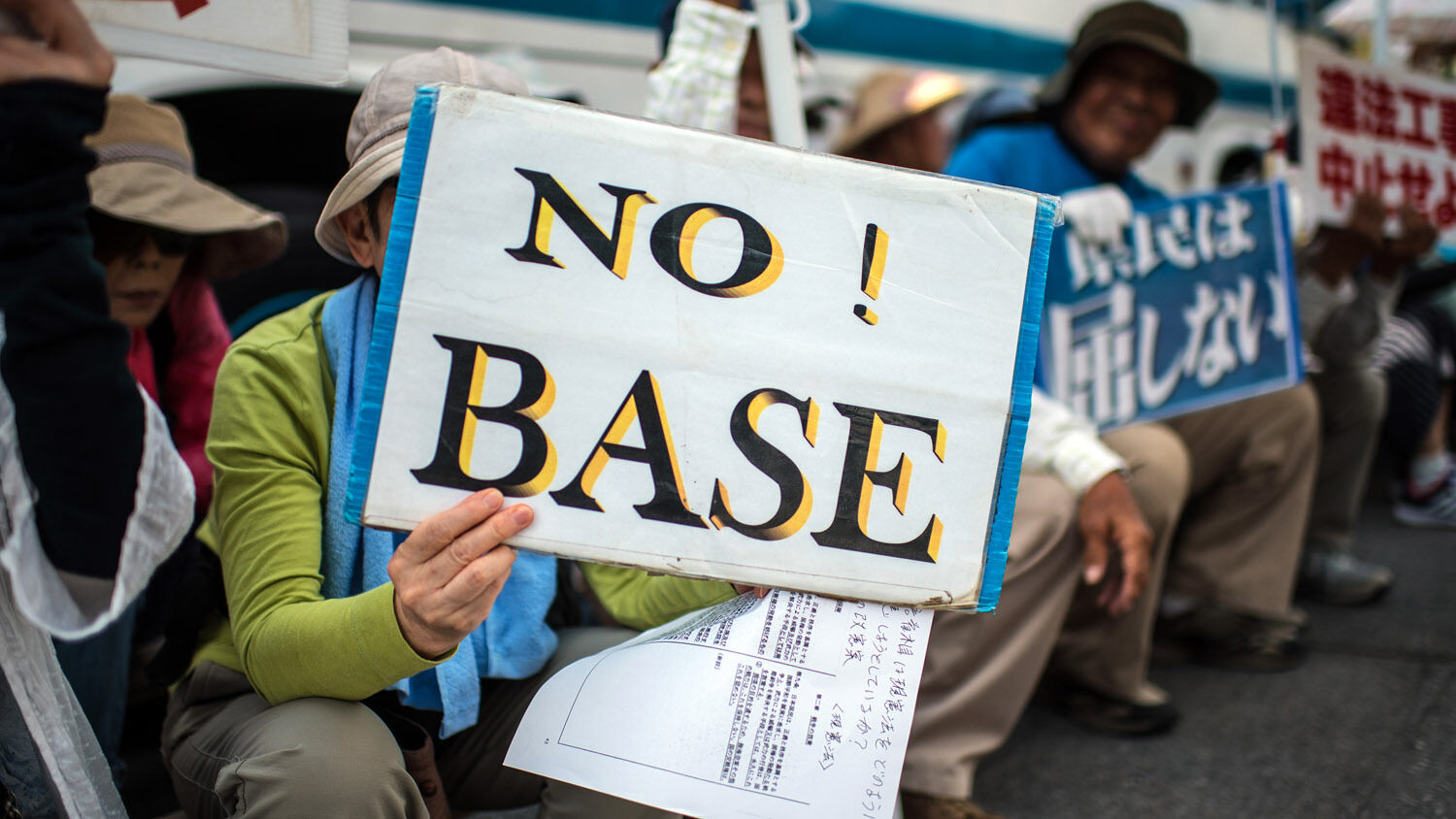 Thousands Rally to Remove U.S. Military Base From Okinawa
The latest deterioration of a fading trans-Pacific alliance
Some 70,000 protesters rallied in Okinawa, Japan, on August 11 against the planned relocation of a United States military base. Rather than see U.S. Marine Corps Air Station Futenma moved from a heavily populated part of the island to the remote Henoko Bay, the protesters want it to be removed from the island entirely.
Assembled at a park in Okinawa's capital city, Naha, protesters held up signs that said, "Henoko new base, NO!" and "Okinawans will not give up."
The presence of U.S. troops in Okinawa has been a point of contention in U.S.-Japanese relations.
After Japan's defeat at the end of World War ii, the United States occupied the nation and drafted its Constitution, including a clause barring Japan from maintaining "land, sea and air forces, as well as other war potential." America and Japan then signed the Treaty of Mutual Cooperation and Security, which codified Japan's dependence on the U.S. for its defense. The treaty said America would defend Japan by stationing U.S. forces within its borders and near potential conflict zones in the region.
About half of the 50,000 American troops now stationed in Japan are based in Okinawa, and American installations cover nearly one fifth of the island's area. Residents have complained that the troops bring violent crime, noise and pollution, and many Okinawans want them off of the island entirely. But citizens on the country's other islands do not want U.S. forces moved to their cities either. As Takeharu Onaga, son of the late governor of Okinawa, said: "The [relocation issue] is pushed to Okinawa because nobody on the mainland wants it."
In the seven decades since World War ii ended, Japan has quietly undermined the pacifism enshrined in its Constitution. Many Japanese wish for the nation to entirely abandon its dependence on the U.S. and to become a normal military power once again.
The Trumpet has predicted for decades, based on the sure word of Bible prophecy, that Japan will return to full-fledged military power status. The Okinawans' desire to remove U.S. bases from their island is one factor that is setting the stage for this to happen.
Specific Bible prophecies for the end time show that Japan will be part of a bloc of Asian nations called "the kings of the east" (Revelation 16:12). Ezekiel 38:1-2 show that this massive Asian conglomerate will be led by Russia. Verse 6 shows that Gomer and Togarmah—the ancient ancestors of most modern Japanese—will be part of this powerful Asian bloc. This indicates that Japan's security dependence on America will soon come to an end and the nation will normalize its military.
To understand why the Trumpet watches the remilitarization of Japan, and to learn the details of Japan's role in end-time Bible prophecy, please read Chapter 5 of our free booklet Russia and China in Prophecy.