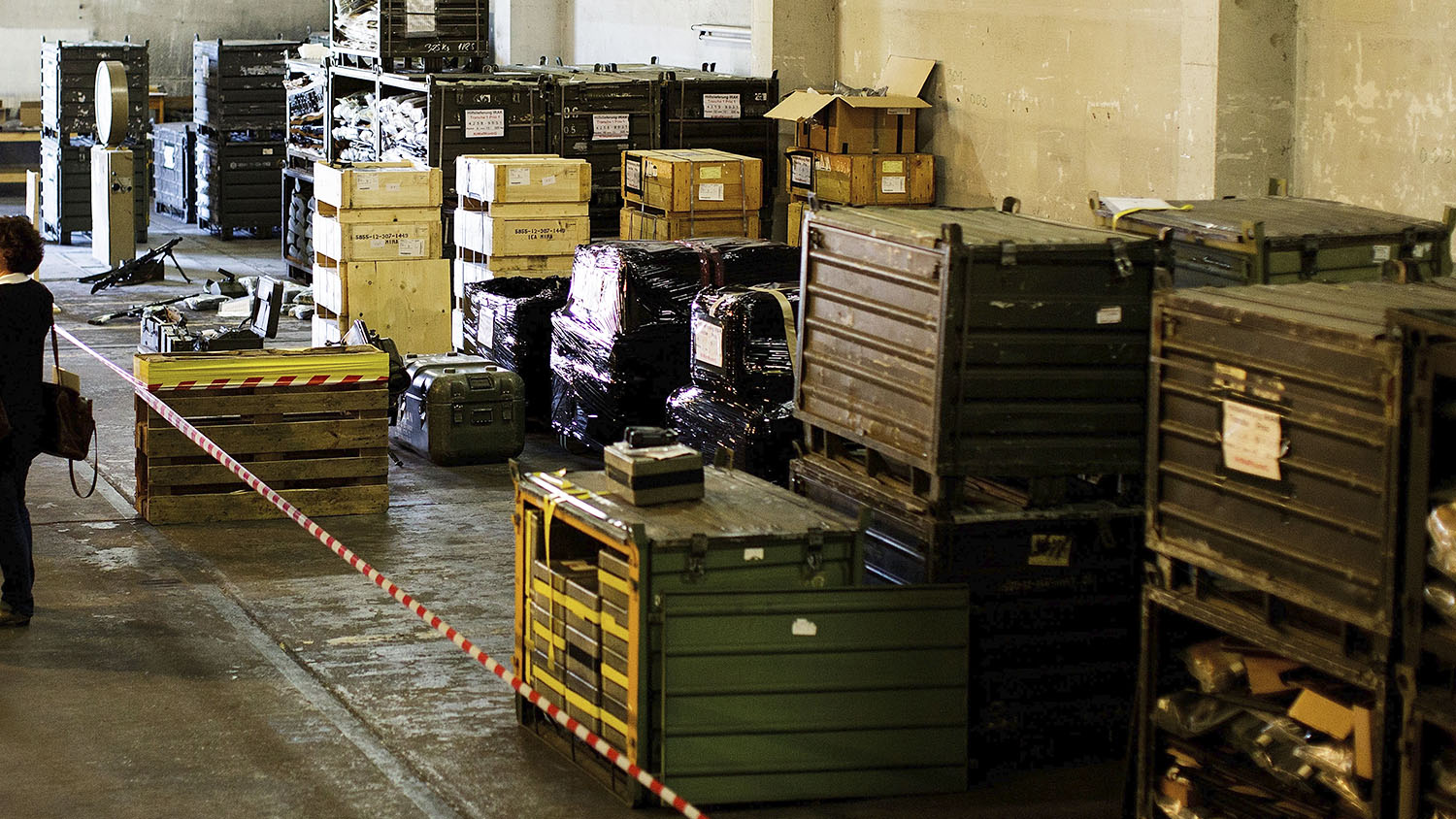 2017: Germany's Third-Highest Year of Weapons Exports
Germany sold most of its weapons to nations in three strategic areas.
Last year, Germany recorded its third-highest year of weapons exports. The nation exported €6.2 billion (us$7.2 billion) in weapons in 2017, according to a report released on June 20. This amount represents an almost 10 percent drop in weapons sales compared to 2016.
Germany sold most of its weapons to nations in three significant "target areas," according to German-Foreign-Policy.com: Asia, the Arabian Peninsula and North Africa. Germany has specific interests in each of these areas. In the Arabian Peninsula, the weapons went to "several states … which oppose Iran" (Trumpet translation throughout). To North Africa, Germany sent "warships and land vehicles that could be used for refugee defense." The weapons sold to Asia "went to Asian and Pacific rivals of the People's Republic of China."
Germany is concerned about China's rise in the East. China already has the second-largest economy in the world, behind the United States. Recently, China has made aggressive moves to expand its power around the globe. China's tentacles have reached into Europe through the One Belt, One Road initiative. China has also made land grabs in the South China Sea in areas that are not within its territorial waters. It has built up its military, which already ranks third in the world. It has also increased its influence over shipping lanes, ports, strategic waterways and naval choke points around the world. As a country that relies heavily on exports, Germany is concerned about any power that threatens its shipping lanes.
Its bigger concern, however, is located in the Middle East and North Africa. According to German-Foreign-Policy.com, Germany is attempting to combat the refugee crisis with strategic sales in North Africa. Nations like Algeria and Tunisia bought a large number of military vehicles from Germany in 2017. With these sales, Germany could be trying to solve the European migrant problem with a deliberate policy on the North African coast. Germany hopes that if it boosts North African countries' border security, then that may help keep the migrants out of Europe. Algeria's navy, for example, now uses some German ships, with crews trained in Germany, setting them up to work seamlessly alongside European navies.
But there is another reason for Germany's interest in this area. It is investing heavily into North African and Middle Eastern nations to oppose Iran. Saudi Arabia and the United Arab Emirates, two vocal rivals of Iran, were the top two recipients of German arms last year. The two of them account for almost half a billion dollars of Germany's total arms exports.
Relations between Germany and Saudi Arabia have been stiff lately because of Berlin's stance on issues in the Middle East. Its current leadership wants to continue the nuclear deal with Iran, but Riyadh is a vocal opponent of the deal. Saudi Arabia recalled its ambassador to Germany in November 2017 after comments from then German Foreign Minister Sigmar Gabriel. The Saudis interpreted Gabriel's comments on Lebanon's political instability as a veiled accusation of Saudi meddling in Lebanese politics.
Since then, Saudi Crown Prince Mohammed bin Salman "has ordered that no more government contracts be awarded to German companies in a sign of continued irritation over Berlin's foreign policy in the Middle East," Reuters reported on May 25. However, these cancellations seem to be more of a sign of displeasure than anything else. Germany and Saudi Arabia have been courting favor with each other for years. Saudi Arabia needs allies outside the Middle East to strengthen its position against Iran, and Germany is too valuable an ally to lose. Already, Germany's position on Iran seems to be hardening. Chancellor Angela Merkel expressed stronger than usual criticism of Iran during her trip to Jordan last week.
The Bible has a lot to say about Germany getting more involved in the Middle East. Psalm 83 speaks of an end-time alliance between Germany and several moderate Islamic Middle Eastern nations, including Saudi Arabia.
The Bible also speaks of another alliance in the Middle East and North Africa: the king of the south, or Iran-led Islamic extremism. Daniel 11 indicates that the African nations Libya, Ethiopia and Egypt will side with Iran. Germany and Iran both have objectives in the Middle East and North Africa, but their goals are fundamentally opposite.
In the April 2013 Trumpet, editor in chief Gerald Flurry wrote, "Northern Africa is turning into a battleground with enormously important prophetic implications." The Middle East is a similarly important battleground. "Iran isn't the only one interested in Africa," he continued. "Germany is making strong inroads as well. Both of these powers are racing to get as much control of North Africa as they can. They will inevitably clash with each other."
Daniel 11:40 talks about this clash. It says that the king of the north—a German-led European power—will "come against" the king of the south "like a whirlwind." That whirlwind will destroy the king of the south. Mr. Flurry wrote in the July 2013 Trumpet: "The Iranians are so focused on conquering their own objectives that they don't see what the Germans are doing. … Germany has expected to clash with Iran, and it has been working on a strategy for a decade or more. That strategy is almost complete. Germany has surrounded Iran."
Mr. Flurry elaborated on Germany's whirlwind strategy in his 2015 article "A Sudden Whirlwind":
Iran has influence in Syria, Egypt, Libya, Yemen, Eritrea, Ethiopia, Iraq and Sudan, plus control of both points of entry into the crucial Red Sea—the most important trade route in the world. It has surrounded the key oil-producing state of Saudi Arabia.

But Germany has Iran surrounded, and Iran doesn't even know it. Germany has countered Iran's clout with its own feelers in Iraq and Sudan, plus military deployments, trading partners and outsourced arms manufacturing in Mali, Algeria, Kosovo, Turkey, Cyprus, Israel, Uzbekistan, Afghanistan, the United Arab Emirates, Qatar, Bahrain, Saudi Arabia, Djibouti, Somalia, South Sudan and the Central African Republic.
As Mr. Flurry wrote, Germany is surrounding Iran in preparation for that prophesied clash. These record arms exports are part of that strategy. Germany already has a network of trading partners, military alliances and strategic partnerships that surround Iran. It is also working on alliances to counter the powers in the East, where China and other Asian nations are prophesied to rise as a bloc that will "trouble" German-led Europe.
Today, Germany is the world's fourth-largest arms exporter. Its military is in the top 10. Last year was one of its best years of arms exports on record. With the right leadership, Germany will become a force to be reckoned with, just as the Bible has prophesied.
To understand more about Germany's plans in the Middle East and North Africa, watch Mr. Flurry's Key of David program "Germany's Secret Strategy to Destroy Iran" and read his articles "The Whirlwind Prophecy" and "A Sudden Whirlwind."