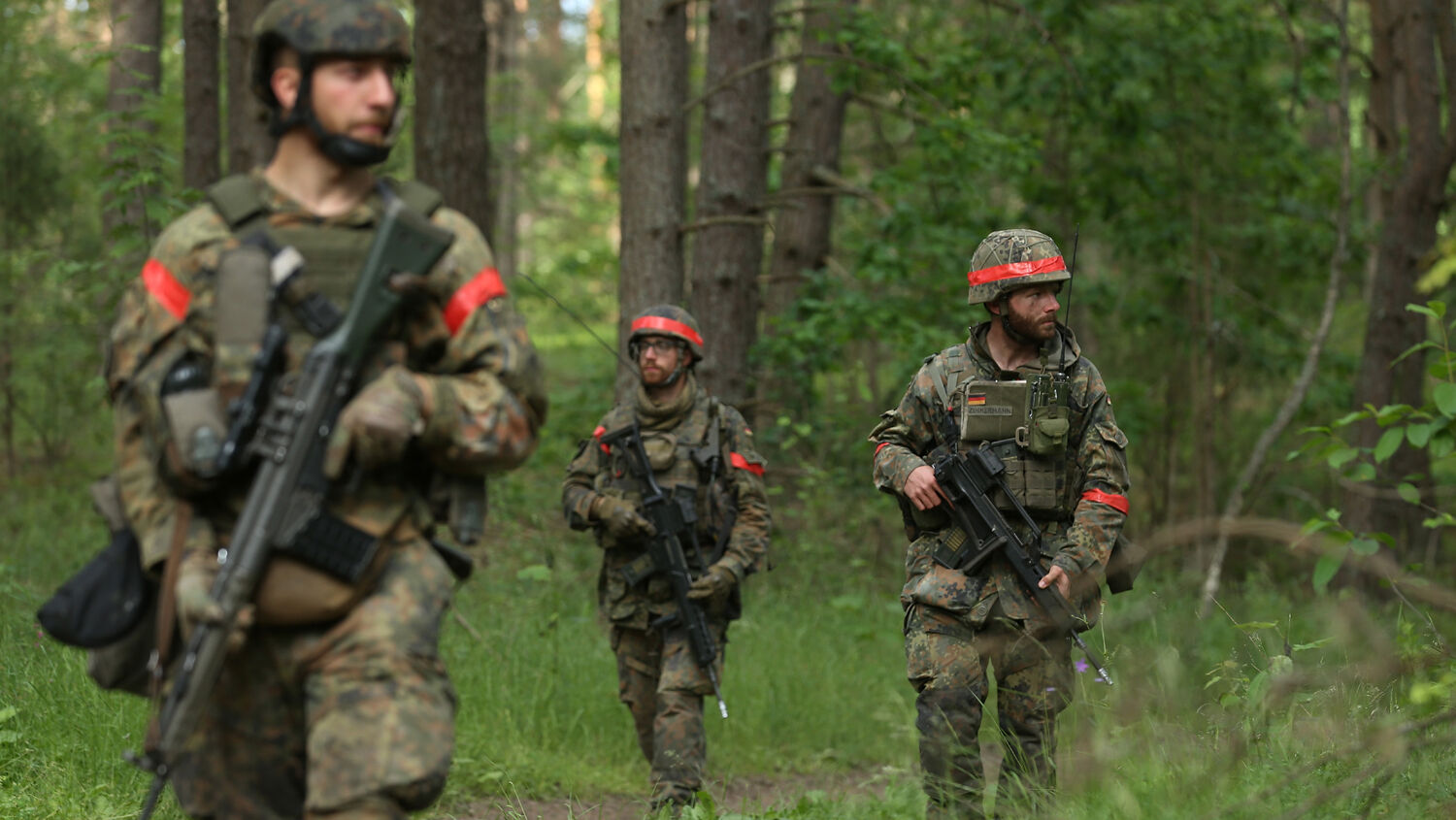 Merkel Supports European Military Consolidation
German chancellor voices approval for French president's military integration proposal.
German Chancellor Angela Merkel declared on June 3 that she held a "positive view" of French President Emmanuel Macron's proposal for further European military integration.
Macron outlined his plan for a reformed eurozone in a September 2017 speech. He called for a European Union military intervention force with a budget agreed upon by the year 2020. He has been pushing for Germany to come on board with such a plan for European military unity, stating, "Our ambitions cannot be realized alone. I have said it already several times, they need to be accompanied by Germany's ambitions."
In a recent interview with a German newspaper, Merkel supported Macron's proposal, with the qualification that it must "fit into the structure of defense cooperation." This defense cooperation, the Permanent Structured Cooperation (pesco), was agreed upon by 25 EU states. It aims to help these nations deal with threats without having to rely on the United States. However, pesco is not far-reaching enough for Macron.
Germany has already led Europe toward a more cooperative and integrated military. German Defense Minister Ursula von der Leyen has been working with smaller groups of countries within pesco on projects like combined training missions. The European Defense Fund, launched in June of 2017, provides money for EU states to work together on weapons research.
In late 2016, European Commission President Jean-Claude Juncker pushed for greater military cooperation, saying, "We should also move towards common military assets, in some cases owned by the EU." Early last year, Germany, Romania and the Czech Republic agreed to tighten their military bond. Divisions from the two smaller nations will join forces with Germany's Armored Division and Rapid Response Forces Division.
These plans have been initiated to consolidate European might into a singular fighting force or a military with a singular head. Macron's plan to establish a cohesive military intervention force, which also includes steps to limit the European Commission to only 15 members, is a big move in that direction.
The slow consolidation of European powers into a singular military bloc is significant as European nations grow increasingly distrustful of the United States.
Early in May, Merkel stated, "It's no longer the case that the United States will simply just protect us. Rather, Europe needs to take its fate into its own hands. That's the task for the future." Austrian Chancellor Sebastian Kurz shares Merkel's viewpoint, saying, "The U.S. has become more and more unreliable for us. … The most important thing is that Europe has to remain united."
In reference to the U.S. president, European Council President Donald Tusk said, "[W]ith friends like that, who needs enemies?"
As Europe moves further away from the U.S., EU nations are drawing closer together. With Russia a rising threat to the east and the migrant crisis a sharp point of contention, European leaders are recognizing an urgent need to work more closely with each other.
Division between Germany and France over other areas of reform has led Macron to push for German cooperation. As Chancellor Merkel said in her interview, in opposition to one of Macron's economic proposals, "Solidarity among euro partners should never lead to a debt union." However, on Thursday, Merkel relaxed her position as she recognized the need for compromise. "With these reforms, it will only work with compromises," she said. "But I can well imagine that we must do something, and something more than for countries that are not in the euro, for the convergence of the eurozone."
With each passing treaty, agreement and proposal, we see Europe inching closer and closer to military unity, which will come about through a 10-state union—the seventh resurrection of the Holy Roman Empire—that has been prophesied for over 80 years to rise up. (For more information on this power bloc, read our free booklet Germany and the Holy Roman Empire.)
As far back as the mid-1930s, Herbert W. Armstrong proclaimed the eventual rise of a dominating, militaristic European superpower that would come on the world scene. In 1956, he declared, "There will be 10 dictatorships, exerting iron rule over 10 European nations. These 10 will give all their military power to the central overall leader" (emphasis added). Mr. Armstrong stated this during the long, drawn-out Cold War, when East European nations were still under Soviet-Communist rule.
Mr. Armstrong based his forecasts on the Bible's prophecies of a European military power. Prophecies in Revelation 17 show that it will have the might and strength of preceding world powers and that it will "make war."
Back in 1978, Mr. Armstrong stated that "Europeans want their own united military power! They know that a political union of Europe would produce a third major world power, as strong as either the U.S. or the ussr—possibly stronger!"
Europe is headed toward this goal of military unity. Watch for continued developments in this trend as Germany leads the Continent into its prophesied union. For more information on this subject, read our Trend article "Why the Trumpet Watches Europe's Push Toward a Unified Military."