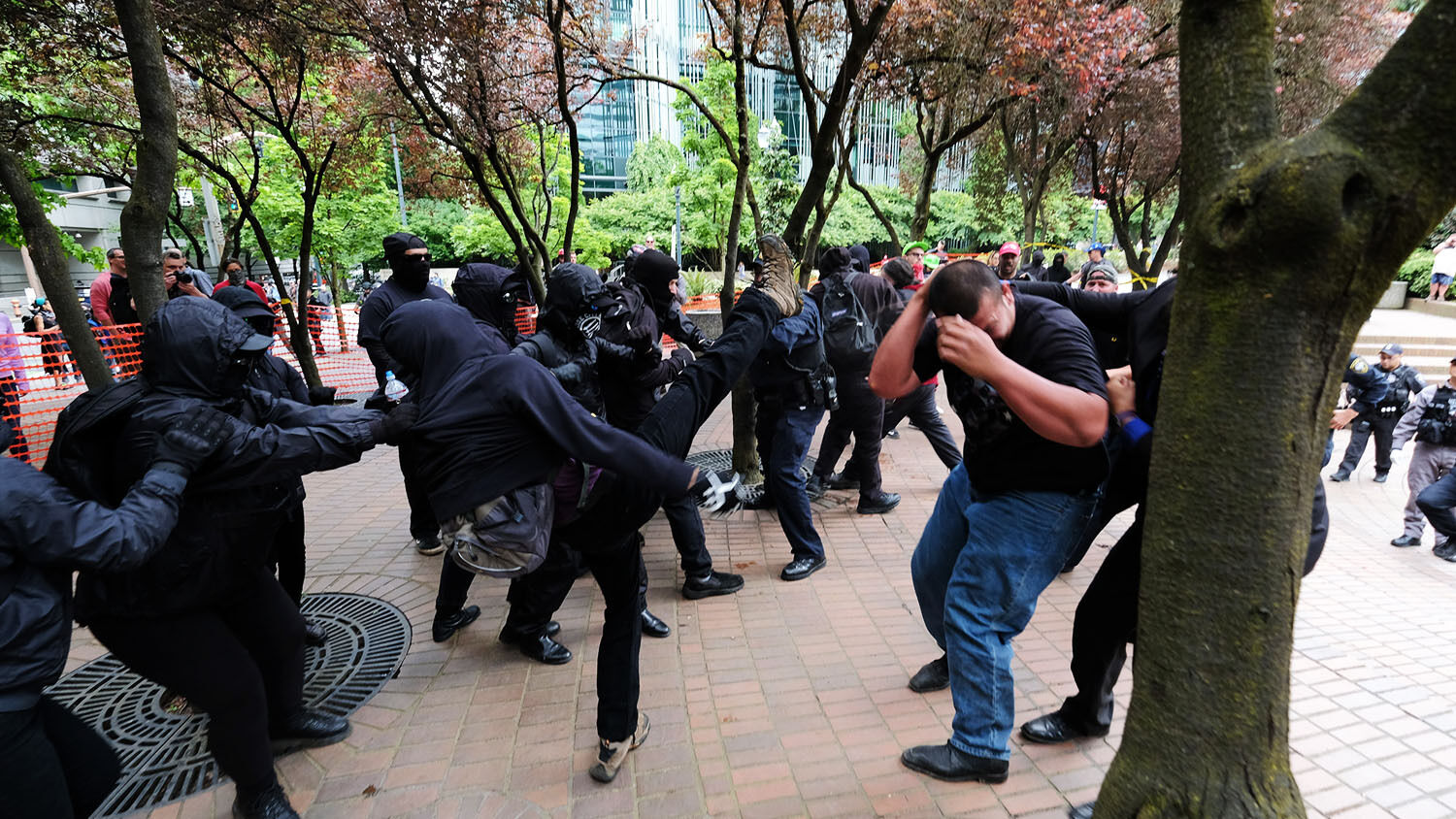 Antifa and Patriot Prayer Clash in Portland
Brawls break out between radical leftists and a group of conservatives in Portland, Oregon.
Hundreds of members of the right-wing group Patriot Prayer and alt-left Antifa clashed in violent riots on the streets of Portland, Oregon, on Sunday, June 3.
The protests erupted into violence after members of Patriot Prayer clashed with counterprotesters dressed in typical Antifa garb: mostly black clothing, with masks over their faces. As the fighting escalated, people from both sides began throwing punches and using improvised weapons such as rocks, skateboards and even fireworks. Pepper spray was also used by both sides of the conflict.
Multiple brawls broke out during the riots, which lasted approximately two hours. According to the Oregonian, several people incurred injuries, but none were serious enough to require hospitalization.
The Portland Police Bureau (ppb) was prepared for the expected violence and responded by deploying officers in complete riot gear. Law enforcement personnel met resistance, with fireworks being used against them. Only four arrests were made, compared to the 14 made in 2017 demonstrations. Police confiscated weapons from the protesters, including a knife.
Patriot Prayer was founded by Joey Gibson in 2016 and claims its main purpose is to defend free speech and the First Amendment.
Antifa, which is short for "anti-fascism," is a loosely-affiliated conglomeration of various far-left groups, born from the ideologies of the pre-World War ii German Communist Party.
Clashes between such groups reflect the deepening ideological divide within the American populace. This divide is growing wider and threatening to create unrest on a much greater scale.
The events of the June 3 protests are strikingly reminiscent of the events that happened almost exactly a year ago in the same city, between the same groups. Patriot Prayer held its Trump Free Speech Rally celebrating Donald Trump's presidency. Antifa was also present to protest the rally, but local police strove to keep the two groups separate. Some violence did break out between Antifa and the police, who were in riot gear.
Patriot Prayer had planned the event as "Tiny's Freedom March," and its goal was to promote free speech and other constitutional values in honor of one of the group's prominent members, Tusitala "Tiny" Toese, who is planning to move back to American Samoa. Just like in 2017, Antifa groups planned their own demonstrations around the same time to oppose the right-wing movement's ideology.
Using social media, the police encouraged citizens who were not part of the protests to stay away from the area: "If you are in the immediate area of competing protest events in Downtown Portland, you are at risk of getting caught in between violent clashes and any law enforcement actions or arrests. You are advised to leave the area."
For years, America has seen riots such as these pop up in cities all across the nation, from Ferguson, Missouri, to Baltimore, Maryland, to the anti-Trump protests in January 2017 and so many more. Bible prophecy strongly indicates that such protests will increase in number and severity.
The ideals of the far left trace directly back to a tactic that was designed to destroy the United States from within—by undermining the Constitution and the principles of limited government and inalienable rights it protects. These tactics were not just produced by the Communist sympathizers who implemented them, they were inspired by a sinister, spiritual evil. Read the reprint article "Communism in America Today," by Trumpet editor in chief Gerald Flurry for more information.
Years ago, a movement like Antifa would never have been tolerated by the American public. But the Marxist, Communist, socialist ideology of the alt-left has been ingrained into the American educational and political systems to the point that it is accepted, and even celebrated, in many cases.
Antifa has been key in promoting anti-Constitution and anti-capitalism rhetoric and leading the destructive riots in cities all over America. It is part of an overall movement promoting lawlessness and leading the U.S. toward civil war.
Mr. Flurry addresses the ideological and spiritual war being waged against the U.S. in his free booklet America Under Attack.
In Isaiah 1:7, the Bible prophesies of America's troubles: "Your country is desolate, your cities are burned with fire: your land, strangers devour it in your presence, and it is desolate, as overthrown by strangers." God is allowing these curses to befall the United States, as well as the other modern nations descended from biblical Israel (read The United States and Britain in Prophecy to understand who Israel is today), because of the people's sins.
But that is just the beginning of the hardship coming upon America. Civil unrest and violence is the beginning of the curses that will follow, as prophesied in Ezekiel 5:7-17.
As the divisions spiral out of control in America, it is clear that these are problems that no man can solve. Thankfully, prophecy shows that after a period of suffering, our nations will respond to God's correction in these curses, and God will provide the solution. Mr. Flurry's booklet Great Again shows how God will soon bless the nation.