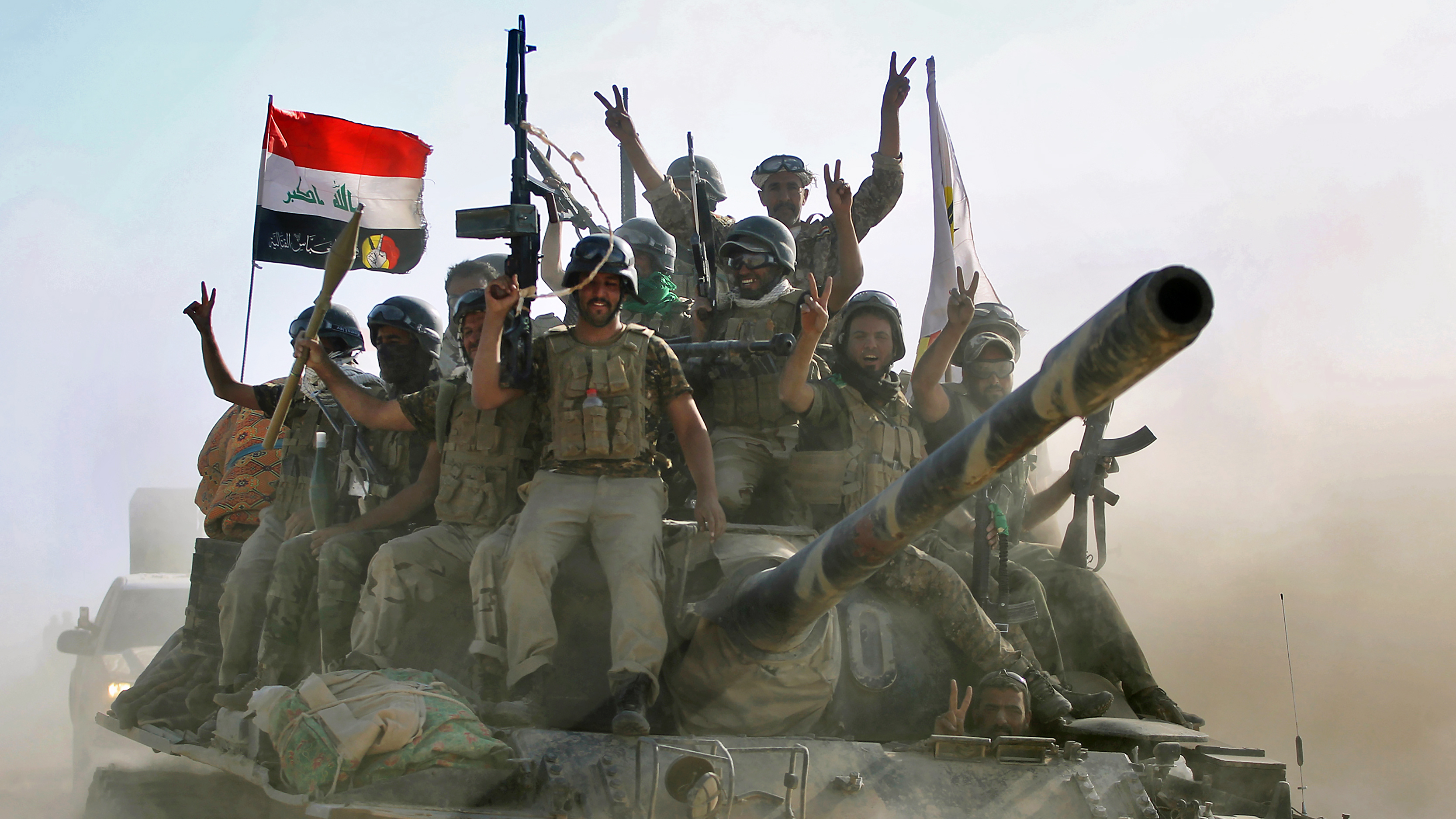 Iraq Rejects Call to Remove Iran
Don't expect Iran to leave Iraq any time soon.
United States Secretary of State Rex Tillerson has been strongly rebuked by Iraqi Prime Minister Haider al-Abadi. The reason: suggesting Iran-backed forces should leave Iraq.
On Sunday, Tillerson had a meeting in Saudi Arabia. Afterward, he said, "Iranian militias that are in Iraq, now that the fight against Daesh and isis is coming to a close, those militias need to go home."
If Tillerson thought the comments would drive a wedge between Tehran and Baghdad, he was wrong.
Just 24 hours later, Abadi rejected Tillerson's comments. He said, "Popular Mobilization fighters should be encouraged because they will be the hope of the country and the region." Another statement from his office read, "No party has the right to interfere in Iraqi matters." The statement also referred to the Popular Mobilization Units (pmu) as "patriots."
The swift rebuke by Iraqi politicians leaves the Americans red-faced, again. It has been a damaging few months for American prestige in Iraq.
On September 25, the Kurds ignored America's warnings and held an independence vote. The failed bid has thrust Washington into an embarrassing new crisis. U.S.-backed Kurds and Iraqis are now pitted against one another by Iran. The U.S. is caught—having to support Iran-backed Iraq, or the Kurds. Either option will hang at least one U.S. ally out to dry.
Perhaps Tillerson thought Baghdad would get on board with his comments. A stern approach might convince the Iraqis to curtail Iranian influence. This, in turn, might have diffused the looming ally-vs.-ally conflict. But Tillerson's remarks only served to unify Iraq and Iran.
One pmu group called Asaib Ahl al-Haq mocked Tillerson, stating, "Your forces should get ready to get out of our country once the excuse of Daesh's presence is over." Iranian Foreign Minister Javad Zarif also laughed at Tillerson's comments. He said that the pmu couldn't go home because "they are at home."
The comments from both sides highlight the strengthening of an alliance. It is a union that the Trumpet has warned of for decades. We have long said that Iran and Iraq would come together. Simultaneously, we have warned that America's influence throughout the region would fail.
Seeing the Iraqi prime minister defend Iran over the U.S. is ample proof of this dangerous trend. But if you want more, combine it with the incident in Kirkuk. Then combine it with Abadi's move to integrate the pmu into the Iraqi military. Then combine it with the unopposed presence of the Islamic Revolutionary Guard Corps (irgc)—despite the fact that the U.S. designated it as a terrorist organization. Then combine it with the fact that the U.S. has just 5,000 troops left in Iraq. There are more than 100,000 pmu troops present in Iraq, and many of them have already officially integrated into the Iraqi military. Some of those troops include Iran's irgc soldiers. Then see the string of Shiite victories that handed Iran control of towns from the east to the west of Iraq.
The proof is all there. It will not be the Iranians who are dislodged from Iraq, but the Americans.
This is old news to those who have been reading the Trumpet since the early 1990s. But how could we make such a claim so long ago when Iran had no leverage whatsoever?
The Trumpet takes a simple yet astounding approach. We view world events through the lens of Bible prophecy.
Take this relationship between Iran and Iraq. Daniel 11 speaks of the "king of the south" that leads an Islamic alliance. This power exerts a pushy foreign policy and eventually lights the fuse for world war. Iran and Iraq are united in this alliance. You can read all about it in our article "Is Iraq About to Fall to Iran?"
Through God-inspired prophecies in the Bible, we know with certainty that the Iran-Iraq relationship will continue!
In the article, Trumpet editor in chief Gerald Flurry wrote:
Bible prophecy is being fulfilled as you read this article. These prophecies are exploding on the world scene right now at a dizzying pace. This world is about to be plunged into its greatest suffering ever—trouble far worse than the concentration camps and the millions of people butchered in World War ii! It will all begin in the Middle East.
In 1992, Mr. Flurry said, "The king of the south could rule Iraq or Iran or both countries. But it is looking more now like Iran may produce this king." Iraq's subservient attitude to Iran—even in the face of U.S. pressure—backs up these statements made 25 years ago!
Do you find Bible prophecy astonishing? Are you concerned about where events in the Middle East are heading? If so, we encourage you to request or download our free booklet The King of the South.