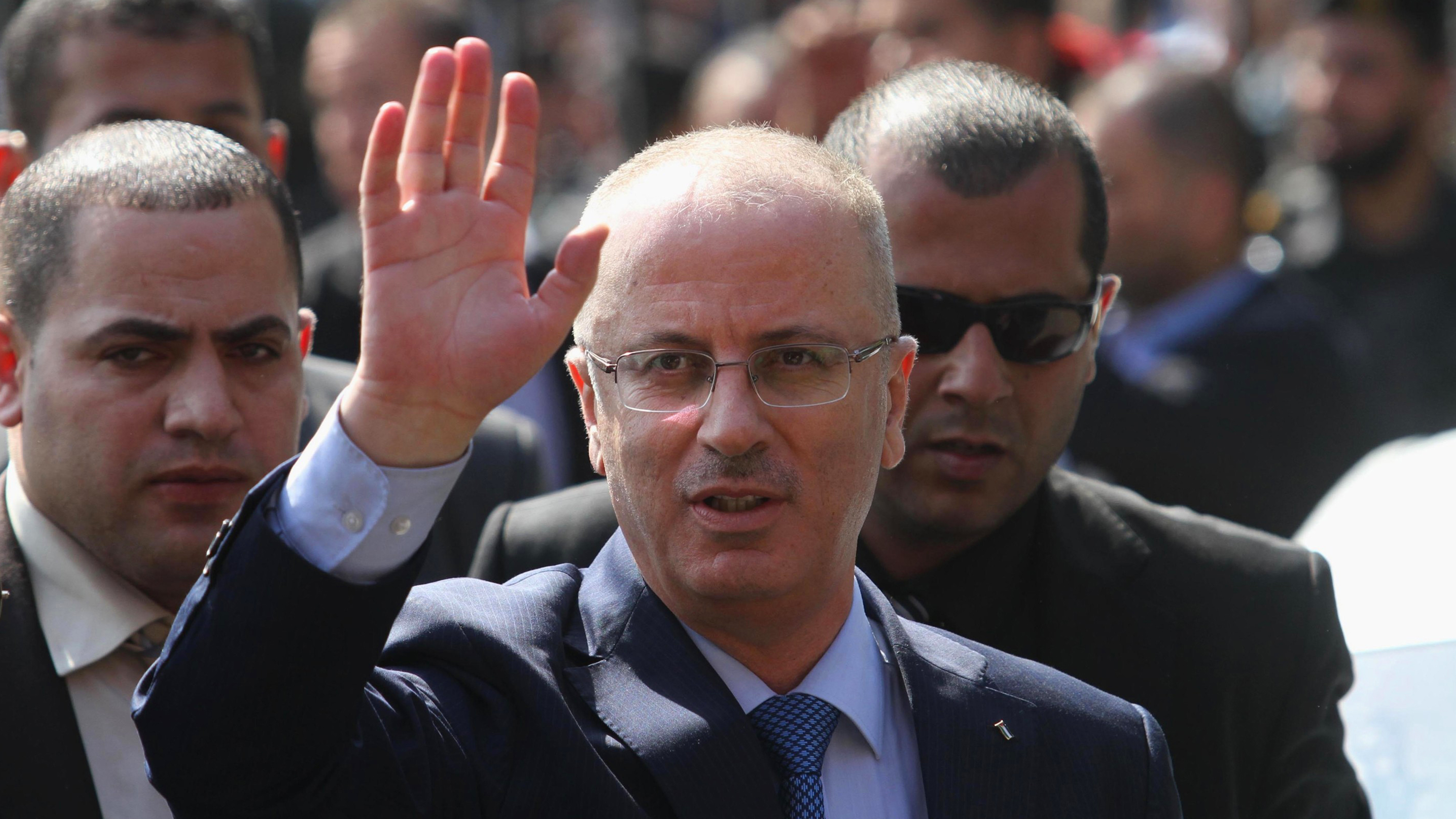 Palestinian Unity Will Be a Victory for Hamas
Fatah prime minister visits Gaza; but the power remains with Hamas.
Palestinian Authority Prime Minister Rami Hamdallah visited the Gaza Strip on October 2 as part of a 400-strong Fatah delegation intent on reconciling the Palestinian territories under one united government. The visit came in response to Hamas's decision to break up the administrative committee that has run the Gaza Strip.
Initially, Hamas had said that it wouldn't dismantle the administrative committee until the Palestinian Authority (PA) ended its punishing financial sanctions. Over the past five months, Mahmoud Abbas, who leads the PA, has ordered a series of cuts to budgets allocated to Gaza for electricity, medical services, government employees' salaries and other purposes to pressure Hamas to dissolve its administrative committee and permit the PA to operate in its place.
In September, Hamas changed its mind and said it would break up the committee immediately, which opened the door for a broader reconciliation of the Palestinian leadership, which has been divided for a decade.
While reconciliation talks are far from concluded, and are continuing this week in Egypt, the visit of Hamdallah to the decadelong Hamas-run territory is a promising sign that reconciliation may proceed.
However, instead of being a positive move for the region, Palestinian unity at the governmental level will likely strengthen the more violent Hamas faction at the expense of Fatah.
Jerusalem Post correspondent Caroline Glick broke down the deal this way:
Hamas made one concession. It agreed to break up its civil governing authority—a body it formed in response to Abbas's decision to cut off funding in April. In exchange for agreeing to disband a body it only formed because Abbas cut off its funding, Hamas receives a full restoration of PA funding. The PA will fund all civil service operations in Gaza. It will pay the salaries of all civil servants and security personnel in Gaza. It will pay salaries to all Hamas terrorists Israel freed from its jails.

In other words, the PA will now be responsible for keeping the lights on and picking up the garbage.

And Hamas will be free to concentrate on preparing for and initiating its next terror war against Israel. It can dig tunnels. It can build missiles. It can expand its operational ties with Hezbollah, Islamic State, Iran's [Islamic] Revolutionary Guard Corps and Fatah.
As Glick noted, the push toward reconciliation comes at the same time that Hamas is restoring its former relationship with Iran.
A senior Hamas delegation visited Tehran last month for Iranian President Hassan Rouhani's swearing-in ceremony.

They met there with Iranian Foreign Minister Javad Zarif and with senior Revolutionary Guards commanders.

A month earlier, senior Hamas terrorist Salah Arouri, who lives under Hezbollah protection in Beirut, paved the way for the reconciliation in a meeting under Hezbollah sponsorship with senior Revolutionary Guards commander Amir Abdollahian.

Following the meeting in Tehran, Hamas leader in Gaza Yahya Sinwar extolled Hamas's relations with Iran as "fantastic." Sinwar also said that Iran is "the largest backer financially and militarily" of Hamas's terrorism apparatus.
These two points—a strengthening Hamas and an increasing Iranian influence over the group—mark a dangerous shift for the region, especially for the nation of Israel.
However, the moves are by no means unexpected.
We at the Trumpet have long expected the more radical elements of the Palestinian people to claim leadership inside the West Bank, a critical territory that actually cuts Jerusalem in half.
This drive toward Palestinian reconciliation looks to be facilitating the fruition of this forecast. If you would like to understand the basis for this forecast, request or read online Trumpet editor in chief Gerald Flurry's booklet Jerusalem in Prophecy.