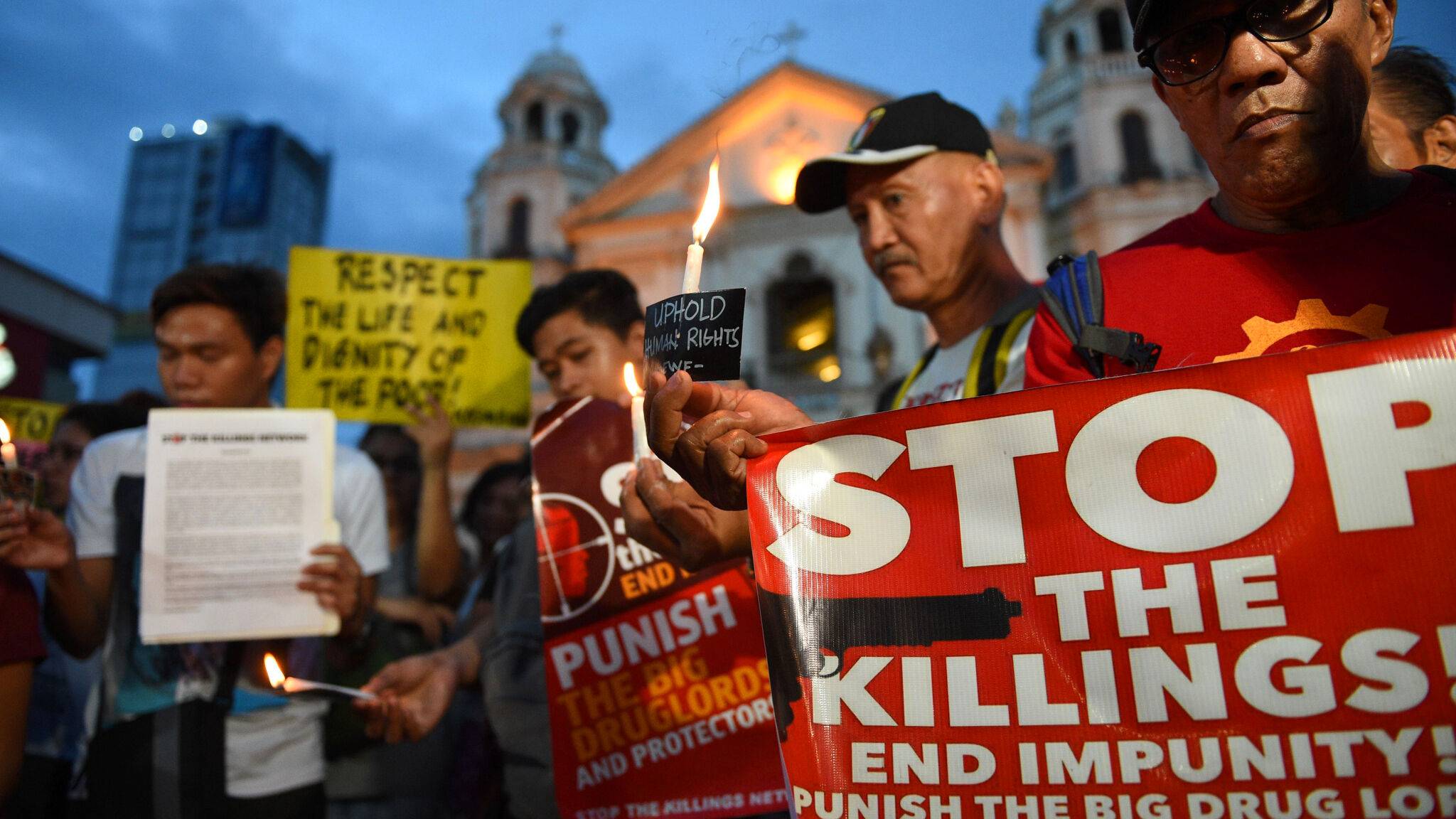 China Joins Philippines' Drug War
The war on drugs is pushing the Philippines away from the United States and toward China.
PAMPANGA—After years of tense relations over claims to the South China Sea, the Philippines and China have found common ground fighting against drug trafficking. During a visit to China last year, Philippine President Rodrigo Duterte signed an agreement outlining ways to deepen cooperation between the two nations. China offered to fund the construction of two drug rehabilitation centers on the Philippine island of Mindanao, and provide modern equipment for detecting illegal drug shipments to the Philippines.
Even more significant than this agreement, however, is China's pledge of moral support for President Duterte's controversial drug war. At the Universal Periodic Review undertaken by the United Nations Human Rights Council last May, China was the only nation to support Duterte's policy of endorsing the extrajudicial killings of suspected drug offenders.
"We share the sentiments of the Philippine people, and support President Duterte and the Philippine government in taking a holistic approach in the campaign against illegal drugs," said China's representative, Ma Zhaoxu. "China hopes that the international community respects the traditional sovereignty of the Philippines and supports the Philippines in its efforts to combat illegal drugs through our cooperation."
Since President Duterte took office 15 months ago, somewhere between 7,000 and 13,000 suspected "drug personalities" have been killed. Data from the Philippine National Police show that 3,451 of these people were killed in battles with police officers (as of July 26). Yet the Philippine Alliance of Human Rights Advocates notes that another 8,000 to 9,000 people may have been killed by vigilantes and rogue police officers.
After his inauguration, Duterte ordered that anyone suspected of using, holding or selling drugs was to be killed on sight. "If you know of any addicts, go ahead and kill them yourself as getting their parents to do it would be too painful," he told a crowd in Manila in July 2016.
While comments like this have elicited widespread condemnation from the international community, Duterte remains popular in the Philippines. His hard-line approach to drug trafficking has led to a 23 percent increase in his nation's homicide rate (due to vigilante killings), but all other crime has dropped 10 percent.
Now China is seeking to take advantage of this situation by joining Duterte's drug war.
This policy has kicked off a reorientation process, with the Philippines moving away from the United States and toward China. "America has lost now," Duterte said during his visit to Beijing last year. "I've realigned myself [with China's] ideological flow. And maybe I will also go to Russia to talk to Putin and tell him that there are three of us against the world: China, Philippines and Russia. It's the only way."
As the Trumpet reported back in 2010, "As America's influence in the Philippines and all of Asia wanes, China's soft-power diplomacy and hard-power buildup will fill the void and steadily solidify Asian nations into a global power. In the longer term, Asia's unification points to the approach of the most hope-filled event in history. To understand more about this sure hope, read Russia and China in Prophecy."