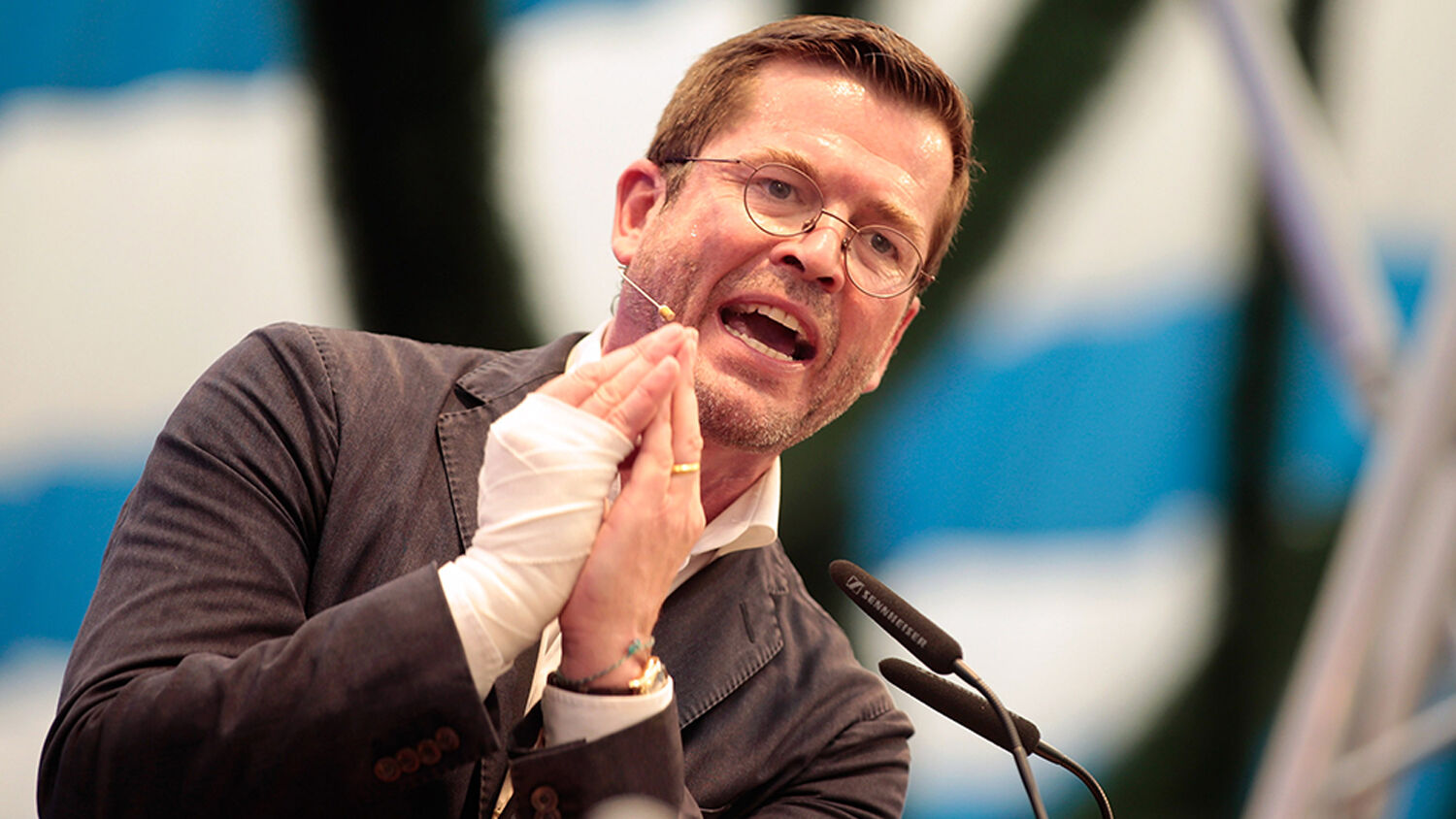 All Eyes on Guttenberg
The recent German election left its political landscape paralyzed, seeking orientation. The eyes of the media and politicians alike are glued to one man.
Almost all German parties suffered a historic setback in Germany's September federal election. The far right's success sent shock waves through Germany and recalled a time when Germany was ruled by Nazis. How is it possible that Germany's past demons are haunting the country again? Who is at fault? More importantly, what has to change?
As the people lose hope in Chancellor Angela Merkel, the eyes of many are falling on a man that the Trumpet has been watching for a long time.
During Germany's election campaign, former German Defense Minister Karl-Theodor zu Guttenberg celebrated a comeback in Bavaria's beer tents. The people were captivated by his speeches, and Christian Social Union (csu) leader Horst Seehofer and Chancellor Merkel often sought his advice. Although his stated purpose in the campaign was to support his party and Merkel, he was the one whom the media and the people celebrated. Even before the election was over, many were asking for Guttenberg to make a comeback to politics. Instead, he returned to the United States.
Though temporarily out of sight, Guttenberg was not out of mind in Germany. As the election results were announced, all eyes returned to him again. As Martin Rupps wrote on the website of Südwestrundfunk, a prominent regional public broadcasting corporation, "I bet that Angela Merkel appoints Karl-Theodor Baron zu Guttenberg as successor" (Trumpet translation throughout).
Germany is not the only one turning to Guttenberg. Prominent American news channels routinely ask him to make sense of what is going on in Germany. cnbc interviewed him about the election results, and Bloomberg asked him what Merkel's election win means for Germany. Guttenberg told Bloomberg that he thinks "it would be entirely wrong to limit it to a historic victory; it was also a historic defeat for the establishment parties in Germany. … And there are also already some rumors: Is that already the last few years of the chancellor now? And does such a result call for maybe also consequences in a few years?"
As a response to Guttenberg's words, Germany's popular center-right newspaper, the Frankfurter Allgemeine Zeitung, wrote that Guttenberg's party, the csu, "will follow the interview very closely" because they seek direction after devastating defeat and possibly even a new party chief.
In the Bloomberg interview, Guttenberg stated that rumors are already going around that these might be Merkel's last few years in office. When asked who might replace her, he said: "Well, the thing is, there is not an inflation of talents in Germany across the party lines." In his view, there aren't many qualified candidates. Everyone—including his party—knows that he is at the top of the list of those few talented individuals. Just as there are rumors that Merkel's time is up, there are also rumors that Guttenberg's time is almost here.
Guttenberg's interview resonated in the German media for days, like no other short interview that Guttenberg has given to an American broadcaster.
In "Guttenberg and the Chancellor's Twilight," Frankfurter Allgemeine Zeitung analyzed Guttenberg's five-minute Bloomberg interview in detail and even speculated about his return—if not as German chancellor at first, then maybe as the csu chief. We too should ask: As Merkel's sun sets, will the former star Guttenberg rise to take her place?
Germany's most popular newspaper Bild published an article titled "Guttenberg Starts Giving Merkel the Count"—indicating that with the Bloomberg interview, Guttenberg started the clock for Ms. Merkel's demise.
The online editorial department of Focus Online, Business Insider Deutschland, Die Welt, oe24 and other prominent German and Austrian news media also picked up on what he said. His comments resonated so much in his home country that Guttenberg himself was amazed at the coverage, as he admitted during a visit to Vienna. While in Vienna, he spoke at a conference called "Darwin's Circle," which also hosted international representatives from Amazon, Google and Facebook.
Florian Hartleb, a German party researcher and political expert, wrote that Guttenberg could reenter the political stage like Austria's Sebastian Kurz. Kurz led his party to a drastic turnaround and is now headed toward becoming Austria's next chancellor.
Difficult coalition negotiations are ahead of Germany in these next few months. The next government will be unstable. For the first time since World War ii, a far-right party sits in Germany's parliament. Millions of citizens are outraged and want change, as the election results show. But Chancellor Merkel has shown little willingness to change. Is she the right one to continue to lead the country? If not, who else might take her place?
The focus is on Guttenberg these days. As Trumpet managing editor Brad Macdonald wrote in his September 20 Trumpet Brief:
This man could be the ideal antidote to the rise of the AfD [Alternative für Deutschland]. Guttenberg has a lot to say about the migrant crisis, about Islam and about Germany's Christian heritage. He too believes some migrants need to be tossed out, and he believes Islam's presence needs to be curtailed. He also believes that Germans need to "stand up for their culture." His speeches nearly always have a distinct nationalist tone.

Yet while Guttenberg communicates intelligently, forcefully and patriotically about these issues, he isn't too extreme. He doesn't make overtly racist remarks. He's not unreasonable, and he doesn't condone extreme solutions. He doesn't look or sound like a Nazi.

For Germans who are anxious and frustrated, yet who don't want to go so far as to vote for the AfD—or for AfD supporters uncomfortable with the extreme views of the party—Karl-Theodor zu Guttenberg is an attractive alternative.
The German media is recognizing the need for a strongman today. The Trumpet prophesied years ago that politics would take this turn. Even when most news sources lost sight of Guttenberg, we kept an eye on him and predicted what many others are now predicting today.
We haven't relied on the words of journalists, politicians, experts and analysts to make this prediction—many of them said that Guttenberg's political career was over after he resigned in 2011. We relied on the more sure word of Bible prophecy. The Bible clearly states in verses like Daniel 11:21 that Germany will get its strongman (request A Strong German Leader Is Imminent)—a man with qualities like Karl-Theodor zu Guttenberg.
To learn more about these prophecies and how the Bible can guide you through the times ahead, watch Gerald Flurry's Key of David program "Fierce King Rising."