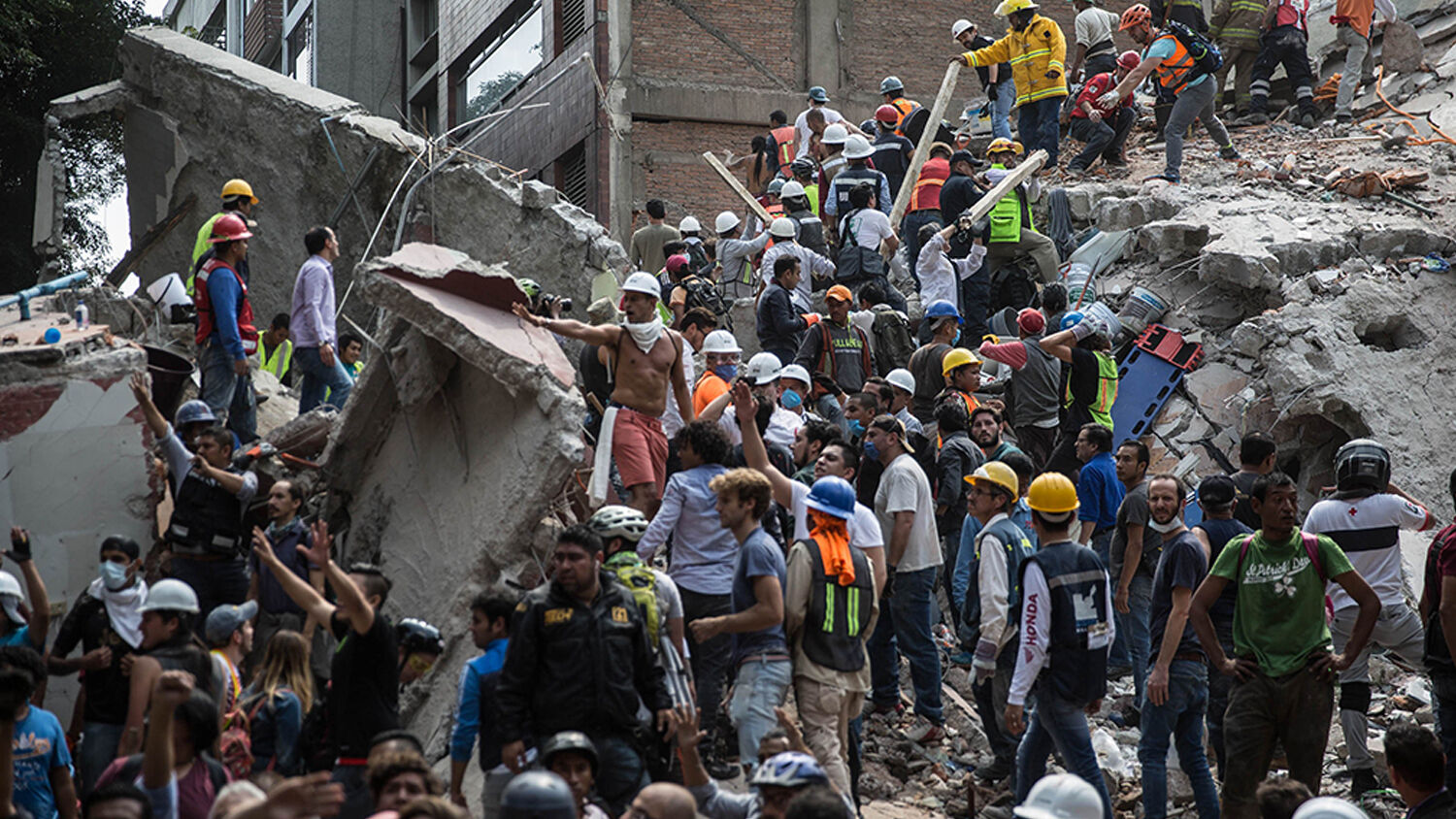 Second Deadly Earthquake Shakes Mexico
Second Mexican quake in less than two weeks strikes Mexico City—on 32nd anniversary of another massive earthquake.
A powerful 7.1-magnitude earthquake shook Mexico yesterday, toppling buildings and killing at least 224 people.
The disaster comes less than two weeks after Mexico suffered its most powerful earthquake in a century on September 7. That 8.1-magnitude quake killed at least 90 people. The death toll from yesterday's earthquake is already more than double that number and is expected to rise.
The earthquake hit at 1:15 p.m. local time, when people were at work and children were at school. Social media videos show office workers sheltering under desks and in doorways as buildings sway around them. One school in Mexico City's Roma district collapsed, killing at least 21 schoolchildren and four teachers. Many children from the school are still missing in the rubble.
The quake caused at least 40 buildings to collapse. One video on social media shows a building exploding, possibly because of a gas leak in the aftermath of the quake. Other videos show buildings collapsing as bystanders scream and run. In the aftermath, an estimated 3.8 million people are without power.
On Sept. 19, 1985, an 8.1-magnitude earthquake hit Mexico City, killing thousands of people and destroying much of the city. Yesterday, Mexico City held earthquake drills on the 32nd anniversary of the 1985 earthquake. Two hours later, the latest quake struck.
One Mexico City resident told the Guardian, "Of all the earthquakes I've lived through, this was the strongest. You never get used to this."
Tectonic activity has increased over the last few weeks. Just hours after the Mexico quake yesterday, a strong 6.1 earthquake hit New Zealand, followed by several sizable aftershocks.
After the September 7 earthquake in Mexico, the New York Times published "Apocalyptic Thoughts Amid Nature's Chaos? You Could Be Forgiven," which said that recent environmental disasters are causing more people to wonder if the world is spiraling toward some kind of apocalypse. The article quoted science-fiction writer John Scalzi as saying that although he doesn't believe in the "end times," it "feels like the end times are getting in a few dress rehearsals about now."
The New York Times author wrote that those who think the escalation of natural disasters is "not coincidental" are wrong. "As any scientist will tell you, nature doesn't work that way," he wrote.
Fires, floods, famines, hurricanes and earthquakes are devastating nations across the globe. Are those wondering if we are in the end times really wrong?
Where does this association of environmental disasters and the "end times" come from? It traces back to the Bible.
Jesus Christ's disciples asked Him, "Tell us, when shall these things be? And what shall be the sign of thy coming, and of the end of the world?" (Matthew 24:3). His answer included several major world events, including "famines, and pestilences, and earthquakes, in diverse places" (verse 7).
In Isaiah's End-Time Vision, Trumpet editor in chief Gerald Flurry wrote:
When will we wake up and see that God is punishing us for our sins? God also says He will punish with the storm—like devastating hurricanes, tornados, droughts and floods. God also sends the flame of devouring fire—like firestorms that have occurred in several places around the world, devouring miles of land, including forests and farms. And don't forget the fires caused by events such as rioting and earthquakes.

These disasters are not "natural disasters." The only "natural disaster" is man! He just naturally hates God (Romans 8:7).

God is punishing Israel with these disasters, but He promises to protect His obedient people. Not very many people are being protected in these catastrophes. That ought to tell us something.
These disasters are not natural. And they are happening more frequently. The Economist reported on August 29 that the number of global disasters since 1970 has more than quadrupled to around 400 a year. They will only become even more frequent and even more deadly, according to Bible prophecy.
To understand more about why these events are happening, watch Gerald Flurry's Key of David television program "Haggai—Shaking the Nations."