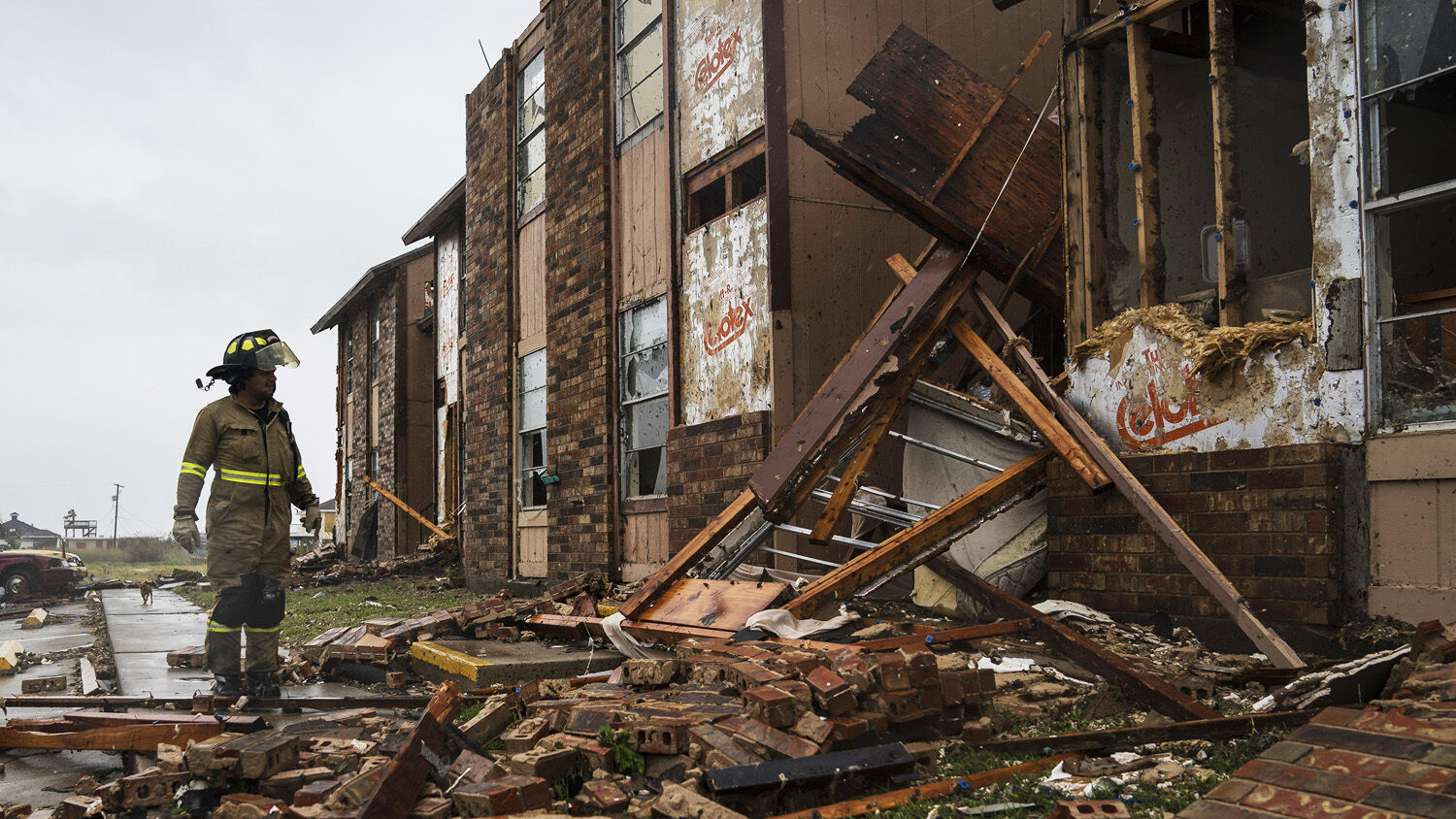 Hurricane Harvey: Most Expensive Environmental Disaster in U.S. History?
This superstorm could cost the United States $160 billion.
Hurricane Harvey could cost the United States more than either Hurricane Katrina or Hurricane Sandy, which would make it America's most expensive natural disaster ever. Early estimates of Harvey's total price tag range from $55 billion to $160 billion.
There is more danger for the Southern United States on the horizon. Hurricane Irma, a Category 5 storm, is heading into the Caribbean this week. Computer models predict the storm will eventually head northward, hitting the Southeastern U.S. and adding to the nation's environmental disaster price tag.
President Donald Trump said last Tuesday, "Probably there's never been anything so expensive in our country's history," a significant problem for a nation whose national debt now exceeds its gross domestic product.
Texan Gov. Greg Abbot told the Houston Chronicle on Wednesday that the damage from Hurricane Harvey will have a massive economic impact."When you look at comparisons—the population, the size, the square-mile area impacted both by the hurricane swath and the flooding—it's far larger than Katrina, far larger than Sandy."
Houston is the fourth-largest city in the United States, and nearly every major industry in the city has ground to a halt. The president of Accuweather, Joel Myers, said, "This is the costliest and worst natural disaster in American history. The disaster is just beginning in certain areas."
Ninety miles east of Houston, the city of Beaumont, Texas, currently has no access to running water. Mayor Becky Ames said, "Every historical weather record has been broken. Harvey has brought more than anyone could have anticipated at local, state and national level."
Moody's estimated that total losses due to Hurricane Harvey would be between $45 billion and $65 billion. This make it slightly less costly than Hurricane Sandy, which cost an estimated $73 billion. Accuweather gives one of the highest estimated costs of the damage: $160 billion. This is far more than the estimated $118 billion in damages caused by Hurricane Katrina, America's costliest storm to date.
Hurricane Harvey will impact more than just Texas. Gasoline prices are expected to rise across the country. Nearly one third of U.S. oil refineries have been affected by the storm in some way.
Refineries along the Gulf Coast process about 45 percent of U.S. petroleum and more than 50 percent of its natural gas. Texas alone provides 100 million gallons of fuel to the East Coast of the United States every day, primarily through the 5,500-mile-long Colonial Pipeline. But Hurricane Harvey has shut the pipeline down. Half of the 26 refineries that supply the pipeline have shut down because of the storm. Several others are only partially working.
Gas prices are already rising across the U.S. It will probably take weeks or even months for these refineries to resume operations.
As of Wednesday morning, nearly 200,000 people had registered for financial assistance from the Federal Emergency Management Agency (fema) because of the storm. fema has already shelled out over $57 million in aid. Right now, the agency has about $3.8 billion available to finance damages from the hurricane. Even conservative estimates of the storm's cost are over 20 times that number.
But worst of all is the human cost. As of last night, the death toll had reached 60. Tens of thousands of people have been forced out of their homes by rising floodwaters. Hundreds of thousands are without power. No one knows when these people will be able to return to their homes—or how many of them will have homes to go to. Myers predicted, "Parts of Houston … will be uninhabitable for weeks and possibly months due to water damage, mold, disease-ridden water and all that will follow this thousand-year flood."
The amount of work ahead for Texas is overwhelming. Buildings must be torn down, hauled off and rebuilt. Infrastructure must be reestablished. Industries must be set back on track. This process will not happen overnight. It will take years for Texas to fully recover.
When disasters like Hurricane Harvey hit, people should wonder why. After Hurricane Sandy smashed the East Coast in 2013, Trumpet editor in chief Gerald Flurry wrote:
America is getting hit by more and more record disasters all the time. Why is that? A lot of people blame global warming. But is it possible that God has something to do with the weather? …

One third of your Bible is prophecy—future news. Ninety percent of prophecy is for today. And those prophecies predict that catastrophes will come on us in this end time. That's in the Bible for the whole world to read. It's there for you to prove for yourself. …

The record-breaking weather disasters hitting America are not coincidences. They are fulfilled prophecies from the Bible. America is facing increased disasters for a reason. God is unleashing these phenomena to get our attention! He wants to use them to turn sinning people back to Him. …

Hurricane Sandy was actually another proof among many that God is not happy with how America is behaving. God is full of wrath because of our depravity and sins. We should take this very seriously—even more seriously than a monster storm!

But there is a happy ending. … These troubles are going to get worse, but they are leading to a beautiful ending: the return of Jesus Christ to this Earth, and a time when everyone will finally know and worship the God who gave them their blessings.
Throughout the Bible, God says that He causes or allows natural disasters (see Amos 4:7-8 and Deuteronomy 28:22-23). To learn more about why a loving God allows disasters like Hurricane Harvey, request our free booklet Why 'Natural' Disasters?