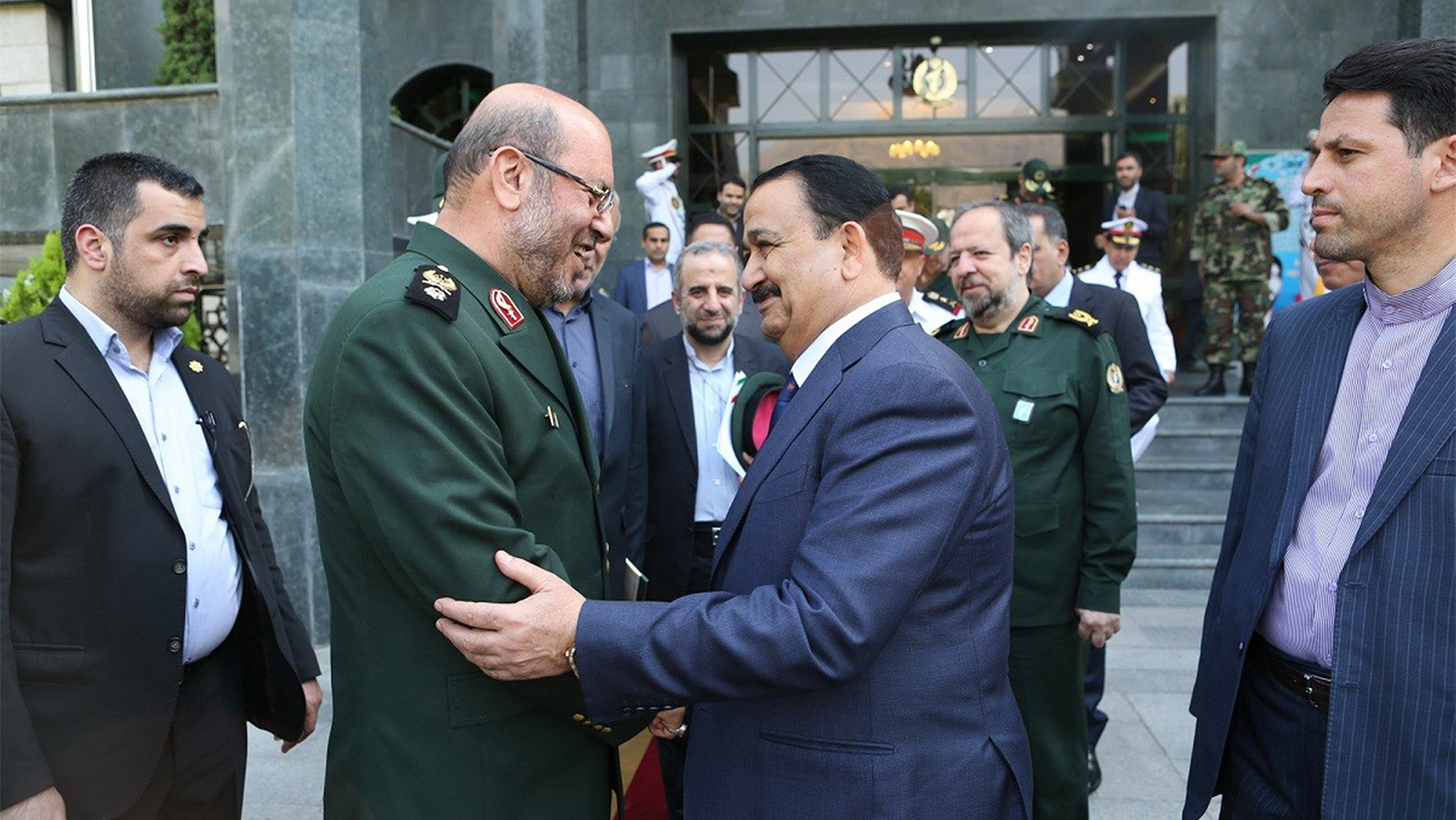 Iran and Iraq Agree to Boost Military Cooperation
The Iranian military tightens its grip on its former nemesis.
The defense ministers of Iran and Iraq signed a memorandum of understanding on Sunday. The agreement promised enhanced military ties between the two nations.
With the strokes of a signature, Iranian Defense Minister Hossein Dehghan proved that Iran is not content with current historic military involvement in Iraq.
Anyone who has followed the Trumpet will recognize the importance of this news. For years, we have warned that Iraq will fall to Iran. As time has gone on, Iran has subversively enmeshed itself in Iraqi society. While political intrusion has gone on for years, it is only since the U.S. withdrawal and arrival of the Islamic State that Iran has made lasting military intrusions.
Iranian soldiers were unquestioningly present during the U.S. invasion. Many Iran-backed Shiite militias are held directly responsible for the murder of U.S. troops. In 2015, the Washington Free Beacon reported, "U.S. military leaders disclosed in testimony before the Senate that Iranian terror activities have claimed the lives of around 500 U.S. soldiers, which accounts for at least 14 percent of all American casualties in Iraq from 2003 to 2011." But Iran worked from the shadows.
Then, the U.S. pulled out, and the Islamic State moved in.
Shiite militias that quietly targeted American troops now fought the Islamic State out in the open. In a historic first, Iran conducted air strikes in Iraq. When Iraqi troops turned tail and fled from Mosul, the Shiite militias were mobilized. Under Islamic Revolutionary Guard Corps command, these militias have cut a highway from Iran to the borders of Syria.
There is no denying that these Iranian-backed militias play a crucial role in keeping the Islamic State out of Baghdad. But Iran has also taken great advantage of the convenient excuse to get much more deeply involved in Iraq.
Today there are an estimated 100,000 Iran-backed Shiite militias operating from Syria to Iran. Under the watchful eye of Maj. Gen. Qassem Suleimani, Iran has upgraded roads, built command centers, and gradually taken control of the security of the nation. The diminishing U.S. presence and lackluster Iraqi Army have only made the job easier. It was only in late 2016 that Iraq made the Popular Mobilization Units (pmu) an official government entity—despite the fact that they are clearly controlled by Suleimani, himself an Iranian!
As the New York Times wrote on July 15:
From Day 1, Iran saw something else: a chance to make a client state of Iraq, a former enemy against which it fought a war in the 1980s so brutal, with chemical weapons and trench warfare, that historians look to World War i for analogies. If it succeeded, Iraq would never again pose a threat, and it could serve as a jumping-off point to spread Iranian influence around the region.

In that contest, Iran won, and the United States lost.
When Mosul was retaken, there was perhaps a glimmer of hope. Maybe Iraq would use the victory to wrest back some control of its own security. But the memorandum dashes that chance to a million pieces.
The agreement covers military cooperation, border security, logistics and training—all key components for Iran when it comes to creating a Shia Crescent to the Mediterranean. Iran needs cooperation on border security if it is to funnel weapons and other aid to its proxies in Syria and Lebanon. It needs military cooperation to hold the roads, towns and cities that it has "liberated." And Iran wants training and logistics cooperation so that the two forces may become more integrated!
The memorandum may just be a stepping stone. Not content to merely sign off on the dotted line, both defense ministers took the time to express their desire for the agreement to lead to even deeper involvement. They want it to, as Pakistan's Samaa tv reported, "lead to more serious, more active and more comprehensive cooperation between the two sides."
Iranian and Iraqi forces are gradually merging. This is not a good thing. It doesn't mean the pmu will be beholden to Iraq. If anything, it means that Iraq is getting shackled to the militias!
Paul Salem, vice president for policy analysis, research and programs at think tank Middle East Institute, said, "It looks like the U.S. made the wrong decision in 2003. The U.S. invasion of Iraq in 2003, bottom line, handed Iraq over to Iranian influence. That's a fact."
Sound familiar?
As Trumpet editor in chief Gerald Flurry wrote in a 2003 article titled "Is Iraq About to Fall to Iran?":
Already, it is clear that Iran is eyeing the situation for opportunities. It would like nothing more than to extend its influence over the majority Shiite population in Iraq and assume control over its massive oil wealth.
With the two nations now agreeing to further entwine their militaries, Iran has proved that it is well on its way to total dominance of Iraq.