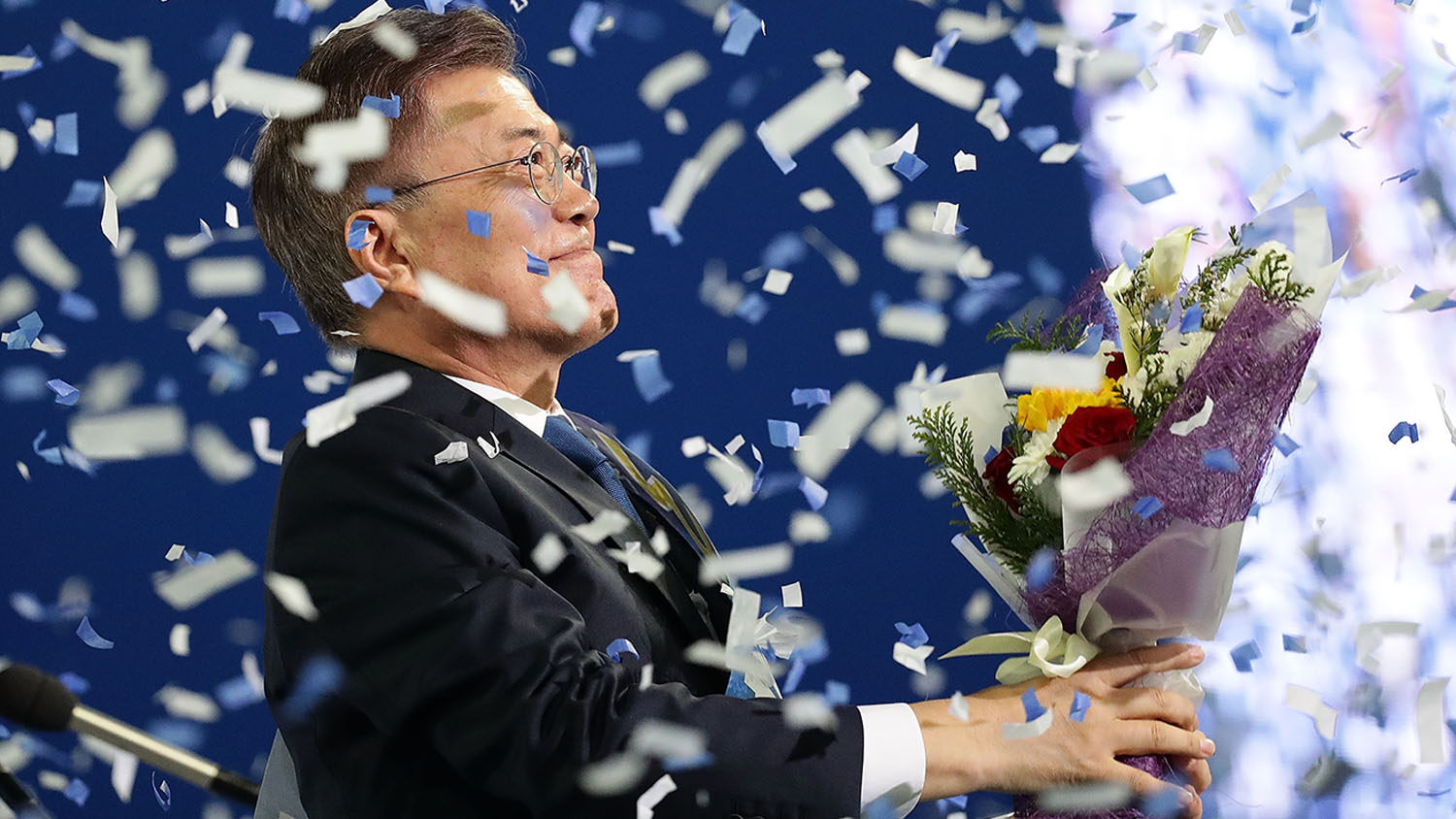 South Korea Elects New President—Will Moon Bring Back 'Sunshine'?
The change in leadership may lead to a clash between South Korea and the United States.
South Korean liberal reformer Moon Jae-in was sworn in for a five-year presidential term on May 10, following a landslide victory in a historic snap election. Moon replaces the impeached former President Park Geun-hye, and his leadership brings an end to almost 10 years of conservative leadership in Seoul.
"I will be a president for all the people," Moon, 64, told his celebrating supporters after his victory became clear.
Moon won more than 41 percent of the vote. He's entering office at a time of uncertainty for South Korea, as the threat from North Korea grows more ominous, and as United States President Donald Trump continues to pursue a foreign policy that is unpredictable and sometimes dismissive of U.S. allies.
Analysts expect Moon's election to have international consequences, including a warming of Seoul's relationship with North Korea, and a cooling in the ties between the U.S. and South Korea.
Seeking Sunshine
When Moon, the son of North Korean refugees, served as chief of staff to President Roh Moo-hyun from 2003 to 2008, he was part of a government that pursued what was termed a "Sunshine Policy" toward the North. This approach expanded Seoul's dialogue and engagement with North Korea in an effort to keep the peace.
In the years since Roh left office, circumstances on the Korean Peninsula have changed in a way that hangs clouds over the prospect of a return to "Sunshine." North Korea's missile and nuclear capabilities have significantly advanced, and a range of United Nations sanctions have been levied on the North that would obstruct its economic cooperation with other nations. Despite these changes, Moon has been critical of his predecessors' tough stance against North Korea and is expected to attempt to boost North-South dialogue and cooperation.
"Moon will almost certainly pursue a more conciliatory policy toward Pyongyang," said Isaac Stone Fish, senior fellow at Asia Society's Center on U.S.-China Relations.
Hyuk Kim of the Center for Strategic and International Studies (csis) said Moon will likely pursue "a Sunshine-like Policy" based on "keeping channels open with North Korea and ignoring provocations" but different from Roh's approach in that it would not aim for unification by absorption.
At his swearing-in ceremony, Moon vowed to "resolve the security crisis" with North Korea as quickly as possible. "If it is necessary, I will fly immediately to Washington and also visit Beijing and Tokyo," he said. "Under the right conditions, I will also go to Pyongyang. For peace on the Korean Peninsula, I will do everything that I can do."
Moon's leadership is expected to be welcomed by the Kim regime, which on Monday had called for a "new era of unification" and pressed South Koreans to cast their ballots against conservative candidates, who were "manic followers of confrontation."
Cloud Cover on U.S. Influence
By contrast to South Korea's sunnier new approach under Moon, the Trump administration has recently said America's "era of strategic patience" with the North is over and pledged to apply maximum pressure on the regime of Kim Jong-un. This pressure so far includes financial freezes, tightening sanctions, boosting cybersabotage of North Korean weaponry, and deploying a Terminal High Altitude Area Defense (thaad) system and U.S. warships near North Korean borders.
Writing for Foreign Affairs, North Korea scholar Duyeon Kim said the "completely divergent views" on how to deal with Kim Jong-un's regime could also "spell turbulent times" for the Washington-Seoul alliance.
This alliance had already sustained a blow in late April when President Trump said Seoul should pay for the billion-dollar thaad system. Many in South Korea were thunderstruck by this statement since the terms of the thaad deal have stipulated from the beginning that America would foot the bill.
The U.S. ended up backing down and saying Washington would stick to the original agreement and pay for thaad. But in some ways, the damage was done. In fact, it is likely that Mr. Trump's suggestion for Seoul to pay contributed to Moon's election win.
On May 1, Mr. Trump appeared to shift gears again, saying he would be "honored" to meet with Kim Jong-un under "the right circumstances." He didn't specify what those circumstances might be, but a representative of the Kim regime said on May 13 that the North would be willing to meet with the Trump administration to negotiate "if the conditions are set."
Fish says Moon's election will make Trump's offer to meet less attractive "if Pyongyang feels more able to get what it needs from Seoul."
Rain on THAAD?
The caretaker administration that led South Korea after Park's impeachment sped up the deployment of thaad. This deployment was viewed as a victory for the Trump administration. But the move angered Moon and others on South Korea's left who said the system should be set up only if the country's National Assembly approved the measure.
On May 2, authorities said the system was partially operational, but Moon may still try to prevent its full deployment.
In January, Moon published a book saying South Korea should learn to say "no to America." U.S. authorities fear that thaad could become an issue that Moon decides to try taking this approach with.
Such a move would be difficult for Moon since thaad is already mostly operational, but it would please the Chinese leadership who have repeatedly denounced the system as a violation of Beijing's security. China fears that, with thaad's advanced radar, America could look across the Yellow Sea into Chinese territory, and possibly even be able to monitor the activities of the People's Liberation Army. After thaad's deployment, China enacted a boycott on some South Korean goods, and on May 11, Chinese President Xi Jinping issued a veiled request for Moon to reconsider the thaad deployment.
It is unclear how Moon will proceed with thaad, but it is evident that under his leadership the U.S.-South Korea alliance faces an uncertain future.
Meanwhile, across the border, the North launched another intermediate-range ballistic missile on May 14, saying the test proves that Pyongyang can now launch a large nuclear warhead. Kim has said North Korea will soon conduct its sixth nuclear bomb test, and indications are that he will carry it out—rain or shine.