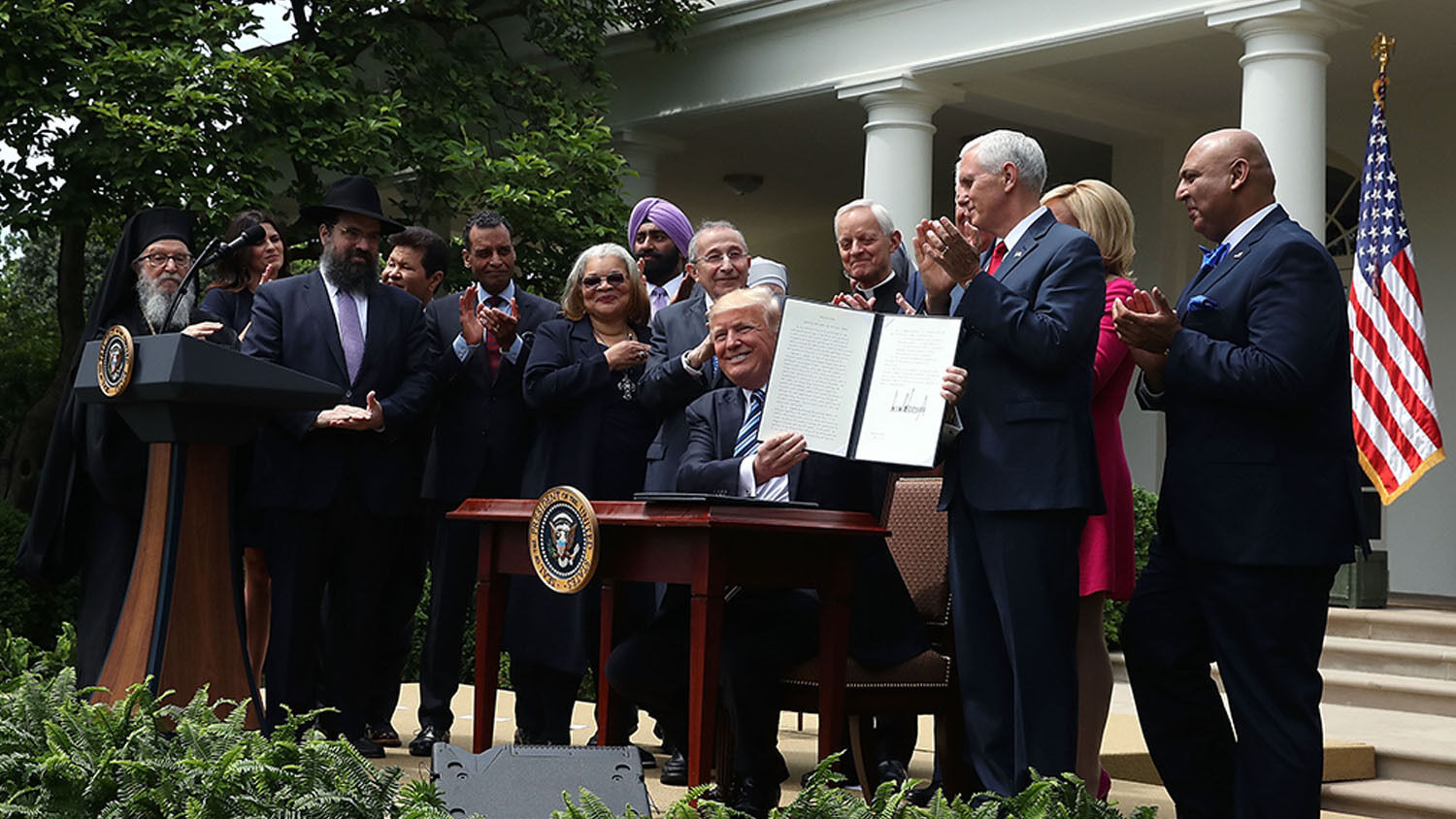 President Trump Boosts Political Power of Churches
United States President Donald Trump marked the National Day of Prayer yesterday by signing a controversial executive order allowing churches and other religious organizations to take on a greater role in American politics without jeopardizing their tax-exempt status.
The order aims to bypass a tax code provision called the Johnson Amendment that bans religious groups from directly endorsing or opposing politicians, and from engaging in political campaigns and political speech during elections.
In February, President Trump vowed to do away with the 63-year-old provision, saying, "I will get rid of and totally destroy the Johnson Amendment and allow our representatives of faith to speak freely and without fear of retribution."
Robert Jeffress, pastor of First Baptist Dallas, said left-leaning groups have used the Johnson Amendment to "harass" religious leaders. "It's time to take the muzzle off pastors and allow them to speak openly," he said.
Analysts say that eliminating the tax code provision will require congressional legislation, but if the change goes through, it would represent a victory for Christian conservative organizations that overwhelmingly backed Mr. Trump's election. It will also be a win for any faith leaders who seek to use their religious influence to steer American politics.
During a ceremony in the Rose Garden yesterday, Mr. Trump said, "We are giving churches their voices back."
"I think evangelicals have found their dream president," Liberty University President Jerry Falwell Jr. said. "I have never seen a White House have such a close relationship with faith leaders than this one."
"Mr. President, we're going to be your most loyal friends," Jeffress said during a dinner at the White House Wednesday night. "We're going to be your enthusiastic supporters. And we thank God every day that you're the president of the United States."
Richard W. Garnett, a Notre Dame law professor and specialist in church-and-state separation, said Mr. Trump's order "might be symbolic," or it could demand that the Internal Revenue Service "carve as wide a berth as possible" to let churches and other religious groups openly endorse or denounce specific political candidates without any tax consequences.
The Trumpet carefully monitors the Trump administration's relationship with religion because our editor in chief Gerald Flurry has said that President Trump will increase his connections with religion in America, a trend that will ultimately lead to a confrontation between two religious groups, and to a dark chapter in U.S. history. In the Trumpet's April issue, Mr. Flurry wrote, "Mr. Trump received over 80 percent of the white evangelical vote and a large portion of the Catholic vote. He really is leading most of America's 'religious' people. But where is he leading them?"
For the answer, read Mr. Flurry's article "Who Is the Modern-Day Jeroboam?"