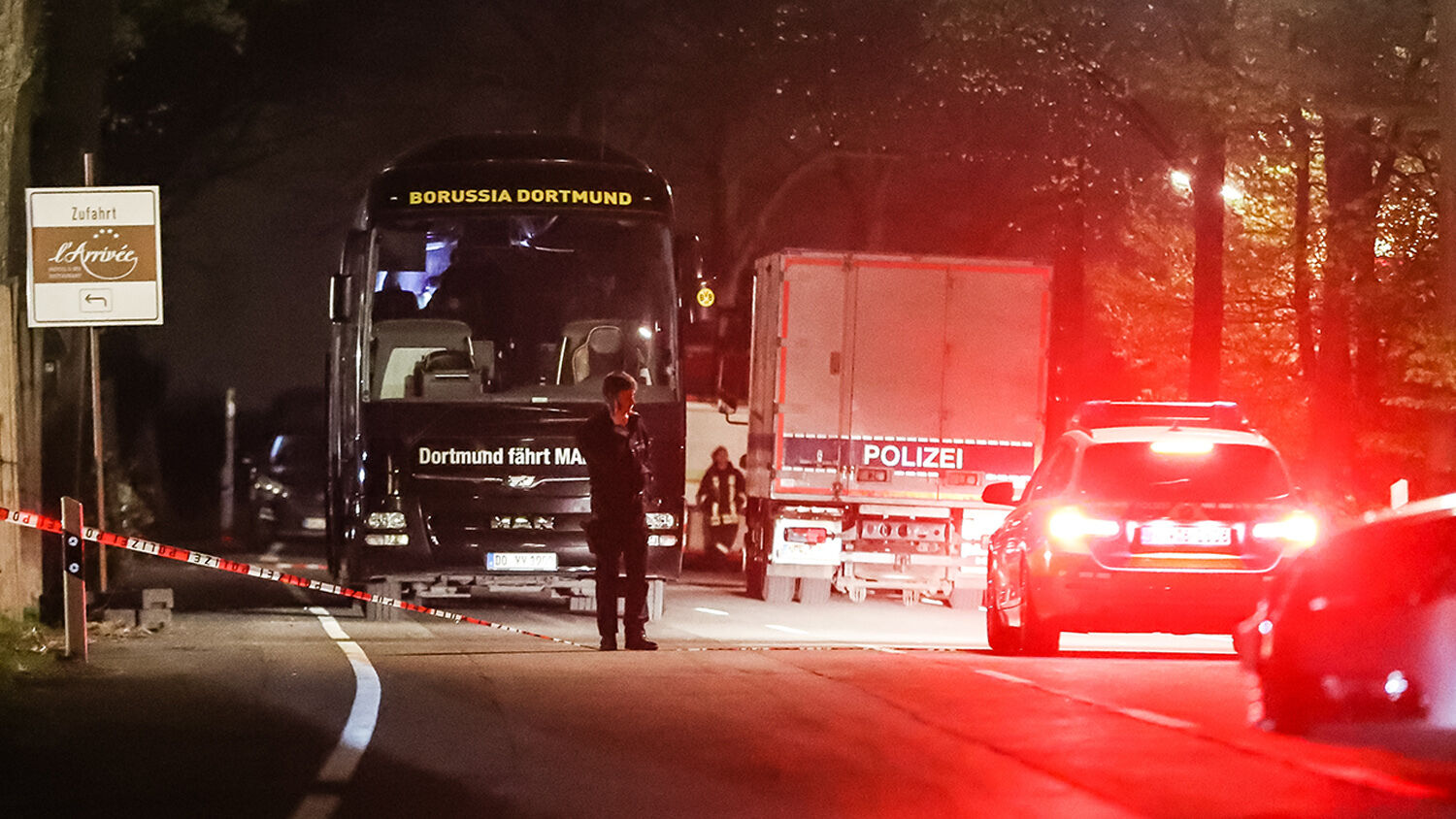 Germany's Favorite Pastime Attacked
Tuesday's attempted bombing of a soccer team hits a nerve with Germans and all Europeans.
There is not much that Germans are passionate about, but they absolutely love their fußball (soccer). Every week, millions of Germans cheer in front of their televisions, and tens of thousands support their teams at the stadium. But not so yesterday. A Champions League game was postponed because of an attack against one of the soccer teams. Three bombs targeted at the top staff of the Borussia Dortmund soccer team exploded near the team's bus.
Although only a police officer and one player were injured and treated in the hospital, the whole team was shocked, and millions of fans across Germany and Europe were more than aggravated. The game against AS Monaco was rescheduled for last night—but the attack leaves a scar on what Germans treasure most. Dortmund goalkeeper, Roman Bürki, told Blick (Trumpet translation throughout):
I was sitting in the back row next to Marc Bartra, who was hit by fragments of the broken rear window. After the bang, we all ducked down in the bus and those who could, laid on the ground. We did not know if more would come. The police were fast on the scene and secured the area. We're all shocked; nobody thought of a soccer match in the minutes after.
French newspaper Ouest France wrote: "Yesterday the violence of the modern era has with full force caught up with soccer. … Even on the day of Sept. 11, 2001 attacks, on a Tuesday, Champions League games had still been possible." All Europe has been shocked. Terror often hits where it hurts the population the most.
The police found three textually identical letters at the location that claim Islamic motives. Beginning with the words "in the name of Allah the merciful, the compassionate," the letters demand the withdrawal of Bundeswehr jets from Syria and "the closure of the Ramstein Air Base," a United States Air Force base in Germany. The letter also claimed that athletes and other prominent figures would now be the target of the Islamic State. The legitimacy of the letter is doubtful. The attackers might have left them at the site to mislead investigations and arouse peoples hatred against the current German immigration policy. Whatever the case is, the attack shows that terror has reached a new level.
As the attacks get more personal, the mood in Germany is changing. Terror is no longer a distant crime, no longer just a topic of the evening news; on Tuesday, it affected millions of personal lives in all Europe. It will not take long until these millions look for a strongman who addresses their concerns with more than just talk. Europe will not sacrifice its favorite sport, its evening activities, its Christian values for tolerance toward Islam. A strongman is coming.