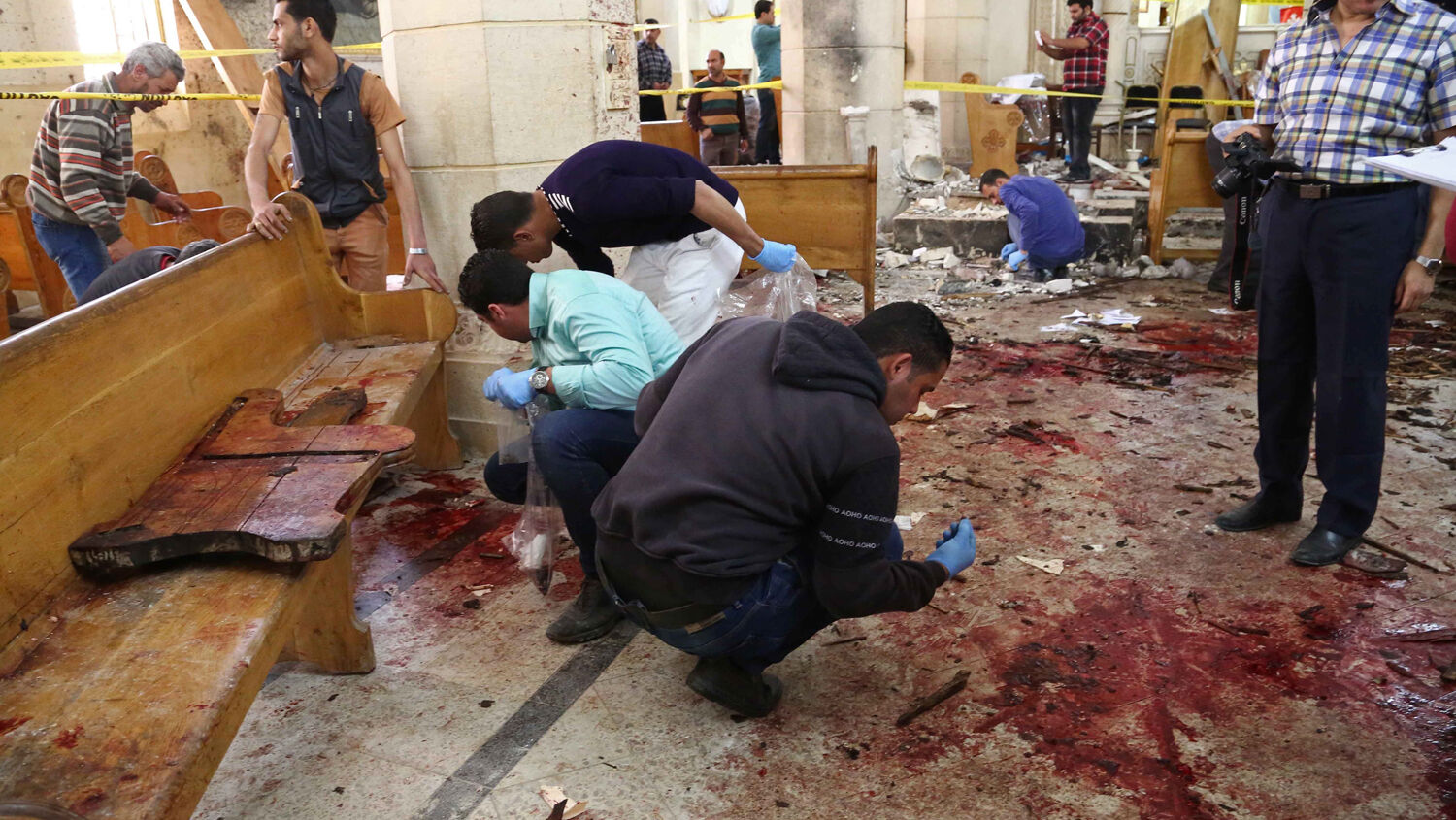 Holy War Is Becoming Reality in Egypt
How long before someone stands up for Egypt's Christians?
Almost 50 Coptic Christians were killed in two separate attacks as they attended Palm Sunday services in northern Egypt. The deadly attacks announce the start of a possibly devastating Holy Week and come amid a surge of violence targeting Egypt's Christian community by the Islamic State.
The first suicide attack took place in St. George's Church in the city of Tanta, halfway between Cairo and Alexandria. Although the main doors were already sealed in order to prevent attacks, the suicide bomber entered via a side door, slipped past security, and blew himself up near the altar, killing at least 27 people.
Two hours later, the second suicide bomber approached St. Mark's Cathedral in Alexandria. Inside, Pope Tawadros ii, the leader of the Egyptian Copts, was delivering a message when surveillance footage showed a man being directed into a metal detector at the entrance of the church compound. When he was stopped for questioning, he detonated the explosive vest underneath his bulky jacket and killed at least 17 people.
Together, the attacks testify to the increasing danger facing Egypt's Christian population, which comes less than a month before Pope Francis is due to visit Egypt to meet with Pope Tawadros ii.
The Islamic State affiliate based in the Sinai Peninsula claimed credit for the attacks, stating, "The Crusaders and their apostate followers must be aware that the bill between us and them is very large, and they will be paying it like a river of blood from their sons, if God is willing."
In response to the attacks, Egyptian strongman President Abdel Fattah al-Sisi has declared a three-month state of emergency to try and smother signs of an increasing campaign to target Christians—10 percent of Egypt's population. In a defiant speech after the attacks, Sisi proclaimed, "I won't say those who fell are Christian or Muslim. I will say that they're Egyptian."
Nevertheless, the jihadists are clearly making a distinction between Christians and non-Christians.
While the Islamic State targeting Christians in the Sinai is not a new phenomena, the current wave of attacks can be traced back to December 2016, when 29 people were killed in a Cairo church bombing. Before that time, the jihadists mainly targeted Egyptian military personnel—but they have obviously changed their focus to Christians. In January and February, Islamic State fighters killed seven Copts in the Sinai Peninsula and forced many families north for safety.
An analysis in the Jerusalem Post titled "Egypt—No Place for Coptic Christians" summarized the shift this way:
The carnage is a major "success" for Islamic State, which has in recent months morphed its insurgency against security forces in Sinai into a campaign against Christians that reaches deep into the heartland of Egypt. Not only did isis kill more than 40 "infidels" on Sunday, it succeeded in challenging the very legitimacy of the regime of President Abdel Fattah al-Sisi and raising the specter of Egypt descending into sectarian conflict and disarray like Syria and Iraq.

"This is a message from the terrorist movement that 'we are here and can reach anywhere in Egypt,'" said Naji Shurrab, a political scientist at Al-Azhar University in Gaza.

"The message is, 'We are alive and strong.' They want to spread fear in the hearts of people and weaken the economy of Egypt. This harms tourism and foreign investment."

But the main goal, Shurrab said, is "to make a separation between Muslims and Christians and to start a religious conflict in Egypt. They know the weakest point is to aim against Christians. They want to make Egypt more divided, to weaken the strength of the state and to harm Sisi, particularly after his visit to the U.S. and promise to put an end to terrorism."
While Muslims killing Christians might seem like old news, it is a relatively new phenomenon in Egypt and can be traced back to the short-term reign of the Muslim Brotherhood under former Egyptian President Mohamed Morsi.
During the 30-year rule of Egyptian authoritarian Hosni Mubarak, hate preachers in mosques were largely jailed and silenced. When Mubarak's regime was replaced by Morsi's Islamist regime, the imams were allowed to stir up hatred toward Christians, which led to boycotts and attacks. Once Morsi was removed, however, the violence against Christians continued, because they were seen by Islamists as collaborators with the Sisi government.
In return for their support, Sisi has tried to keep a lid on the growing anti-Christian sentiment, but this weekend's attacks prove he is unable to successfully protect them from every attack. However, it is worth contemplating just how many more Christians would have been killed to this point if not for Sisi's strong defense of Egypt's Copts.
In reality, there is already a holy war taking place in Egypt against the Christian community. It is only because of Sisi's authoritarian rule that it is not exploding. If he were to be removed, however, who would protect the Christians?
On New Year's Eve of 2011, in similar events to this past weekend in Alexandria, 23 Coptic Christians were killed when the door of the Two Saints Coptic Church exploded. At the time, Trumpet contributing editor Brad Macdonald wrote that the most important reaction to watch for was the Catholic Church's response. He wrote:
The day after Islamic terrorists attacked Catholics in Alexandria, Pope Benedict xvi said it was a "vile gesture of death" and that it "offends God and all of humanity." In his speech, he appealed to Christians: "In the face of the threatening tensions of the moment, especially in the face of discrimination, of abuse of power and religious intolerance that today particularly strikes Christians, I again direct a pressing invitation not to yield to discouragement and resignation."

That's a polite way of saying, "We must not give in to the demands of radical Islam."
While there is now a different pope in power, the situation for Middle East Christians has only deteriorated further in the years since. How long will it be before the Catholic Church gets more vocal against the attacks on Christians? Both history and biblical prophecy indicate that eventually the mother church will come to protect her daughters, such as the Copts in Egypt.
Pope Francis is due to visit Egypt toward the end of April, and will no doubt hear about the plight of Egypt's Christians. Like Christians throughout the Middle East, they are being hunted down and slain, causing one of the great mass exoduses of our time. Will this pope be the one to protect the suffering Christian populations of the Middle East?
Macdonald continued:
Over the last few months, radical Islam has gained momentum in its war on Christianity. Don't expect it to let up on its assault. What we should expect, however, is for the Vatican to begin to respond. Fifteen hundred years of European history—including the Crusades, when tens of thousands of Catholic Europeans responded to Pope Urban's war cry by slaughtering tens of thousands of Muslims in the Middle East—tell us that the Catholic Church will respond mightily, with force and vigor!
To understand more details of this coming crusade, please read "The Last Crusade" by Trumpet editor in chief Gerald Flurry.