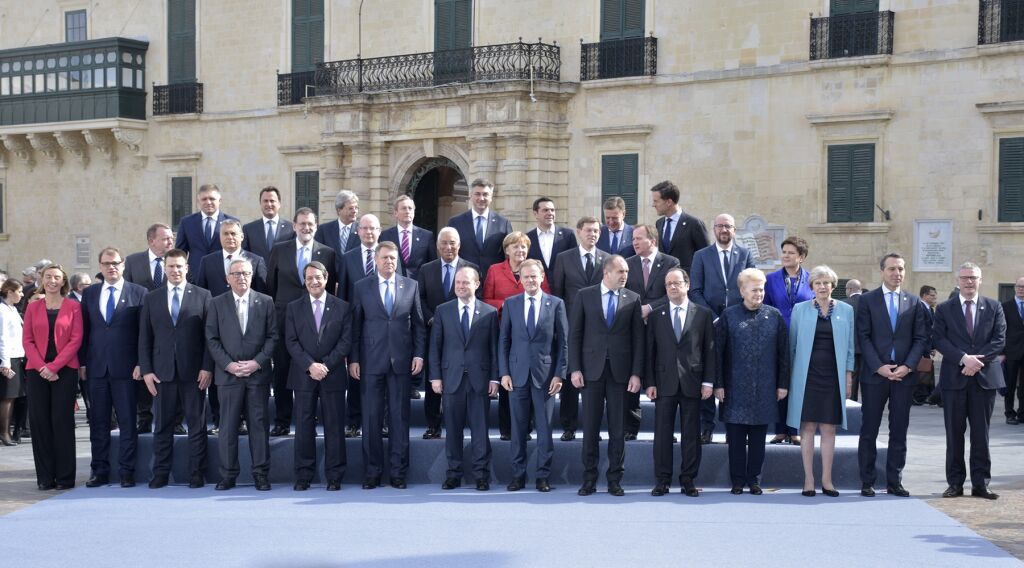 European Leaders Ready to Shrink the EU
The EU needs to unify quickly—and the easiest way forward is for a core group to leave the rest behind.
European leaders agreed last week that a core group of European nations must move rapidly toward unity, leaving the rest of the 28-member bloc behind. German Chancellor Angela Merkel said at an EU summit in Malta on February 3, "The history of recent years has shown that there will be a multi-speed EU, and not all members will participate in the same steps of integration."
The Times of London reported, "European states have taken the first step towards a looser 'multi-speed' alliance at an EU summit in Malta."
The summit comes as EU leaders grapple with multiple massive issues, including the Trump presidency, the departure of Britain from the EU, massive migrant inflows and ongoing financial crises. EU leaders agreed that they will meet again on March 25 in Rome to map out the future of the EU. The Rome meeting will occur on the 60th anniversary of the Treaty of Rome. British Prime Minister Theresa May has not been invited. French President François Hollande said that the statement produced by EU leaders at Rome could promote a Europe traveling at "several speeds." The leaders of Belgium, the Netherlands and Luxembourg concurred, stating that "different paths of integration and enhanced cooperation could provide for effective responses to challenges that affect member states in different ways."
United States President Donald Trump's foreign policy has added new fuel to this latest push for European unity. "Political and economic integration must be now pursued and quickly," wrote Judy Dempsey, senior fellow at Carnegie Europe, . "Germany, France and the other eurozone countries have a responsibility to push ahead. Whether or not all EU members support more integration or a two-speed Europe, integration should be made a priority."
The unification of a smaller group of core nations is exactly what the Trumpet has forecast for years. The Bible describes a European power that would exist in the modern era and would consist of "10 kings"—leaders of 10 nations or regions. There are currently 27 EU member states (not counting Britain). In its current form, the EU has proved to be a massive, unwieldy, bureaucratic organization that simply cannot move quickly, decisively or in unison.
"There's going to be a core group of nations," Trumpet editor in chief Gerald Flurry said in a 2010 Key of David television program. "Europe is going to have more power and not less, only it's going to be considerably smaller. You watch and see if that doesn't happen, because your Bible says it has to! There's going to be 10 kings there, not 27, as there are 27 nations today in that European Union."
Now European leaders are talking seriously about stripping the union down to a smaller yet more solid core. Keep an eye open for what happens on March 25 in Rome. And to see how this "multi-speed" alliance will ultimately lead to a 10-nation European superpower, read "Europe's Coming Big Ten."