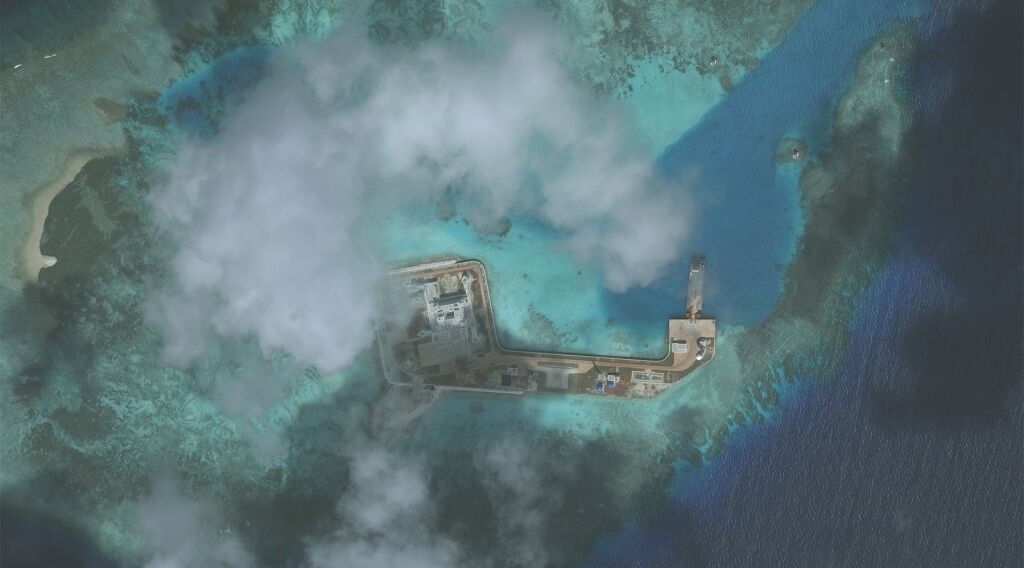 Defense Expert: It's 'Too Late' to Stop China's Military Dominance of South China Sea
The former head of the Australian Defense Force says China's military rise in the strategic region is almost complete.
China's illegal military build-up in the South China Sea is almost "fully developed," and it is now "too late" to stop it. That is the assessment of Sir Angus Houston, the former head of the Australian Defense Force (adf) in a speech last week to the National Security College conference in Canberra, Australia.
After conducting a study of the latest satellite imagery of the contested region, including the islands that Beijing has built there, Houston concluded that China's military foothold in the region is now essentially permanent. "I have seen the imagery [and] what you see is infrastructure going in, and it is not going to be too much longer before it is fully developed …" he said. "All of this development will enable China to dominate the South China Sea and extend its permanent military presence further south in proximity to Indonesia, Malaysia and Singapore."
Dominance of the South China Sea is of global significance because some $5.3 trillion in commerce passes through it each year. That amounts to about one third of the world's total trade.
Houston, who led the adf from 2005 to 2011, said he believes the window to halt China's illegal militarization of this international territory has closed. "In my view, it is too late to stop the China program in the South China Sea," he said. "What is important now is to ensure freedom of navigation and the right of innocent passage."
"We also need," he said, "to find ways to resolve territorial disputes in accordance with international law and discourage nations from acting unilaterally in a way that threatens the peace and stability in our region."
Houston's assessment comes amid a time of increasing uncertainty about China's relationship with Western powers, especially as United States President Donald Trump has taken a tough stance toward Beijing that has infuriated the Chinese leadership.
Back in July 2016, even before the "Trump factor" had added more uncertainty to the China-West equation, Trumpet editor in chief Gerald Flurry said China's militarization of the South China Sea was "steering the world toward war," writing:
Ever since Xi Jinping took over as general secretary of the Communist Party of China, his administration has been militarizing the South China Sea and working to push the United States out of East Asia. In two island chains, the Paracels and the Spratlys, China is building a series of man-made islands, 800 miles from China's shore. These islands are being installed with anti-aircraft batteries and fighter jets are stationed on them. …These militarized islands now function as forward bases for Beijing to challenge seven decades of American naval dominance in the Pacific Rim. This should alarm the world! …China is intimidating the nations of Southeast Asia into submission to its will. It is forcing these countries to do what it wants.Everything is headed in the direction of war.
Around the time that was written, the Chinese leadership promised on numerous occasions that the artificial islands it was building were for civilian purposes, and that it would not militarize them. But in the months since, as is clear by the assessment of such experts as Sir Angus Houston, China's military purpose has become undeniable. And its military footing in this vital region has become formidable.
To understand why these developments mean that "everything is headed in the direction of war," read Mr. Flurry's prescient article "China Is Steering the World Toward War."