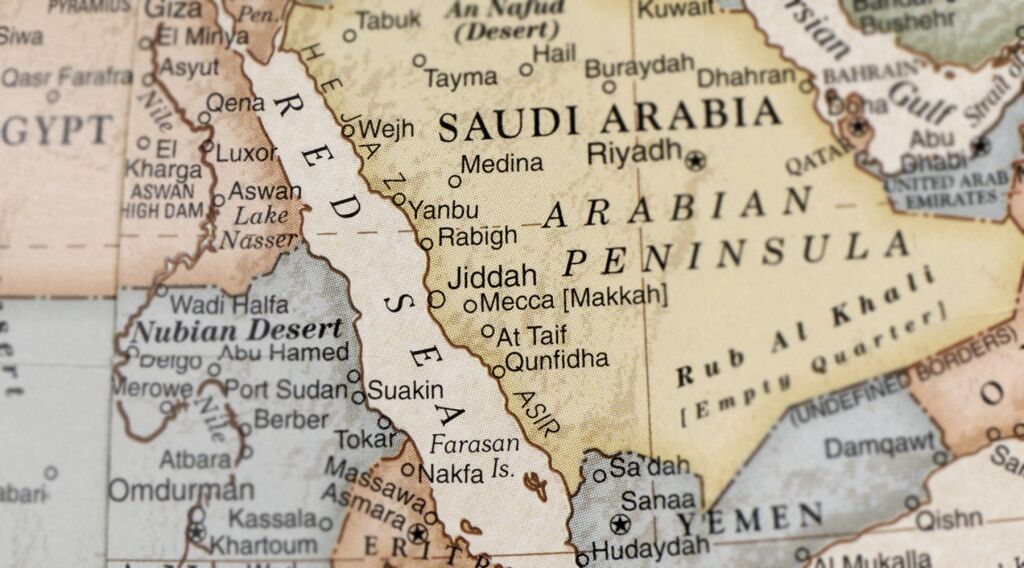 Iran Threatens the Red Sea—And Global Trade
Iranian-backed forces target a crucial weakness in the world's maritime trade network.
JERUSALEM—Three small vessels belonging to Iranian-backed Houthi rebels attacked a Saudi Arabian frigate on Monday off the west coast of Yemen. Footage of the event showed one vessel, laden with explosives, plowing into the rear of the Saudi warship, creating a large explosion and fire that killed two of the crewman and injured several others.
The Saudi warship was on patrol outside the Hodeidah port, located halfway up Yemen's western coast, when it was attacked, according to the Saudi state news agency spa. The Houthis claimed responsibility for the attack. "The Saudi warship was involved in aggression against the Western coastal cities and Yemeni fisherman," a military official said to the Saba Yemeni news agency run by the Houthi movement.
https://twitter.com/watch_jerusalem/status/826341472756719616
Footage recorded by the Houthi rebels shows gunfire, followed by the explosion. It also records the terrorists shouting "Allah Akbar" and making several anti-U.S., anti-Israel remarks—a clear indication of the Houthis' ultimate enemy.
This narrow portion of the Red Sea, as well as the 22-mile Bab el-Mandeb Strait at the southwestern tip of Yemen, is vulnerable to terrorist attacks since the Houthis gained control of Yemen's west coast. Monday's attack marks the third attack carried out by the Houthis against ships in this area in the past six months.
On October 9, the Houthis targeted the uss Mason with anti-ship missiles, an American destroyer operating just north of the Bab el-Mandeb Strait. They again attacked on October 12. That happened to be the 16th anniversary of the attack on the uss Cole, which was severely damaged when a boat loaded with explosives rammed into its side, similar to Monday's attack on the Saudi vessel.
While the Houthis are believed to be incapable of closing the strait completely, the mere threat of terrorist vessels and suicide boats patrolling the area is enough to potentially disrupt world trade. As James Holmes wrote in Foreign Policy late last year,
If a coastal foe can menace shipping transiting this narrow seaway, it would disrupt the shortest, most convenient sea route connecting Europe with South and East Asia. Doing so would carry significant economic and military repercussions. … Houthi antics could drive insurance rates sky-high for merchant shipping, prompting shippers to bypass the danger zone. … In a sense, then, the Houthis could conscript insurance firm Lloyd's of London as an ally—magnifying their influence while distorting patterns of trade and military operations.
This latest attack by the Houthis shows that Iran's desire to control the Red Sea is intensifying. In November 2016, Iranian Armed Forces Chief of Staff Maj. Gen. Mohammed Hossein Bagheri said, "One day, we may need [naval] bases on the coasts of Yemen and Syria." Clearly, Iran has designs for this waterway.
Back in 2015, Trumpet editor in chief Gerald Flurry wrote that the Houthi takeover of Yemen's capital was proof that "Iran is implementing a bold strategy to control the vital sea lane from the Indian Ocean to the Mediterranean Sea."
Now with the Houthis controlling virtually all of Yemen's western coast, the Iranians have shifted their focus off the land and into the Red Sea. If you would like to understand Iran's goal in dominating this sealane, read, "Iran Gets a Stranglehold on the Middle East."