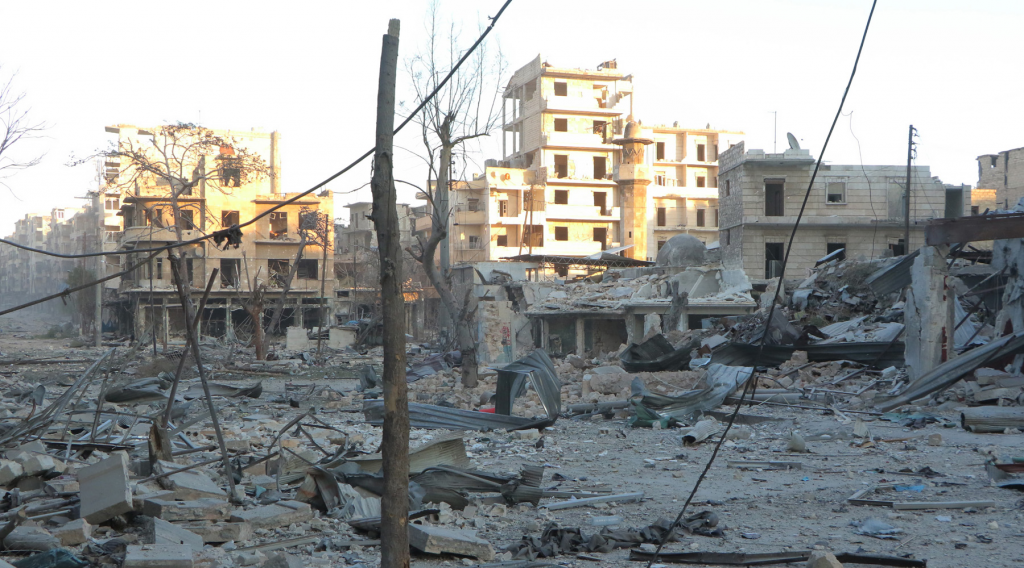 Can Air Strikes Prevent War With Hezbollah?
Israel continues to work to deter conflict with the terrorist organization.
Twice in as many weeks, Arabic media has accused Israel of carrying out air strikes in Syria. Israel has neither confirmed nor denied the attacks—though Israeli Prime Minister Benjamin Netanyahu openly admitted in April that there have been dozens of such Israeli air strikes over the course of the Syrian civil war.
According to a November 30 report in the Times of Israel, the first attack was dual, targeting the al-Sabboura region—though Syria has not confirmed the alleged target—and a Hezbollah convoy on the Damascus-Beirut highway.
Then on December 7, Syria's sana state media reported on another attack in which "the Israeli enemy launched at 3:00 a.m. Wednesday a number of surface-to-surface missiles from inside the occupied territories to the west of Tall Abu al-Nada that landed in the surroundings of al-Mezzeh Airport west of Damascus." Hezbollah claimed the attack was another air strike.
Adding weight to the reports, Israeli Defense Minister Avigdor Lieberman also "came clean" about Israeli attacks to keep weaponry out of Hezbollah hands.
Delaying the Inevitable?
Regardless of the validity of these or previous claims, Israel clearly has a goal in mind. It is not—as the Syrian government proclaims—to overthrow Bashar Assad. Israel is focusing on the possibility of a future conflict directly involving the Jewish state.
As Netanyahu said in February, "We will not agree to the supply of advanced weaponry to Hezbollah from Syria and Lebanon. We will not agree to the creation of a second terror front on the Golan Heights. These are the red lines that we have set and they remain the red lines of the State of Israel."
But red lines or not, can Israel prevent Hezbollah's rise? There are a number of factors to consider.
First, recruits. Haaretz released a report in July with updated figures on the size and scope of Hezbollah. The terror group, while lacking tanks and planes, is a medium-sized army. It has some 45,000 fighters with 21,000 in regular service. Comprised primarily of Shiites in southern Lebanon, Hezbollah has an ample fighting force.
Then there is training. Aside from experience gleaned in the 2006 war with Israel, Hezbollah fighters are gaining experience in the Syrian arena. Unable to prevent Hezbollah's involvement, Israel has no choice but to watch as Hezbollah's fighters are trained and battle-hardened for a future conflict with the Jewish state.
One of the few aspects Israel can influence is weapon shipments. Hezbollah has long sought missiles and arms from Syria and further abroad. Israeli air strikes have waylaid many such convoys, but the convoys that run the gauntlet successfully are unknown.
While Netanyahu and the military do all they can to contain Hezbollah, there is little doubt that Israel's efforts are not stopping Hezbollah's rise, only slowing it.
According to the Israel Defense Forces (idf), Hezbollah now has the ability to fire up to 1,500 missiles per day in the next war. In 2006, the number was just 200.
These rockets are also more sophisticated. Hezbollah has acquired rockets capable of hitting the Red Sea area to Israel's south. It is also equipped with a plentiful stock of antiship, antitank and antiaircraft systems.
Going off these facts, Israel appears near powerless to keep advanced technology such as the SA-22 Russian missile system or the Kornet antitank missile out of Hezbollah's hands.
Then there are the military installations. Hezbollah has been busy since 2006, turning southern Lebanon into a fortification.
The idf recently tweeted an image of Hezbollah's military infrastructure in Lebanon. Times of Israel called this "an apparent calculated move by Israel to build a case for any future military action. It could also serve as a warning to the terror group itself, demonstrating Israel's intelligence gathering capabilities as a deterrent."
But only days later, an idf spokesperson admitted the image was a fake. While the map was a shallow ruse, the point still stands that Hezbollah is well at work in southern Lebanon. Numerous reports corroborate Israel's fear that southern Lebanon has become a Hezbollah fortification.
And Israel is almost out of time. With the rebels almost driven from Aleppo, Hezbollah's role in Syria will likely diminish and its attention will again turn to Israel.
Trust Not in Air Strikes
To go to war now might seem a tough choice for Israel. But to wait only gives Hezbollah time to grow stronger. So is there anything we can to do avoid another Israel-Hezbollah war?
Individually, yes there is. And it doesn't involve air strikes or armaments.
The solution comes straight out of the pages of the Old Testament book of Hosea.
As many Bible scholars will note, the book of Hosea contains some frightening prophecies concerning Israel and the impending war that lies still in the future. But notice how it ends.
"Yet I am the Lord thy God from the land of Egypt, and thou shalt know no god but me: for there is no saviour beside me" (Hosea 13:4). Eventually Israel will turn back and trust in God, but not before the fulfilment of the prophecies laid out in the earlier chapters of Hosea. It will take some tough times for the nation as a whole to come around!
"O Israel, thou hast destroyed thyself; but in me is thine help" (verse 9). These verses show that the people of Israel will learn that God is willing to help them.
But you don't have to wait until after God's prophesied Tribulation actually hits! If you and I look to God now instead of trusting in military or intelligence services, we can avoid disaster. That is why the Trumpet continually points back to the significance of God's Word in modern geopolitics. God is offering an escape from looming catastrophe for any who are willing to turn back to Him today.
Request our free booklet Hosea: Reaping the Whirlwind. Chapter 3 offers the solution Israel needs. It is titled "God's Love for Israel."
Military intervention cannot solve the problems Israel or any other nation is facing. But God offers a permanent solution for you and me—and it isn't air strikes.