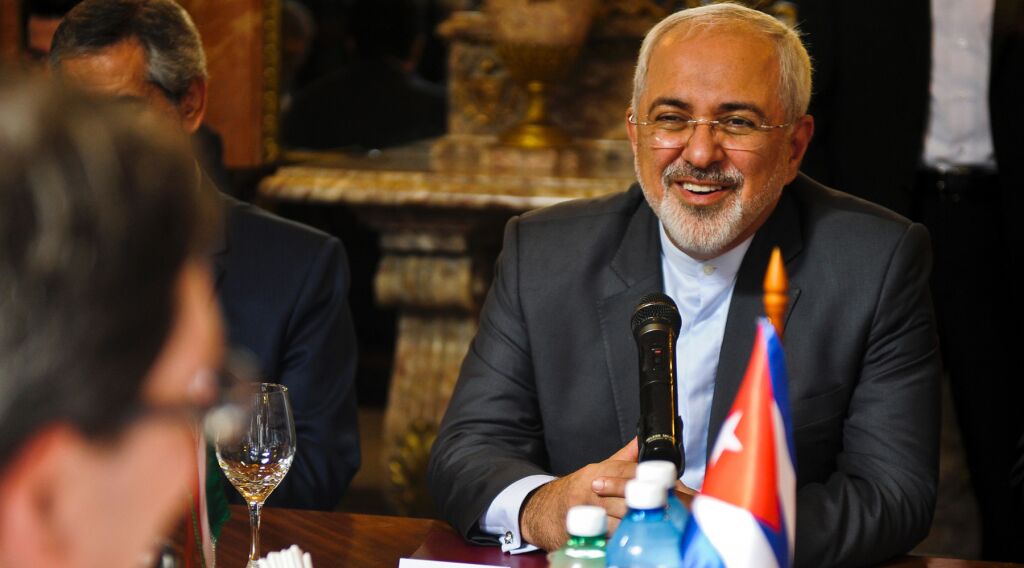 Iran Deepens Infiltration of Latin America
Using rogue nations as allies and diplomacy as a cover, the Islamic Republic is exporting its revolution to Central and South America.
A man once accused Iran of sponsoring terrorism and for doing so with the collusion of certain rogue nations. That didn't necessarily make him any different from officials in the United States Intelligence Community or State Department or the multiple millions of people who understand that terrifying reality.
What made him different from most people was that he was found dead with a bullet in his head the day before he was scheduled to testify before the Argentine legislature about Iran's terror network in Latin America and the state support it received in the region.
On Jan. 14, 2015, special prosecutor Alberto Nisman filed a complaint against then Argentine President Cristina Fernández de Kirchner and some officials in her administration for covering up Iran's involvement in the worst terrorist attack in Argentine history—the July 18, 1994, bombing of the Asociación Mutual Israelita Argentina (amia) building, which killed 85 people and wounded more than 300 others. Four days later, Nisman was assassinated.
His investigations had revealed a chilling reality: Iranian diplomacy is synonymous with Iranian terrorism—especially in Central and South America.
Let the world beware when the world's foremost state sponsor of terrorism boosts its presence in Latin America—as it has in the wake of the nuclear deal.
'A Whole New Level'
On August 21, Iranian Foreign Minister Mohammed Javad Zarif embarked on his first official visit to Latin America. For eight days, he led a delegation of 120 Iranian politicians and economists to Cuba, Nicaragua, Ecuador, Chile, Bolivia and Venezuela. His stated purpose was to "strengthen political and economic ties."
What exactly are the political and economic gains from these partnerships?
Before the Iran nuclear deal, some Latin American nations provided Iran with avenues for skirting sanctions. A June report titled "After Nisman: How the Death of a Prosecutor Revealed Iran's Growing Influence in the Americas" noted that "in Latin America, Iran engaged in a variety of sanctions-busting schemes in collaboration with the governments of Venezuela and Ecuador."
After the nuclear deal, Iran certainly has more money for strengthening its ties with these nations and less restrictions against its endeavors. While in Cuba, Foreign Minister Zarif acknowledged that the nuclear deal had "removed obstacles" to stronger cooperation between his nation and Latin America. Tehran, he also said, "has always shown that we can win through resistance."
But from an economic standpoint, the costs do not seem to match the benefits. American Foreign Policy Council Vice President Ilan Berman wrote on September 2, "With the notable exception of Chile, the nations that Iran's foreign minister is courting are all in dire economic straits, struggling with high levels of inflation, rampant joblessness, and—in the case of Venezuela—a full-blown meltdown of the national economy. These countries thus hardly seem suited to be durable partners for Iran's economy, which is itself struggling after years of multilateral sanctions."
"Zarif's choice of stopping points," Berman wrote, "suggests that the trip is much more about geopolitics than it is about trade."
Majid Takht-Ravanchi, Zarif's deputy, said Iran intends to boost those ties to "a whole new level." Iranian geopolitics in this region is now shifting to "a whole new level."
The Latin American nations Zarif visited are anti-Western. They are more inclined to befriend "the enemy of their enemies," even if that support is, in some ways, irrational. Consider Venezuela's Nicolás Maduro, who, during Zarif's visit, praised Iran, saying, "Contrary to the U.S. and other Western powers which employ their power for war, conflict, slaughter and plundering resources of other nations, Iran is the power of peace, tranquility and prosperity for other countries." In Cuba, Zarif's counterpart praised the "success of [Iran's] foreign policy" and expressed his support for Iran to "develop nuclear energy for pacific ends."
Another common denominator these countries share is Iran's most enterprising terrorist proxy: Hezbollah. Referencing observers like researcher and founder of the American Center for Democracy, Rachel Ehrenfeld, London-based Arab daily Asharq Al-Awsat noted that "the countries on Zarif's list were all involved in a way or another in supporting Hezbollah, Iran's terrorist wing."
Hezbollah's presence in Latin America goes back to the 1980s, and in recent times, the terrorist group has expanded its activities by venturing into money laundering, drug trafficking and arms smuggling. Hezbollah has even used its earnings to fund its militant activities in Syria.
"Zarif's trip," said Rep. Ileana Ros-Lehtinen, chairwoman of the House Subcommittee on the Middle East and North Africa, "is a clear indication of Iran's intent to expand its operations in the Americas post-nuclear deal, given that in the past, press reports have stated that Hezbollah maintains a presence in Cuba, Iran helped open a military facility in Bolivia, and Venezuela's [state-owned oil company] pdvsa was sanctioned for cooperating with Iran."
Ros-Lehtinen added, "Tehran's classic playbook is to use cultural centers, new embassies or consulates, or cooperative agreements on various areas to act as facades aimed at expanding Iran's radical extremist network."
"Across Latin America," the National Interest wrote on April 27, "Iran's public face appears innocuous: mosques, cultural centers, schools, halal meat inspectors, religious literature, social work and even Boy Scout groups. Yet beneath the veneer of piety, outreach and interfaith dialogue, Tehran leverages connections with anti-American regimes and movements to gain a foothold in the region and to indoctrinate local Muslims in its brand of revolutionary Islam."
Iran has striven to promote Shiite Islam in Latin America. Nearly simultaneously, the Muslim population in the region has reportedly increased 25 percent since 2010.
Zarif's trip was as innocuous as an Iranian embassy or cultural center. But these political, cultural and economic entities have often been used by Iranians to recruit radical Islamists and coordinate terrorist attacks not only in Latin America but also in the United States. The 2011 attempted assassination of the Saudi Arabian ambassador to the U.S. in Washington, d.c., is one stark example. Another was the 2007 plot to blow up jet fuel supply tanks at the John F. Kennedy Airport in New York City.
The latter example was coordinated by Mohsen Rabbani, an Iranian intelligence official who operated under commercial, cultural and diplomatic covers as a halal meat inspector, a Shiite cleric and a cultural attaché at the Iranian Embassy in Argentina.
Classic Case Study: The AMIA Bombing
Rabbani was also the mastermind of the 1994 amia bombing in Argentina. Rabbani and former President Akbar Hashemi Rafsanjani were among eight Iranian officials and a Lebanese militant whom the assassinated prosecutor, Alberto Nisman, had formerly accused for the amia bombing.
According to the special report published by the Center for a Secure Free Society on June 21, Iran coordinated all of its Latin American activities via its embassy in Spain, and Rabbani kept in close contact with it. "According to European intelligence officials," the report said, "Rabbani belonged to [Supreme Leader Ayatollah Ali Khamenei's] special intelligence bureau and worked in Germany prior to arriving in Argentina. … Once in Argentina, coordinating with Iranian embassies in Spain, Germany, Brazil, Colombia, Venezuela, Chile, Uruguay, Cuba and Mexico, Rabbani immediately began creating a comprehensive cover platform to insert additional Iranian operatives into the Southern Cone region."
Iranian embassies in Brazil and Colombia, in collaboration with Hezbollah operatives in those countries, provided logistical support for the amia attack. These embassies established multiple front companies for their nefarious activities. One of those companies is Islamic Republic of Iran Shipping Lines (irisl). The Argentine intelligence reports on the amia attack accused irisl of transporting the Iranian-made explosives that were used in the bombing. (Until recently, irisl was under sanctions for supporting Iran's nuclear and ballistic missile programs.)
Interpol has since issued a Red Notice for Mohsen Rabbani, but he continues his recruitment activities from the Iranian city of Qom. According to an April 2011 article from the Brazilian Veja magazine, Rabbani "frequently slips in and out of Brazil on a false passport and has recruited at least 24 youngsters in three Brazilian states to attend 'religious formation' classes in Tehran."
In an interview with the Cipher Brief published August 11, former U.S. Treasury Department Deputy Assistant Secretary for Intelligence and Analysis Matthew Levitt said, "Iran and Hezbollah remain hyperactive in Latin America—a fact that has the full attention of U.S. intelligence officials and their counterparts south of the border."
According to Levitt, congressional testimony by the State Department following the amia attack expressed concern over "larger-than-necessary numbers of diplomats" in Iranian embassies in Latin America.
In fact, just before the amia bombing, Iran sharply increased its communications among its Latin America operatives. But for security purposes, it shifted from electronic communications to couriers—a move that necessitated even more undercover Iranian agents infiltrating the continent.
Iran is one of only three "state sponsors of terrorism." The other states in this exclusive list—Syria and Sudan—are themselves sponsored and inspired primarily by Tehran!

The King of Terror
In its June report on global terrorism, the State Department wrote, "Iran remained the foremost state sponsor of terrorism in 2015, providing a range of support, including financial, training and equipment, to groups around the world—particularly Hezbollah. … Iran was joined in [its Middle Eastern terrorist] efforts by Hezbollah, which continued to operate globally, as demonstrated by the disruption of Hezbollah activities in Peru in 2014 …."
Iran's disruptive activities via Hezbollah clearly go well beyond Peru.
Both the State Department and U.S. Intelligence Committee consider Iran "the foremost state sponsor of terrorism." If that sounds cliché, consider this: Iran is one of only three state sponsors of terrorism. The other states in this exclusive list—Syria and Sudan—are themselves sponsored and inspired primarily by Tehran!
In The King of the South, Trumpet editor in chief Gerald Flurry explains from Bible prophecy that Iran's nefarious activities will continue until a superpower decisively and violently deals with Iran—once and for all. Daniel 11:40 reads, "And at the time of the end shall the king of the south [radical Islam led by Iran] push at him: and the king of the north shall come against him like a whirlwind, with chariots, and with horsemen, and with many ships; and he shall enter into the countries, and shall overflow and pass over."
This superpower will not be the United States. It will be a union of European nations. One reason Europe will decide to confront Iran is that the Islamic Republic is the king of radical Islam, and its influence is global.
Iran's brand of radical Islam is strong in Central and South America for the same reason it is strong in Africa and Europe. The United States acknowledges Iran's terror network, but it also tolerates it to a great extent. The Bible prophesies that a European power will violently clash with Iran's network of radical Islamists. Thankfully, that clash will lead events that culminate in an era of global peace!