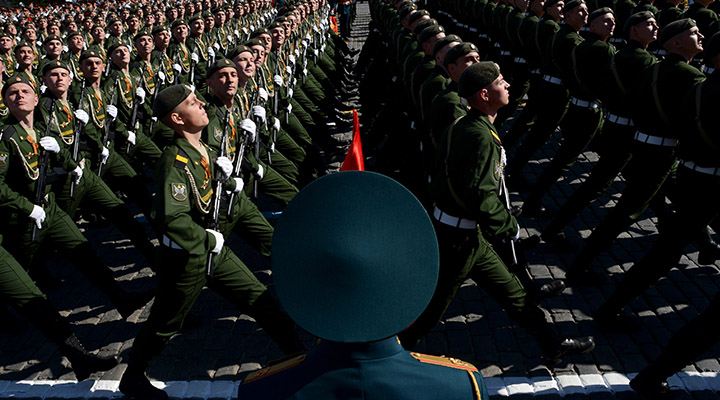 One Bible Prophecy That Explains Our World
The aggressive powers rising on the world scene were prophesied thousands of years ago in your Bible.
One biblical prophecy explains the alarming rise of aggressive world powers today. "And when ye shall see Jerusalem compassed with armies, then know that the desolation thereof is nigh. Then let them which are in Judaea flee to the mountains; and let them which are in the midst of it depart out; and let not them that are in the countries enter thereinto. For these be the days of vengeance, that all things which are written may be fulfilled. But woe unto them that are with child, and to them that give suck, in those days! for there shall be great distress in the land, and wrath upon this people. And they shall fall by the edge of the sword, and shall be led away captive into all nations: and Jerusalem shall be trodden down of the Gentiles, until the times of the Gentiles be fulfilled" (Luke 21:20-24).
We are living in the times of the Gentiles. Our free book The United States and Britain in Prophecy explains who the Gentiles are: any nations not descended from the 12 tribes of ancient Israel. In prophecy, God focuses primarily on two birthright nations (America and Britain) and one scepter nation (the Jewish nation in the Middle East). He uses Gentile powers to punish His chosen people because of their many sins.
https://www.youtube.com/watch?v=xil9VblD2NE&feature=youtu.be
A Building Storm
Prominent on the world scene today are three threatening powers: China, Russia and Iran. In a Washington Post opinion piece on February 25, columnist Charles Krauthammer spotlighted several regions experiencing dramatic upheaval under the influence of these nations. He wrote:
1. In the South China Sea, on a speck of land of disputed sovereignty far from its borders, China has just installed antiaircraft batteries and stationed fighter jets. This after China landed planes on an artificial island it created on another disputed island chain (the Spratlys, claimed by the Philippines, Malaysia, Taiwan and Vietnam). These facilities now function as forward bases for Beijing to challenge seven decades of American naval dominance of the Pacific Rim."China is clearly militarizing the South China Sea," the commander of the U.S. Pacific Command told Congress on Tuesday. Its goal? "Hegemony in East Asia."2. Syria. Russian intervention has turned the tide of war. Having rescued the Bashar Assad regime from collapse, relentless Russian bombing is destroying the rebel stronghold of Aleppo, Syria's largest city, creating a massive new wave of refugees and demonstrating to the entire Middle East what a great power can achieve when it acts seriously.The U.S. response? Repeated pathetic attempts by Secretary of State John Kerry to propitiate Russia (and its ally, Iran) in one collapsed peace conference after another. On Sunday, he stepped out to announce yet another "provisional agreement in principle" on "a cessation of hostilities" that the cia director, the defense secretary and the chairman of the Joint Chiefs of Staff deem little more than a ruse.
Russian President Vladimir Putin abruptly ordered his forces to partially pull out of Syria on Monday. Still, he said that Russia's troops could return "within a few hours" if needed. They are not finished supporting the evil Assad regime and engaging in a proxy war with America! Their aggression in the Middle East is causing millions of refugees to flood into Europe. This will be one of the factors leading to the prophesied German strongman taking office (Daniel 8:23). Krauthammer continued:
3. Ukraine. Having swallowed Crimea so thoroughly that no one even talks about it anymore, Russia continues to trample with impunity on the Minsk ceasefire agreements. Vladimir Putin is now again stirring the pot, intensifying the fighting, advancing his remorseless campaign to fracture and subordinate the Ukrainian state. Meanwhile, [U.S. President Barack] Obama still refuses to send the Ukrainians even defensive weapons.4. Iran. Last Thursday [February 18], Iran received its first shipment of S-300 antiaircraft batteries from Russia, a major advance in developing immunity to any attack on its nuclear facilities. And it is negotiating an $8 billion arms deal with Russia that includes sophisticated combat aircraft. Like its ballistic missile tests, this conventional weapons shopping spree is a blatant violation of UN Security Council prohibitions. It was also a predictable—and predicted—consequence of the Iran nuclear deal that granted Iran $100 billion and normalized its relations with the world.
Russia, China and Iran are on the march! Germany will soon join them in forcefully tearing down the centuries-old foundations of world order. These four nations possess nuclear power—or soon will, in Iran's case. We can see the storm building!
The Good News
"And he spake to them a parable; Behold the fig tree, and all the trees; When they now shoot forth, ye see and know of your own selves that summer is now nigh at hand. So likewise ye, when ye see these things come to pass, know ye that the kingdom of God is nigh at hand" (Luke 21:29-31). The rise of China, Russia, Iran and Germany is like bright new leaves growing on a tree. It is a clear sign showing that Jesus Christ's return is imminent! (verse 27). The symbolism here is plain.
"Verily I say unto you, This generation shall not pass away, till all be fulfilled. Heaven and earth shall pass away: but my words shall not pass away" (verses 32-33). When we see Gentile powers taking charge on the world scene, we know that we will also live to see the chain of events leading directly to Christ's return! The most glorious event in the history of the universe will take place in our lifetimes! Christ's words are certain to come true.
"And take heed to yourselves, lest at any time your hearts be overcharged with surfeiting, and drunkenness, and cares of this life, and so that day come upon you unawares. For as a snare shall it come on all them that dwell on the face of the whole earth" (verses 34-35). The world, particularly the West, has never been more asleep. People will pay dearly for being complacent during the most urgent time ever. They will be caught completely off guard when the world falls apart.
"Watch ye therefore, and pray always, that ye may be accounted worthy to escape all these things that shall come to pass, and to stand before the Son of man" (verse 36). God gives His little remnant a way to escape the coming trouble: Study world events, observe the fulfillment of prophecy, and pray for God's will to be done. Pour your heart into God's work. Be a doer of God's Word.
"The Pharisees also with the Sadducees came, and tempting desired him that he would shew them a sign from heaven. He answered and said unto them, When it is evening, ye say, It will be fair weather: for the sky is red. And in the morning, It will be foul weather to day: for the sky is red and lowring. O ye hypocrites, ye can discern the face of the sky; but can ye not discern the signs of the times? A wicked and adulterous generation seeketh after a sign; and there shall no sign be given unto it, but the sign of the prophet Jonas. And he left them, and departed" (Matthew 16:1-4). Some of the smartest people on Earth can't see that nuclear annihilation is coming! God makes the future clear to anyone willing to read the Bible and believe it.
China, Russia, Iran and Germany will soon plunge mankind into World War iii. Thankfully, God provides understanding of the times of the Gentiles, plus a way of escape from the destruction they will cause.