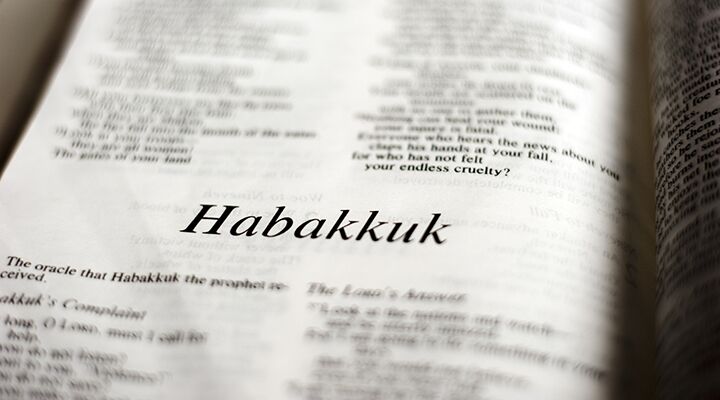 Habakkuk's Time Line of Prophecy
Over 2,500 years ago, the Prophet Habakkuk outlined four specific end-time events. By studying his account, we can know where we are in biblical prophecy.
The Prophet Habakkuk authored one of the most specific books in the Bible. He foretold three deadly events followed by the most wonderful spectacle in history. The book of Habakkuk shows exactly where we are in biblical prophecy.
"And the Lord answered me, and said, Write the vision, and make it plain upon tables, that he may run that readeth it" (Habakkuk 2:2). This is an urgent prophecy. Once we understand it, it's time to run!
"For the vision is yet for an appointed time, but at the end it shall speak, and not lie: though it tarry, wait for it; because it will surely come, it will not tarry" (verse 3). Habakkuk's writings apply directly to this end time. There is no doubt that every event in his book will come to pass when God decides.
The Anchor Bible Commentary states, "These few prose particles are enough to show that the discourse is not general, but it is referring to specific topics, concrete objects. God is getting extremely concrete and specific." Who are we to scoff at prophecy and question the Word of God?
https://www.youtube.com/watch?v=ldpQgCWhpJs&feature=youtu.be

A Spiritual War
The first event Habakkuk discusses is a spiritual war inside God's own Church. "Why dost thou shew me iniquity, and cause me to behold grievance? for spoiling and violence are before me: and there are that raise up strife and contention. Therefore the law is slacked, and judgment doth never go forth: for the wicked doth compass about the righteous; therefore wrong judgment proceedeth" (Habakkuk 1:3-4). The word "strife" comes from the Hebrew word rib, referring to a lawsuit. "Contention" derives from madon, meaning "to strive at law."
These verses describe a legal battle. A righteous man and a wicked man fought in court, and the court sided with the latter. "Judgment doth never go forth" means the court issued a corrupt verdict. "Wrong judgment," or a perversion of God's truth, went unpunished because of the court's egregious ruling. The Companion Bible says "the lawless one compasses about the lawful one." One man is a teacher of evil, and the other is a teacher of righteousness. You can prove who these two men are.
Several years after the death of Herbert W. Armstrong in 1986, wicked leaders within the Worldwide Church of God had stopped the work. God raised up the Philadelphia Church of God on Dec. 7, 1989. Though He had continued His work, it would be impossible to deliver a strong message to the world without Mr. Armstrong's magnum opus, Mystery of the Ages. A wrong judgment at the end of a six-year court battle appeared to keep us from winning the copyright to that book.
"Behold ye among the heathen, and regard, and wonder marvellously: for I will work a work in your days, which ye will not believe, though it be told you" (verse 5). The Hebrew for "wonder marvellously" means "wonder, wonder." God promised to work a double wonder miracle for His people—and He did just that. On Jan. 16, 2003—the anniversary of Mr. Armstrong's death—the wcg made an out-of-court settlement giving the pcg the rights to 19 works by Mr. Armstrong. God gave His loyal remnant far more than just Mystery of the Ages! This is a miracle so awesome, it's hard to believe!
"Behold, his soul which is lifted up is not upright in him: but the just shall live by his faith" (Habakkuk 2:4). "Just" should be translated "righteous." If we are proud, self-willed and unrighteous, God won't give us His faith. We must go to God and ask Him for faith, and He will give it to us as we strive to build His character in our lives. Believe God when He guarantees miracles.
This first event spotlights two specific religious leaders and two churches. But that is not all Habakkuk has to offer.
A European Superpower
"For, lo, I raise up the Chaldeans, that bitter and hasty nation, which shall march through the breadth of the land, to possess the dwellingplaces that are not theirs" (Habakkuk 1:6). At this point in the story, it seems as if Habakkuk has shifted gears. In the space of two verses, he has gone from detailing a church catastrophe to describing a bloodthirsty nation on the march. But you have to realize that Habakkuk's account is a time frame of end-time events. Once the crisis inside God's Church has taken place, a terrifying superpower will soon arise in Europe.
Habakkuk wrote this just before Babylon took the Jews captive from 604-585 B.C. The Chaldeans are basically a reincarnation of the old Babylonian system. This nation will proudly bear the name of the Holy Roman Empire one final time. Students of the Bible and history can easily figure out who this nation is.
"Moreover, wine is treacherous; the arrogant man shall not abide. His greed is as wide as Sheol; like death he has never enough. He gathers for himself all nations, and collects as his own all peoples" (Habakkuk 2:5; Revised Standard Version). "Sheol" means the grave, or death. Here's how the Anchor Bible describes this verse: "The imagery is quite concrete. It is death as a monster that opens its maw. The insatiable hunger of death is shown by the fact that its meal of the living never ends." Germany has already started two world wars, as well as countless other conflicts before and after that. War making is in the German nature.
"O Assyrian, the rod of mine anger, and the staff in their hand is mine indignation. I will send him against an hypocritical nation, and against the people of my wrath will I give him a charge, to take the spoil, and to take the prey, and to tread them down like the mire of the streets. Howbeit he meaneth not so, neither doth his heart think so; but it is in his heart to destroy and cut off nations not a few" (Isaiah 10:5-7). God will use Germany to correct the nations of Israel and His rebellious Church.
Germany is now the dominant power in Europe; it only needs a strong leader to propel it into war (Daniel 8:23). Watch for this man to take charge of Germany within the next year or so. "Then shall his mind change, and he shall pass over, and offend, imputing this his power unto his god" (Habakkuk 1:11). An evil spirit power will seize hold of the new German leader and cause him to do horrible things that he has never imagined. This leads to the third event outlined in Habakkuk.
Nuclear Annihilation and Christ's Return
Devastating nuclear war is the third event. "When I heard, my belly trembled; my lips quivered at the voice: rottenness entered into my bones, and I trembled in myself, that I might rest in the day of trouble: when he cometh up unto the people, he will invade them with his troops. Although the fig tree shall not blossom, neither shall fruit be in the vines; the labour of the olive shall fail, and the fields shall yield no meat; the flock shall be cut off from the fold, and there shall be no herd in the stalls" (Habakkuk 3:16-17). Habakkuk penned his book over 2,500 years ago. There was nothing in his day that could cause such destruction! You won't find a more chilling description of nuclear annihilation.
"For then shall be great tribulation, such as was not since the beginning of the world to this time, no, nor ever shall be. And except those days should be shortened, there should no flesh be saved: but for the elect's sake those days shall be shortened" (Matthew 24:21-22). The implementation of the nuclear deal with Iran on January 16 is only the start of the world's plunge into nuclear winter.
Notice: "those days shall be shortened." How is that possible? Scientists and nuclear experts agree that there is no turning back once the first red button is pushed. Whoever is insane enough to launch the first attack would no doubt set off a chain reaction leading to the extinction of all life on this planet. We would absolutely need deliverance from a power far superior to ourselves.
The three dreadful events in Habakkuk lead to Christ's glorious return. The entire Bible points to this momentous occasion as the ultimate end of man's 6,000-year rule over man. "For the earth shall be filled with the knowledge of the glory of the Lord, as the waters cover the sea" (Habakkuk 2:14). All war will cease! This is the best news we could ever possibly hear.