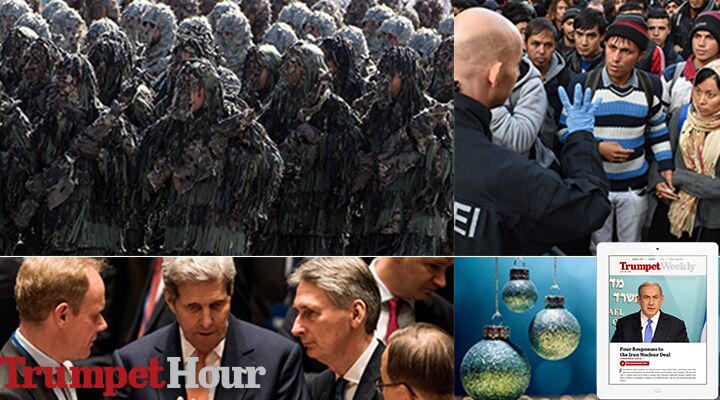 Week in Review: Iranian Terror, German Self-Defense, China's Social 'Credit Score,' Banning Christmas, and More
All you need to know about everything in the news this week
Get all the important news from December 19-25 by downloading the Trumpet Weekly.Click here to receive it by e-mail every week.
Highlights:
Iran threat continues
"Iran is no longer outsourcing anti-Israel operations to local terrorist groups like Hezbollah and Hamas; it's now running them directly," wrote Commentary magazine's Evelyn Gordon.
According to a December report by Haaretz, Iran has about 5,000 of its own soldiers in Syria and another 25,000 under its command—within Hezbollah, Iraqi Shiite militias and some Afghani and Pakistani refugees.
One quarter of the more than 200 terrorist groups worldwide "are funded, trained, or directly recruited by the Iranian government," said Dr. Majid Rafizadeh, an Iranian-American political scientist who works at Harvard and Columbia.
Meanwhile, Iran is using the terms of the nuclear deal to demand that the U.S. waive its visa restrictions on travelers who have visited Iran.
Germany's self-defense measures
"Germans, facing an influx of more than 1 million asylum seekers from Africa, Asia and the Middle East, are rushing to arm themselves," noted Soeren Kern for the Gatestone Institute.
Sales of self-defense products like pepper spray rose by 600 percent this fall.
The

ceo

of Frankfurt-based

def-tec

Defense Technology said, "Things took off beginning in September. Since then, our dealers have been totally overrun. We have never experienced anything like this in the 21 years of our corporate history."
Is this another proof that Europe's old demons are returning?
China's frightening social ranking program
"The owners of China's largest social networks have partnered with the government to create something akin to the U.S. credit score," explained Extra Credits. "[B]ut, instead of measuring how regularly you pay your bills, it measures how obediently you follow the party line."
Criticizing the government or even interacting with government critics can hurt one's score.
Its goal is to create docile, compliant citizenry who are fiscally and morally responsible and, above all, totally loyal to the Communist Party.
United States bows to Russia—again!
U.S. strategy in Syria has been called all sorts of things: "a joke," "a total failure," "the best of a long list of bad options," and a plan with "no guarantee of success."
The only viable option has been the regime change in Syria—until Russia intervened and offered its own solution
Now, rhetoric from Washington regarding Syria has essentially shifted from "Assad must go!" to "Assad can stay, for now." U.S. Secretary of State John Kerry told reporters in Moscow that "[t]he United States and our partners are not seeking so-called regime change" in Syria.
Trumpet executive editor Stephen Flurry wrote: "[A] world in which America's word is no longer reliable is a recipe for disaster."
Other news:
"Europe is now facing a new Germany, self-confident to the point of self-righteousness," wrote thetimes.co.uk. "It dominates Europe and is happy to do so. It enforces rules because it believes them to be right—and in Europe's best interest."
Turkey's war with Kurdish insurgents is reducing some urban neighborhoods to war zones, and the Kurds are beginning to look to Russia for help.
China's military expenditures go much further than U.S. expenditures because Beijing steals American secrets, and its laborers are much cheaper than Washington's. Even though America outspends China, "it would be wrong to discount China's military threat based on budget metrics alone," wrote the National Interest.
Christmas and New Year celebrations were banned in the Muslim-majority nation of Somalia. The country's director general of the religious affairs ministry warned that the festivities would potentially evoke Islamist attacks, adding: "All events related to Christmas and New Year celebrations are contrary to Islamic culture, which could damage the faith of the Muslim community."
"On one of the busiest travel days of the year," wrote the Black Lives Matter movement, "[we are] calling for a halt on Christmas as usual in memorial of all of the loved ones we have lost and continue to lose this year to law enforcement violence without justice or recourse."
It appears that inauthentic sushi is aggravating students at Oberlin College. Robby Soave wrote that some students are accusing the college cafeteria "disrespecting Asian culture by preparing dishes so bad—they practically count as microaggressions."
Get more details on these stories and more by subscribing to the Trumpet Weekly!