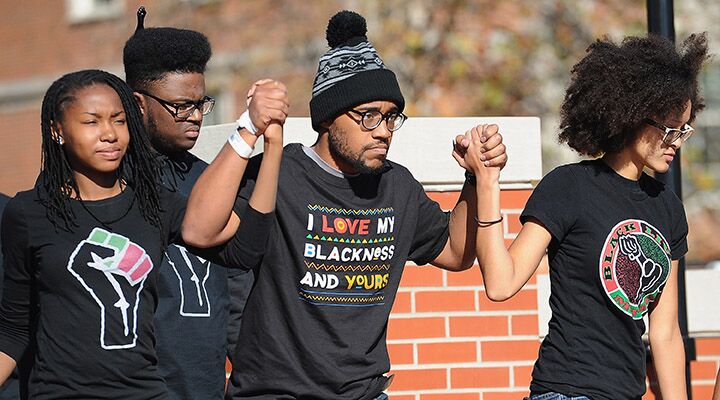 University of Missouri: Where Racism Merges With Violent Youth Culture
A troubling "victory" reveals our nation's problems with race, youth violence, and our sports-crazed culture.
The Black Lives Matter movement often quotes words from a fugitive cop killer and one of the fbi's most-wanted terrorists, Assata Shakur, to inspire the masses. The group of young activists responsible for bringing down University of Missouri president Tim Wolfe did the same thing:
"It is our duty to fight for our freedom. It is our duty to win. We must love and support each other. We have nothing to lose but our chains."
https://twitter.com/Dannykons/status/662682619641921536/video/1
These University of Missouri activists, from Concerned Student 1950, won a major victory, as Breitbart noted it its article "How Cop Killer-Quoting Activists 'Inspired by #BlackLivesMatter' Forced University of Missouri President Out."
But it's a troubling "victory" that reveals our nation's problems with race, youth violence, and our sports-crazed culture.
Race Game Gone Wrong
In his race relations speech in 2008 titled "A More Perfect Union," then-Sen. Barack Obama said he'd help heal America's "old racial wounds." Voters saw him as a uniter who would bring the races together and as a leader who would move America into a better future.
Pundits lauded the speech as a "defining cultural moment in America" and "the best speech ever given about race"—surpassing Martin Luther King Jr.'s "I Have a Dream" speech.
Unfortunately, as my father said back then, the race card would be "played often for political gain!" He added, "[I]t is going to cost America dearly. This is not a small problem. We must understand where the race issue is leading us. The end result is going to be worse than anything you imagine."
When you look at our recent history in race relations, you'll realize that the events at Missouri University are not unique nor unusual. But they are a sign that race relations are worsening.
The student protesters used all kinds of tactics of intimidation: They screamed their chants, barged into meetings, and constantly disrupted student life.
The same student who led the Assata Shakur chant above revealed in another video: "We're trying to break the system down … it just so happens we're starting with him."
Their goal is to break the system!
Breitbart said the protesters' "big victory was shutting down the homecoming parade as stunned onlookers—including many small children—were forced to watch the megaphone-wielding activists scream at the crowd about slavery while blocking now-ex-president Wolfe's car. At the end, they all [chanted Shakur's words]."
The Ferguson Effect
Reuben Faloughi, a participant in the campus protests, told the Associated Press that he felt "liberated" by president Tim Wolfe's ouster. Faloughi also participated in a "die-in" protest in memory of Michael Brown—the black teenager shot by a white police officer in Ferguson. "That was the first time I got involved in activism," he told the Associated Press. "I never felt that unity before, that kind of energy. It was very empowering, and it planted the seeds that students can challenge things."
Mike Sickels, another student protester inspired by Ferguson, said, "This is something I wish had been happening here my entire tenure. I think universities should be bastions for this."
Even though the St. Louis County grand jury and the Justice Department exonerated the officer who killed Brown, the hatred, the violence and the protesting haven't stopped.
Violent Youth Culture
"The precedent set here is monumental," wrote political commentator Heather Mac Donald. "Any student protester who can convince his college's football or basketball team to threaten a strike will be able to bring administrators to their knees even more quickly than usual."
The university caved in primarily because of the politics and the economics of this issue. Of the university's 124 football players, 32 protested by boycotting football practice and games. Last year, the university earned more than $14 million from football, and it apparently wasn't about to risk losing those funds this year. It gave in despite the fact that "half the team and coaches, black and white" were disappointed by the boycott, as an anonymous player told espn. "If we were 9-0, this wouldn't be happening," he said.
Mac Donald added: "The pathological narcissism of American college students has found a potentially devastating new source of power in the sports-industrial complex."
Now, suddenly, young people feel empowered—empowered to break the system!
This is essentially the same spirit behind the Yale University student who angrily cursed and shouted down her professor.
It brings to mind a prophecy in Isaiah 3 about "children" being "oppressors." It also brings to mind what Herbert W. Armstrong observed in 1981:
Few people stop to realize to what extent the teenagers have taken over. They pretty well dominate the world picture. …The fast-growing surge of teenage immorality, drugs and violence is worldwide! Accompanying sexual promiscuity, news dispatches pile up an avalanche of reports of wreckage, destruction of property—especially schools—pillaging, arson, violence and often murder! …But why? What is the cause? The world doesn't want to hear the true answer! The world refuses to face the tragic truth!
This is essentially the message my father tried to convey in his 2008 Trumpet article "The Issue We Fear to Face."
Mr. Armstrong went on to explain the cause of youth violence. He said, "The true answer is this: Something has been taken away from this Earth that sorely needs to be restored! That 'something' is knowledge of, respect for and obedience to the government and the law of God!"
Mr. Armstrong knew whereof he spoke when he made his assessments. He wrote in 1970:
I happen to be president of a college with three campuses. On these campuses there are no campus protests, no opposition marches, no student rioting and violence, and no hippies. There is peace, happy cooperation between students and faculty and administration. Student faces are wreathed in smiles which are real and genuine—the outward expression of an inner joy. Visitors are amazed.This is the result!The cause? We are not a factory of knowledgeproduction, but of human characterproduction.
Today's educational institutions have been reduced to mere knowledge-production units. And that knowledge is often wrong and besmirched by left-wing propaganda.
It's now backfiring on instructors, on society, and on the entire nation.