Who Is Behind the Trumpet?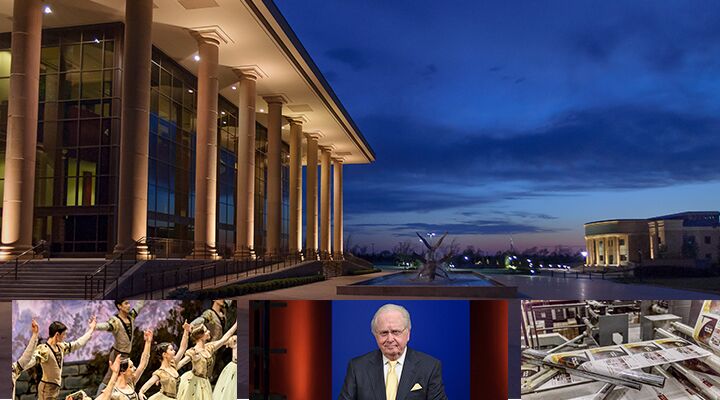 Who Is Behind the Trumpet?
This magazine's publisher has celebrated its 25th anniversary and is running stronger than ever. The Philadelphia Church of God was incorporated more than 25 years ago. Here in central Oklahoma, it held its first service in a living room with just 12 members and less than a hundred dollars in the bank. It had (and has) no endowment, no political connections, no partnerships, no public appeals for money.
Yet today, the thousands of pcg members come from more than 200 congregations in more than 50 countries: from Mexico to Chile to Austria to Zimbabwe to India to Papua New Guinea. They are served by 60 ordained ministers who travel long distances to care for the members.
The Church is incorporated in 10 countries, and its 200 total staff members work here on the headquarters campus in Edmond and at eight international offices in the United Kingdom, Canada, the Caribbean, Central and South America, South Africa and the Philippines.
Pastor General Gerald Flurry presents the Key of David weekly television program, which broadcasts online and on 304 stations and cable networks in 22 countries, including wgn, The Discovery Channel, cnbc (Britain/Europe), tv1 (New Zealand) and other quality stations in Canada, Trinidad, Israel and the Philippines. Since the program first aired in January 1993, Mr. Flurry has recorded 715 programs from Edmond as well as from countries including Germany, Israel, Turkey, Jordan, Australia and the Philippines.
The Key of David has attracted more than 2 million requests for the Church's free literature during its broadcast run so far. For 15 years, these responses have been answered by Church members here at headquarters and volunteer in-home operators scattered throughout the U.S. and other nations. And now that The Key of David is back on the air in the United Kingdom and Europe, calls are also being answered by Church members at our Edstone regional office in England.
After those requests are processed, our mail departments at headquarters and at our international offices post hundreds of thousands of pieces of free literature to those making these requests. There is no charge or solicitation for the cost of publishing, printing or even mailing our books and booklets or our periodicals: The Trumpet newsmagazine, Royal Vision Christian living magazine and our magazine for Church teens reach more than 300,000 people.
TheTrumpet.com, pcog.org, ArmstrongAuditorium.org and the Church's other websites are visited by users from nearly every nation on Earth each month.
Recently, we began broadcasting from our headquarters campus on a low-power FM radio station, which reaches about 100 square miles and also streams online, broadcasting programs that discuss world news, social trends, prophecy, family, health, music and other subjects.
Meanwhile, on campus, we hosted our 22nd youth camp in July, welcoming the teenage sons and daughters of members from around the world. The Church also holds annual camps for its young people in Australia and the Philippines.
The Church supports Imperial Academy, a small K-12 grade school in Edmond, which also operates online and has a sister school in the Philippines. Herbert W. Armstrong College, the Church's small liberal arts institution, serves dozens of students here in Edmond and in Edstone. The Herbert W. Armstrong College Bible Correspondence Course has more than 98,000 enrollees.
Not long ago, we leased all office and meeting space around the world. Today, we own over 200,000 square feet of office and classroom space on 200 acres, and construction will begin this year on a new fine arts facility on our Edmond campus. We also anticipate reopening our office space soon in Jerusalem, Israel, where we have supported biblical archaeology projects that have produced amazing finds.
In Edmond, Armstrong Auditorium hosts the Armstrong International Cultural Foundation's performing arts series, which is about to begin its 14th season. The series has featured vocalists Stephanie Blythe, Frederica von Stade and Samuel Ramey, pianists André Watts and the 5 Browns, the Berlin Philharmonic Wind Quintet, the Academy of St. Martin in the Fields, the Romeros Guitar Quartet, the Canadian Brass, the Vienna Choir Boys and the Russian National Ballet—among many others.
Adorned with Swarovski-trimmed chandeliers, Baccarat crystal candelabra, American cherrywood veneers, Spanish marble and Azerbaijani onyx, the hall's superb acoustics and soaring Swans in Flight sculpture all combine to set Armstrong Auditorium as a jewel in the cultural crown of Oklahoma. The auditorium's regal setting enhances the experience of patron and performer alike—nourishing and lifting the human spirit. Entering Armstrong Auditorium, patrons are embraced by an atmosphere of stunning beauty—where quality of materials and craftsmanship and professional, courteous customer service provide a peerless setting for enjoying the world's finest performances.
This is a work of giving and serving. It is supported entirely by voluntary tithes and donations from around the world, and every year, those contributions, in the millions, are devoted to broadcasting a message of warning and hope on television, the Internet and in print. All of our educational materials are provided without cost to those who request them. We do not solicit funds, nor do we follow up with those making request in an effort to build our numbers. Rather, we live by the words of Jesus Christ that "it is more blessed to give than to receive."