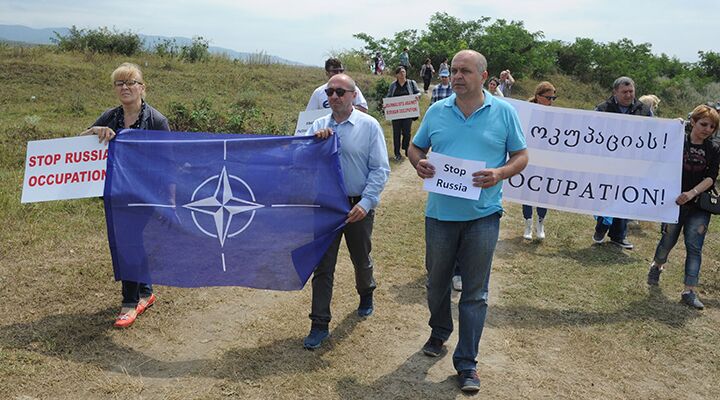 Expanding the Empire: Russia Continues Slow Advance Into Georgian Territory
Georgia is calling on the international community to "properly respond" to Russia's ongoing creeping occupation of Georgian territory.
On July 10, Russian forces placed new "border" markers in several villages near Georgia's central highway. This action, according to Georgian officials, brought a new strip of Georgian territory more than a mile wide under Russian control. The newly occupied territory includes part of a major BP-operated oil pipeline.
"We've lost most of our fields," said a farmer from Tsitelubani, one of the villages affected by the newly declared border. "The Russians said we are no longer allowed there."
The move is the latest in a series of Russian operations, which analysts say are part of Moscow's creeping annexation of South Ossetia and Abkhazia—both breakaway Georgian territories. Russia has occupied the two territories since 2008 after a brief war with Georgia. Now, Russia appears to be expanding the Georgian territories it holds.
Georgia's Foreign Ministry urged the international community to stand up against these Russian actions that "violate fundamental principles of the international law." Georgia is seeking membership of the nato military alliance. It has no diplomatic relations with Moscow, and says one of its foreign-policy aims is to avoid antagonizing Russia.
Since Georgia lies on the ever deepening geopolitical fault line between Russia and Europe, accomplishing this aim will not be easy.