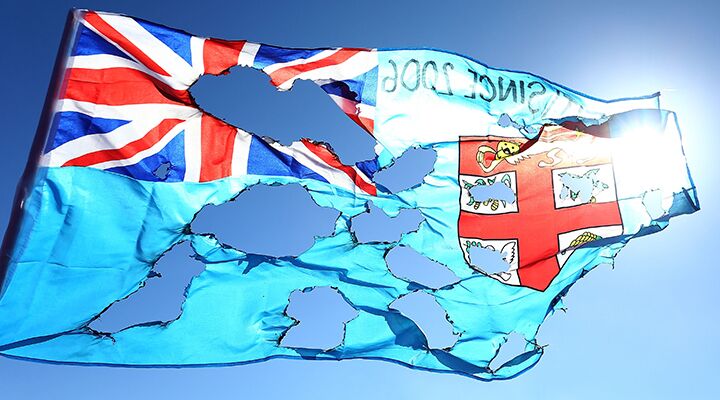 Forget the Union Jack, It's Time for Fiji to Move On
What happens when the Union Jack stops waving?
Fijian Prime Minister Voreqe Bainimarama announced this week the decision to remove the Union Jack from the nation's flag. "We need to replace the symbols on our existing flag that are out of date and no longer relevant, including some anchored to our colonial past," he said.
Fiji attained independence from Great Britain nearly 45 years ago, and the small Pacific island nation plans to reveal its newly designed flag on the anniversary of its independence from Great Britain—October 11.
This isn't the first display of the Fijian prime minister's resentment of Fiji's British past. In 2011, he ordered the Queen's image to be removed from the nations currency. He also ended Fiji's national celebration of the Queen's Birthday in 2012.
Voreqe Bainimarama led a coup and rose to power in December 2006. His actions led to Fiji's suspension from the Commonwealth. According to the cia World Factbook, "Bainimarama has neutralized his opponents, crippled Fiji's democratic institutions, and initially refused to hold elections. In 2012, he promised to hold elections in 2014." Last September, he was legitimately elected as prime minister.
Commenting on the Union Jack's place on Fiji's flag, the Prime Minister asked, "What does this have to do with us? The new flag should reflect Fiji's position in the world today as a modern and truly independent nation-state."
But maybe Fiji should remember the benefits of British rule. Before Britain's influence in the late 19th century, Fiji was an isolated island in the South Pacific, cut off from the modern world. There was no political establishment, no economy; just an island and tribal warfare. And despite Britain's efforts to banish cannibalism, as late as 1907, it was still practiced on the island.
What does this have to do with us? The new flag should reflect Fiji's position in the world today as a modern and truly independent nation-state.
Fijian Prime Minister Voreqe Bainimarama
The "modern" and as of late democratic nation Bainimarama referred to is a result of Britain's efforts to turn Fiji into a developed nation. Britain brought rule of law, free trade, and Christianity, among other things. When Fiji embraced those practices taught by Britain, it prospered.
The cia World Factbook reports that since Bainimarama appointed himself acting president in 2006, tourism, Fiji's main source of revenue, has declined and "is facing an uncertain recovery time. … The coup has created a difficult business climate.
"Long-term problems include low investment, uncertain land ownership rights, and the government's inability to manage its budget."
Since trying to move beyond its "colonial past," Fiji has been swamped in problems. If Bainimarama continues leading Fiji down this path, people may start to wonder, were we better off under the rule and teachings of Britain? But today, such talk is taboo.
Why such animosity toward Britain and the empire? It's not just Fiji. Australia has also considered removing the Union Jack from its flag. New Zealand will hold a referendum in 2016 on whether or not to change its flag.
The world is eager to forget the British Empire.
The February issue of the Trumpet magazine dedicated nearly an entire issue to the subject of Britain and its empire. It includes articles like "Great Britain: Luck or Providence?" and "How the Empire Served the World." The British Empire was different than any empire in history. You need to know why. Read "The Britain Issue" of the Trumpet magazine.