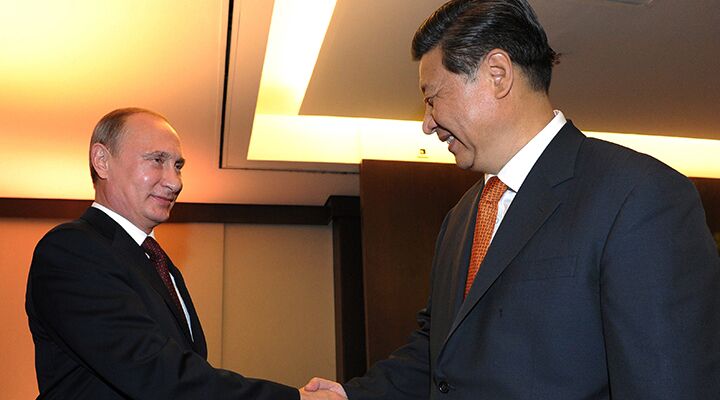 Russia and China Dance Across Latin America
Will the bear and dragon soon dominate the region?
In recent years, China and Russia have been dancing with increasing vigor to the rhythms of Latin American trade and diplomacy. The two Eastern giants want business allies, resources and friends who share their desire to close the curtain on the era of United States dominance. As they tango across Latin America, they are finding all three in abundance.
The U.S., apparently indifferent to the Chinese and Russian advance into its backyard, is sitting out more and more Latin American dances. But there is another global power whose salsa shoes won't be coming off any time soon; this rising power bloc will check the advance of Beijing and Moscow into Latin America.
China's Cha Cha
As the U.S. has retreated from Latin America, China has been the main player to cha cha its way into the void.
From 2000 to 2009, trade between China and Latin America increased by a staggering 1,200 percent. If current trends persist, China will surpass the European Union next year to become Latin America's second-largest trade partner. Within 10 years, trade between the two sides is expected to reach $500 billion per year.
China's dance into Latin America also includes an increasing amount of investment. Last month, Chinese President Xi Jinping pledged to invest $250 billion into the region. "With relatively little fanfare," said Latin America expert Juan de Onis, "China has taken over the inside lane of economic development in Latin America with an ambitious 10-year regional investment plan on the scale of the Marshall Plan."
From Cuba to Chile, the Chinese dragon is swaying its hips and sashaying to Latin America's spicy, conga-driven polyrhythms. Offering a mojito here and sharing a fine cigar there, China is winning friends on the great Latin American dance floor.
I saw some of this investment firsthand during a visit to St. George's, Grenada, last October. A local tour guide named Duffy pointed out a massive sports stadium being rebuilt with $31.5 million allocated by the Chinese government. "We don't really know why China wants to fix it for us," Duffy told our group. "We think China wants Grenada to be eager to help them if they are ever in need."
China has also apparently broken ground on a canal through Nicaragua. The $50-billion venture is billed as the world's largest engineering project, and is of immense geopolitical significance. It will see a 173-mile-long route cut through the Central American nation to connect the Pacific and Atlantic oceans. Officials say it will open for business in 2019. The Nicaraguan Canal's width and depth will dwarf that of the Panama Canal, several hundred miles south, allowing Nicaragua to accommodate modern freighters that are too large to pass through Panama. The overshadowing of the U.S.-built Panama Canal will significantly challenge American hegemony in Latin America. Critics of the project say it will also give China a de facto military base very near to the United States. (In October, I flew over a portion of the planned Nicaraguan canal route, and you can see one of my photos here).
From Cuba to Chile, the Chinese dragon is swaying its hips and quickstepping to Latin America's spicy, conga-driven polyrhythms. Offering a mint mojito here and sharing a fine cigar there, China is winning many friends on the great Latin American dance floor.
Russia's Rumba
In the past decade, Russia has worked to reestablish the footing in Latin America that the Soviet Union held during the Cold War era. Its efforts have intensified in recent months after the U.S. and Europe slapped sanctions on Russia as punishment for its role in the Ukraine crisis. These sanctions prompted Moscow to steepen its tilt toward Latin American markets.
In July, Russian President Vladimir Putin made a six-day tour of Latin America, visiting Cuba, Argentina, Brazil and Nicaragua, and meeting with 11 regional leaders.
In Cuba, Putin signed several major oil and security contracts and forgave 90 percent (about $32 billion) of Cuban debts that stood unpaid since Soviet times. For a relatively poor nation such as Cuba to have so much debt forgiven is no small event. Putin said the remaining 10 percent would be reinvested into Cuba's infrastructure. After the visit, reports emerged that Cuba had even agreed to reopen Soviet-era bases to Russia.
Argentina is one of few nations who supported Russia's annexation of Crimea. During Putin's trip there, he rewarded that support by signing security and trade agreements and a landmark deal to build nuclear power plants in Argentina. Russia also offered to supply Argentina with a dozen fighter jets, which could inflame the Falkland Islands dispute.
Putin signed similar deals with Brazil, along with agreements on aviation, weapons and technical cooperation. Putin's visit to Nicaragua marked the first time a Russian president has traveled to the nation. He spoke with Nicaraguan President Daniel Ortega about working together on issues ranging from security to agriculture. Ortega called Putin's visit "historic" and a "ray of light."
In all four nations, Putin took steps to build stations for Glonass, Russia's answer to the U.S.'s gps. At the end of the tour, Putin said Russia needs to "reestablish a presence in this extremely interesting, very promising region of the world."
As the Russian bear promenades, swivels and dips across the vast Latin American dance floor, it is establishing a position for itself of unprecedented strategic value.
Analysts viewed Putin's tour itself as "extremely interesting," especially given the timing of his rumba across the continent. "The fact that Vladimir Putin managed to set aside an entire week for a trip to the region is very revealing," said Vladimir Davydov, director of the Institute of Latin America at the Russian Academy of Sciences, in an interview with
Russia Beyond the Headlines
. "It would seem to be an unaffordable luxury when there is an acute crisis on Russia's borders. However, this tour is as relevant as ever. At a time when the West is trying to lure Russia into a 'Ukrainian snare,' it showed that Russia is entirely capable of regaining old allies and of making new ones."
In recent months, Russian bombers have patrolled the Caribbean, landing in Venezuela and Nicaragua. Russia has held joint military drills with Venezuela, and Russian ships have entered Cuban and Venezuelan ports. Meanwhile, Russian gas giant Gazprom is investing heavily in Argentina and Bolivia, and Russia's state-run Rosneft firm is increasingly dynamic in Venezuela.
As the Russian bear promenades, swivels and dips across the vast Latin American dance floor, it is establishing a position for itself of unprecedented strategic value. "It can … be argued that Russia is more influential in Latin America now than it ever was during the Cold War," Moscow-based analyst Andrew Korybko wrote in the Aug. 22, 2014, Oriental Review.
The Bear and Dragon Samba in Lockstep
China and Russia do not feel threatened by one another's drive into Latin America. Instead, the two are dancing hand-in-hand through key steps of their advance.
To support the China-funded Nicaraguan Canal project, Russia has promised military backing to ensure safety during construction. Starting this year, Nicaragua will host a Russian base, and Moscow's fleets will patrol the country's Pacific and Caribbean coasts, making sure no one interferes with China's mammoth project.
In July, Putin and Xi crossed paths in Brazil to unveil a massive, new-world "development bank" to challenge U.S.-dominated financial institutions. Russia and China will operate the bank with the help of Brazil, as well as India and South Africa.
This all adds up to a deeply significant trend. "Russian and Chinese involvement in the [Latin American] region is growing at a spectacular pace and in a multifaceted way, thus opening the possibility for a dramatic geopolitical transformation right on the doorsteps of the U.S.," Korybko wrote.
"Altogether, Latin America is the most suitable rear base for advancing the Multipolar World in the backyard of the fading unipolar giant," he said. "Russia and China have absolutely no competing interests whatsoever in this theater, thus unquestionably showing the grand strategic aims of the rcsp [Russia China Strategic Partnership] in general."
Korybko explained that Latin America is eager to foxtrot with Russia and China because many nations of the region harbor "intense dislike" of the U.S. and know that Moscow and Beijing share the sentiment. For Russia and China, this intense dislike means Latin American nations can "be flexibly managed from afar to partake in even more detrimental actions against its former hegemon," Korybko said.
Will Europe Sit This One Out?
The United States is indifferent to the Russo-Chinese advance into its backyard. But what about Europe? Will the Europeans allow their sister continent to become ever more aligned with Moscow and Beijing? Will Europe allow the tangoing bear and dragon to steal the show?
For more than five centuries, Europe and Latin America have been bound together as sister continents by both religion and language. These cultural commonalities have long given European powers preferential economic treatment among most South and Central American nations. At present, the European Union remains Latin America's second-largest trade partner (after the United States). Yet Europe's influence in Latin America has slipped slightly as the ambitions of Beijing and Moscow have swelled. Chinese Marxist revolutionary Mao Tse Tung vowed to his people decades ago, "All that the West has, China will have." China's rapacious drive into Latin America is evidence that Mao's words still resonate in the Chinese mindset.
Be assured that Europe will not stand by passively and allow China and Russia elbow it off the dance floor.
But be assured that Europe will not stand by passively and allow Beijing and Moscow to elbow it off the dance floor.
Around the time Putin visited Cuba, Pope Francis sent letters to the leaders of Cuba and the United States. These letters played a key role in thawing U.S.-Cuban relations, which was announced in December. The pope's role in that deal gives the Catholic Church—whose stronghold is Europe—renewed influence over Cuba. Will that influence be to the exclusion of Russia? For a time, Cuba's Communist regime may be in a position to play both sides against each other. But even still, the pope's maneuver significantly reduced Putin's sway over the island nation.
Then in January, the pope appointed five new Latin American cardinals, saying the move would "manifest the indissoluble links between the church of Rome" and the nations the men came from. Also in January, Germany took a major step toward strengthening cooperation with Mexico.
At present, the lack of cohesion among European nations hinders Europe's efforts to reign supreme in Latin America. But the deepening inroads that China and Russia are making will actually serve as a catalyst for the EU to unite. As China and Russia continue mamboing through the region, European nations will increasingly work together, under German leadership and under Vatican guidance, to bolster Europe's own position on the great Latin American dance floor.
To understand why the Trumpet adheres to this forecast, read our article "Europe's Inroads Into Latin America."